Kernel Outlook PST Reporter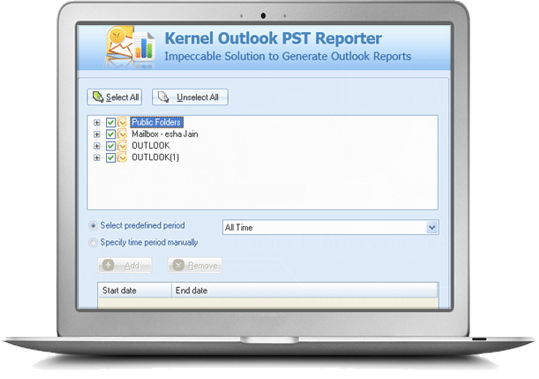 Kernel Outlook PST Reporter is a free and result-oriented tool that facilitates detailed reports on your Outlook profile's email infrastructure. The software provides its users a detailed insight of the PST files configured on their MS Outlook account. Using this utility, the user can generate a number of comprehensive reports on selected folders of the PST files configured on his/her Outlook email client.
The software acts as a vigilance tool as well as proves to be a one-stop solution that offers comprehensive email traffic statistics and analysis. Using this utility, a user can successfully generate comprehensive reports including data such as Sender's Name, Sender's Email ID, Emails Read/Unread, and Total Email Item Size, Total Attachments, Attachment Type, and so on.
Gain a quick tab at your Outlook PST for free
Kernel Outlook PST Reporter - an absolutely free to download and use tool to let you gain a quick tab at your MS Outlook PST files. The software generates following types of reports:
Generating reports using Kernel Outlook PST Reporter simply requires following the steps as given below:
Select the folder from the enlisted folders of MS Outlook PST file
Select the time period for which you want to generate the Outlook PST report
Click Generate Report button to generate Outlook PST report
The software eradicates the need to perform manual search for bad content in a PST file. Now, user can generate Outlook PST Report and track entire email logs of the user. Kernel Outlook PST Reporter converts the required data into simple and comprehensive reports that help in performing email analytics. The software is an amalgamation of Email analysis and supervision to manage the email communication infrastructure streamlined. The tool offers its users the power to supervise and analyze the email communication reports and that is Free of Cost.