Kernel Outlook Express Password Recovery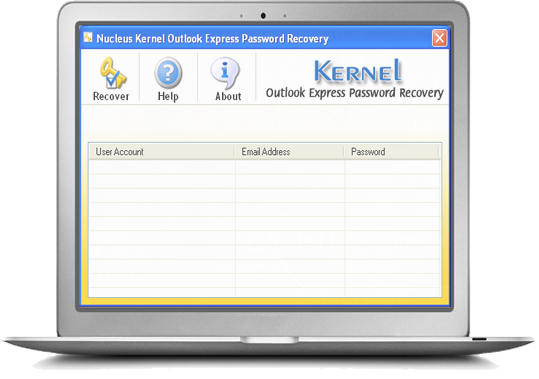 Kernel for Outlook Express Password Recovery is a remarkable software designed to recover lost or forgotten Outlook Express Email passwords within few minutes of time.
Recovers Outlook Express passwords quickly
Recovers complex and multi-lingual passwords
Compatible with all Outlook Express versions (6.0/5.5/5.0/4.0)
Supports Windows 10/8.1/8/7/Vista/XP/2000/98/NT/95
Main Features of Kernel Outlook Express Password Recovery
Free of Cost Software
This software is available free of cost. However, this is a powerful tool to recover Outlook Express user account passwords.
Recovers Multi-lingual Passwords
The software is capable of recovering passwords containing other language characters and special characters (#, %, *, !, @, etc.), and that too accurately and quickly.
User Friendly Interface
The software is easy to set up and use. Because of its simple steps, even a non-technical person can to use this tool efficiently.
Quick Password Recovery
This software saves your time as it gives you faster access to lost or forgotten passwords of Outlook Express.
Install Outlook Express Password Recovery Right Now
It is difficult to remember passwords of each and every account as human memory tends to forget a few things. But, that does not mean accounts cannot be accessed at all. To have access to lost Outlook Express passwords quickly and safely, download this free software.

Steps to Recover Password using Kernel OE Password Recovery
User Reviews
It is one of my associates who asked me to download free Kernel OE Password Recovery tool. However, I was not sure whether it would be a great catch. But when I used this tool, it turned out to be a blessing in disguise. I recovered my OE password in less time than I expected."
Brantley
I am really impressed by this easy to use tool. Being from a non-technical background, I was afraid to use this tool fearing it would require some technical skills. But, its interactive interface is truly commendable. I never thought recovering password would be so easy."
Edu Gayle
FAQs – Kernel Outlook Express Password Recovery
Is this tool capable of recovering passwords with special characters?

Yes, this tool gives quick recovery of simple as well as complex or multi-lingual passwords. It can recover passwords with special characters too.

How long does it take for this tool to recover Outlook Express password?

The tool is quite quick in password recovery, and recovers passwords in just a few minutes of time.