Kernel IE Password Recovery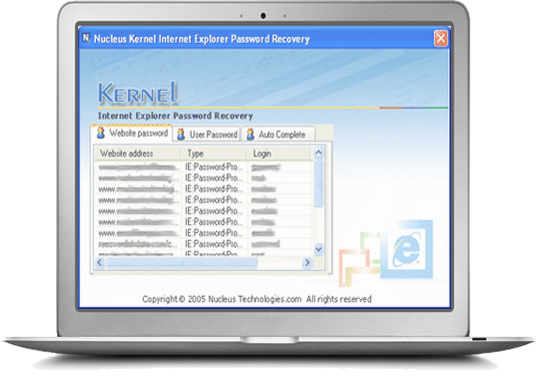 Nucleus Kernel Internet Explorer Password Recovery
With increase of internet usage, the numbers of internet logins and passwords that people create have also augmented. Email, shopping websites, online transactions, etc almost everything requires a specific login and password. Similarly, irrespective of how sharp your memory is, you are bound to forget one or two passwords out of hundreds of passwords that you have! Moreover, the only solution to deal with such situation is by resetting them. Not only the aforementioned process is lengthy but it is tiresome as well.
Hence, you must trust on a third party utility to resolve such trouble! Nucleus Kernel Internet Explorer Password recovery software is one such tool that helps you restore user logins and passwords from the cache of Internet Explorer. Kernel IE Password recovery software displays the stored user logins, passwords and auto complete data strings that assist one is in dealing with such mishaps.

Kernel IE Password Recovery saves you from the trouble of remembering large number of user logins and passwords. Usually, people save passwords in files, or save them using "Remember me on this computer" and "Save my email address and password" options provided by various websites. Kernel IE Password Recovery recovers all the user logins and passwords that are saved on the system. With this tool, you can open protected sites and recover data strings stored by the Auto complete option. In short, there is no need for you to remember the passwords. Instead, install this software on your system and let it manage the rest. You can also recover searched words, protected websites etc. with this tool.
Kernel IE Password Recovery saves your valuable time and keeps you out of the hassles inherent with memorizing user logins and passwords. Webmasters, computer professionals and even individuals can take the advantage of this password recovery tool.