When organizations transition to Office 365 from their Exchange environments, there may be instances where it becomes necessary to export their OST files to Office 365, particularly when some mailboxes or items are discovered to be missing after migration. Similarly, when Outlook users begin using Office 365, they may need to export their PST files to their Office 365 mailboxes. Even regular Office 365 users may find it necessary to import PST files into their mailboxes. There are various methods to accomplish this, and importantly, the methods we will discuss do not require MS Outlook to be installed on your system.

Instant Solution
For a seamless transfer of data from PST files to Office 365 without relying on MS Outlook, consider downloading the automated tool Kernel Import PST to Office 365.
Methods to Import PST to Office 365 Without Outlook
The methods to import PST files to Office 365 without using Outlook include the Network Upload method, Drive Shipping method, and third-party PST import tools. While Microsoft provides two manual methods, they can be complex and require technical skills. On the other hand, third-party tools offer a quick and user-friendly way to import PST files into Office 365.
Network upload method: The Network upload method is one of Microsoft's approaches for importing PST files into Office 365. Technically proficient users can attempt this method to transfer their PST file data to the Office 365 cloud. To utilize this method, you will need to download the Azure AzCopy tool. It's worth noting that the import process using this method can be quite lengthy and time-consuming.

Drive shipping method: The Drive Shipping method involves saving PST files to a hard disk drive and then physically shipping it to Microsoft. Once Microsoft receives your data, they will copy it to the cloud. However, many users opt to avoid this method due to the need for physical shipping of PST data, as well as the complexities and time involved in the process.
The Easiest Way to Import PST File to Office 365
Kernel Import PST to Office 365 is a reliable tool to import Outlook PST file to Office 365. This tool does not require Outlook to import PST file to O365.
To import PST files into Office 365, you typically need to designate the PST file as the source and Office 365 as the destination. Following this, you'll map each PST file to a corresponding Office 365 mailbox and configure any necessary data filters as part of the import process.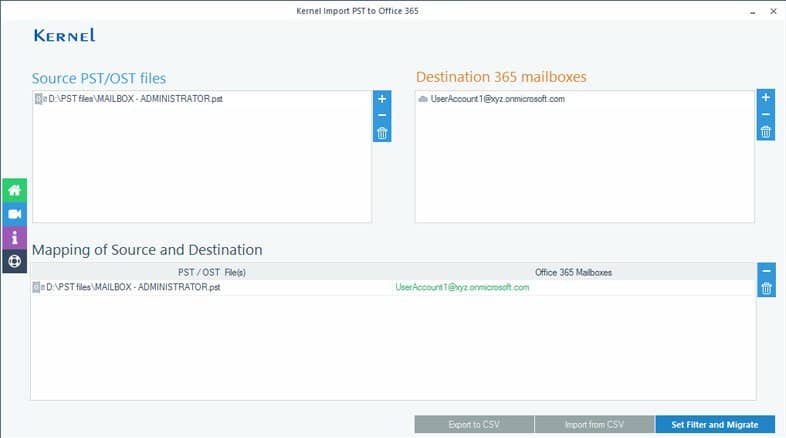 In the next step, you can apply various filters such as folders, date filters, item types, and more to refine the data migration. If you select the checkbox 'Same as source file name,' the PST file will be saved into a folder with the same name as the PST file. Additionally, you can choose to exclude empty folders and the Deleted folder from the migration. Once all settings are configured, you can initiate the migration process.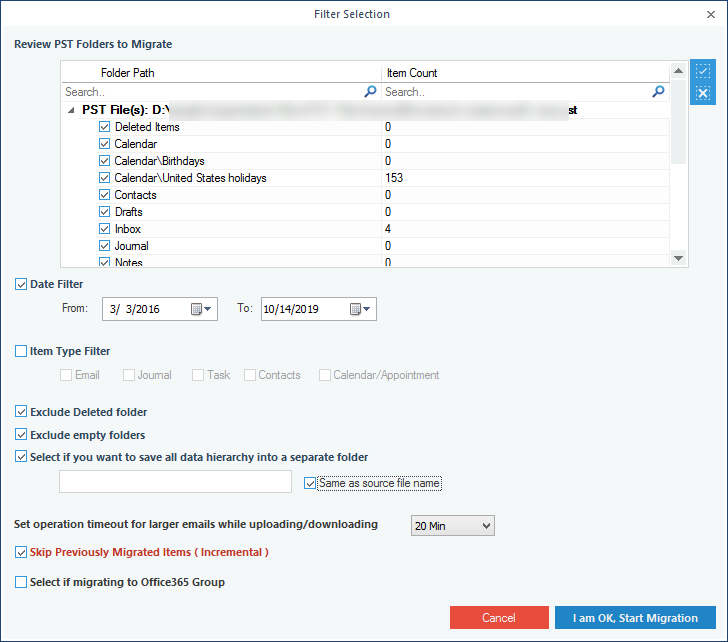 At the end of the migration, you will get a notification. You can save the details of the import process to a CSV file as well.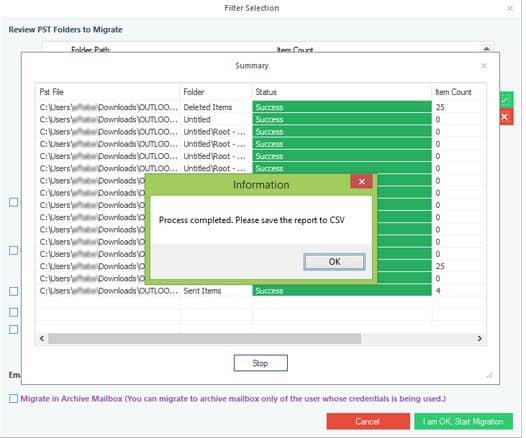 Conclusion
Importing Outlook data files into Office 365 is a common necessity in various scenarios. Exchange administrators may need to export OST data to Office 365 if mailboxes are missing post-migration, Outlook users may wish to export PST files to their Office 365 mailbox to retain old emails, and Office 365 users may need to import PST files to access email data from different sources. While a few manual methods are available, KernelApps' tool is preferred by many users due to its user-friendly interface. It does not demand any technical expertise and operates independently of Outlook installation.