Read time 7 minutes
Thumbnail preview is a convenient way to easily identify the media files (images, videos) on the system by just looking at them as shown below –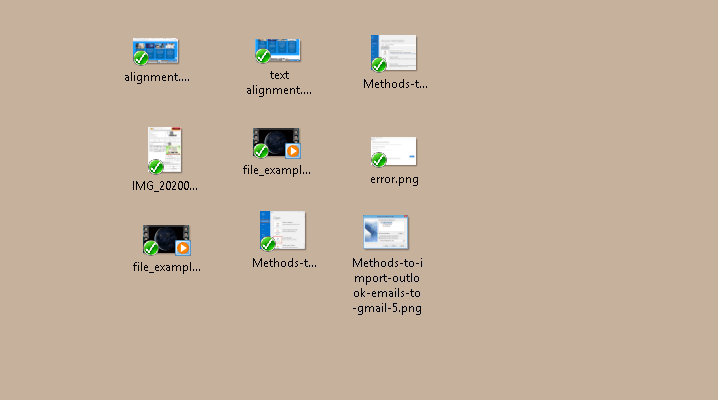 But sometimes for Windows 10 users, this Thumbnails preview is not available which is not so desirable. The reasons could be Fire Explorer settings, Registry settings, corrupted cache files, malware intrusions, storage issues, corrupted system files, and more.
So, this blog suggests some feasible solutions to fix this issue.
Ways to resolve Thumbnail preview issues
If you have complaints related to Thumbnail previews on your Windows 10, then simply try these fixes.
Check File Explorer Settings
Type File Explorer Options in the search box of your Windows 10 system and select the option File Explorer Options.
A dialog box namely File Explorer Options will get opened. Here, switch to the View tab, and under the Advanced Settings section, ensure that Always show icons, never thumbnails option is not selected. If it is selected, then unselect it. Then, select OK.
If the option was selected, then deselecting it might solve your problem.
Change Visual Effect Settings
On your Windows 10 system, search View advanced system settings and select the same search result to open it.
Next, a dialogue box System Properties will get opened. On the Advanced tab, click the Settings option under the Performance section.
The Performance Options dialogue box will get opened. On the Visual Effects tab, under the Custom section, select two checkboxes – Save taskbar thumbnail previews and Show thumbnails instead of icons. Click on OK to save the changes.
Now, check if thumbnails previews appear again.
Clear Thumbnails Cache
Go to the Search menu and type Disk cleanup. Select the search result Disk Cleanup.
Next, you need to select the system drive on which you want to perform the scan and cleanup. Click OK after the selection.
The drive scanning process will get started. Wait till it finishes.
Now, on the Disk Cleanup for System dialogue box, select Thumbnails and Temporary files checkboxes under Files to delete section. Click OK to delete the selections.
It will delete the current (may be corrupted) Thumbnails cache from your system drive and Windows will create the new cache again on need.
Modify Windows 10 Registry Settings
Press the Windows button and R alphabet on the keyboard together. Type regedit and click on OK.
The Windows Registry Editor page will get opened. Go to the following locations one-by-one and create a DWORD name with "Disable Thumbnails" and set its value to 1 and click OK. (Value 1 = Disabling DWORD, Value 0 = Enabling DWORD.
The locations are –

HKEY_CURRENT_USER\SOFTWARE\Microsoft\Windows\CurrentVersion\Policies\Explorer

And

HKEY_LOCAL_MACHINE\SOFTWARE\Microsoft\Windows\CurrentVersion\Policies\Explorer

Exit the Registry Editor and restart the system.
Edit Group Policy
Type gpedit.msc in the Windows 10 run box (press Windows and R together) and click OK.
The Local Group Policy Editor page will get opened. Here, on the left panel, follow this location –
User Configuration>Administrative Templates>Start Menu and Taskbar
Now, from the right panel, double click on the option Turn off taskbar thumbnails.
On the next page, select the Disabled option and click OK.
Also, on the main Local Group Policy Editor page, move to this location –User Configuration>Administrative Templates>Windows components>File Explorer. Expand File Explorer.
From the right panel, double-click on Turn off the display of thumbnails and only display icons.
Again select Disabled option and click OK.
Now exit the Local Group Policy Editor and restart your Windows 10 system.
Restore File Explorer Settings
On the Search menu of your system, type File Explorer Options, and from the search result, click on File Explorer Options.
The File Explorer Options page will get opened. Here on the General tab, click on Restore Defaults option.
Perform the same on the View tab.
Wait till the restoring gets completed. Click OK.
These are the best tricks that any user can follow to tackle the problem of Thumbnails preview not displaying on Windows 10 systems. However, there are other solutions as well which users can try like disabling conflicting third-party software, running anti-virus, running SFC scan, increasing RAM, uninstalling the latest Windows update, etc.
Corrupted Windows OS or system files can also stop this Thumbnails preview which can be checked by SFC scan manually. But in severe corruption cases, users may face data loss or accessibility issues. We have a permanent solution to data loss issues due to Windows corruption – try Kernel Windows Data Recovery tool to scan your system drives and partitions to recover all the data including the permanently lost files. Try its free version from the website to know its features and fix Windows 10 file corruption issues.

Final Words
The issue of Thumbnail preview not displaying in Windows 10 can be resolved by modifying File explorer settings, changing advanced settings, performing disk cleanup, editing registry settings, etc. Also, we have recommended an advanced tool to fight Windows corruption issues.