Read time: 4 minutes
Are you a SharePoint user looking to optimize the efficiency of your business? Are you wondering about the differences and benefits between the modern and classic experience?
As organizations continue to strive for efficient and streamlined operations with fewer errors, understanding SharePoint could be one way to help. Today, we will discuss how SharePoint's modern vs. classic experience differs to determine the best one for your organization.
SharePoint Modern vs. Classic | Major differences
There have been a few significant changes in recent years, with the introduction of a "modern" experience in SharePoint in Microsoft 365. Here are the differences between SharePoint modern vs classic-
1. Lists & Libraries
SharePoint modern lists & libraries give users an intuitive & more flexible experience. The layout is for all common tasks, including copying & moving files easily using the command bar. The interface also helps users to pin vital documents at the top to highlight them & add files as links with better SharePoint document management capabilities.
In contrast, SharePoint classic lists & libraries provide more customizations & column types, which is not available in modern SharePoint. However, users in classic SharePoint have to perform manual processes, such as sorting & grouping, unlike modern SharePoint, which automates these processes with its advanced features.


To change the default experience for lists or libraries, switch between the classic or modern view documentation.
2. Team sites
The difference between classic and modern SharePoint sites is that modern teams' sites are linked to Microsoft 365 groups, which automatically create an Office 365 group & connection to various Microsoft collaboration tools such as Outlook, OneNote & more.
The home page of classic SharePoint 2013 team sites automatically contains web parts & in the modern team site, users can find sections for Quick links, News, Site activity & Documents. Branding on SharePoint team sites is common & in classic SharePoint, users can add site themes, primary pages & alternate CSS. In contrast, modern SharePoint offers new & more accessible options for customizing & branding sites.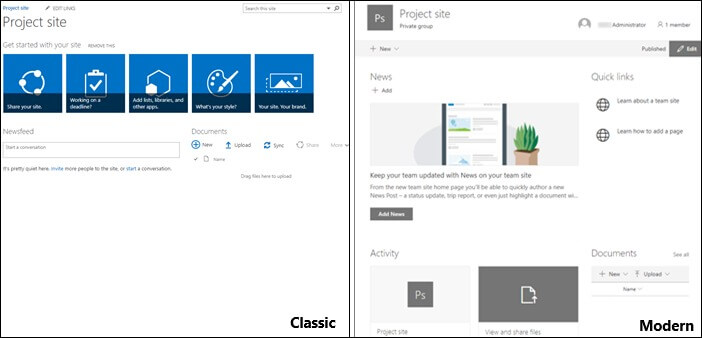 3. Pages & web parts
Compared to classic parts, modern SharePoint pages use faster, more intuitive & more visually appealing web parts. One of the most critical differences is that modern web parts never allow the insertion of code like JScript to enhance security, which is not the case with classic web parts.
The classic web parts cannot be used on modern pages & vice versa. Users can choose layouts with web part zones in classic SharePoint web parts, but you cannot change them after they are created. With modern pages, the layout is flexible & easily customizable at any time.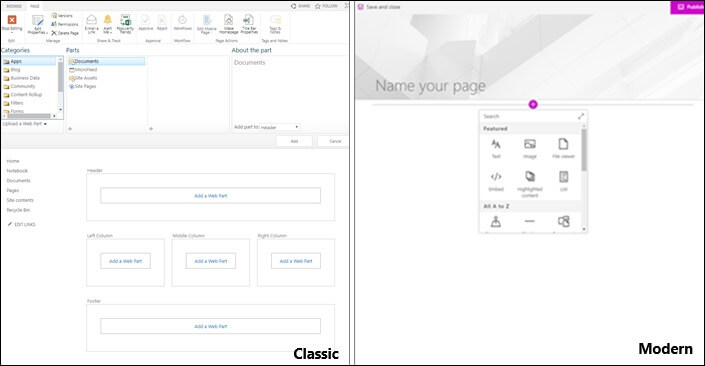 4. Search functionality
Modern search differs significantly from classic search in SharePoint. With modern search, everyone gets a personalized experience & the results you see are different from what other people see, even when you search for the same words.
Search results appear before you type & they update as you type. SharePoint start pages, communication sites & modern team sites all have modern search boxes. Nevertheless, the modern search may not contain some classic search features.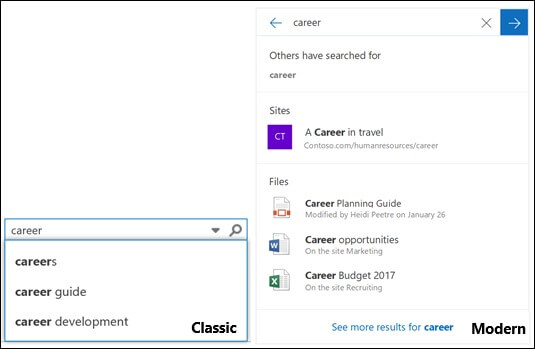 | | | |
| --- | --- | --- |
| Category | Modern | Classic |
| Lists & libraries | Optimized for simplicity & flexibility. Designed with pinning, sorting, filtering & other helpful features | Rich customization & classic features are available |
| Team sites | Easier customization options with faster site provisioning & editing | Require custom coding at times |
| Pages & web parts | Flexible layouts with fast, easy to use & secure modern web parts for SharePoint intranet | Rigid layouts with less secure web parts |
| Search functionality | Personalized results before typing, with dynamic updates as you type. Available primarily on modern sites | Includes powerful features with various customization options but limited personalization options |
Concluding thoughts
Taking all the perspectives about SharePoint modern vs. classic, the SharePoint modern experience is the way forward. With its innovative features & more engaging interface, it gives a great user experience. It assists your business in entering a new era of collaboration, communication, storage management & security. It's time to migrate SharePoint classic to modern & give it a try.
If you're looking for a hassle-free way to migrate all of your data from one platform to another with ease – Kernel Migrator for SharePoint is what you're looking for. SharePoint migration tool offers complete control over different migration processes, so you don't have to worry about them at all.