Read time 6 minutes
Summary: Accidental user profile changes in MS Outlook can lead to OST file issues. Repair with ScanPST or folder updates, but severe cases require OST to PST conversion with tools like Kernel for OST to PST Converter.
While using MS Outlook, one of the most challenging situations users can encounter is the accidental deletion or alteration of their user profile. There are various scenarios in which modifying the user profile becomes necessary or when it happens unintentionally. Offline folder files (OST) are essentially replicas of the server-based folders in your Exchange server mailbox. If, for any reason, your Exchange server mailbox is deleted from the server, you risk losing all your mailbox data. However, there's still a silver lining, and that's your OST file, which is stored locally on your MS Outlook client system.
Now, when faced with such an issue, the primary question that arises is: how can you regain access to your OST file?
OST files serve as a vital component, allowing you to work seamlessly even in offline mode. They store all your data and keep it synchronized with the Exchange server database. However, when a prolonged disruption in the connection between the Exchange server and MS Outlook occurs, it can result in orphaned OST files, rendering the data within them inaccessible. Additionally, any form of corruption can lead to an inability to access these OST files.
In such a predicament, attempting to extract data directly from these inaccessible OST files may prove to be a daunting task. This is where the need for a professional software tool becomes apparent. In this guide, we will outline various methods available to you for repairing corrupt OST files and recovering your valuable data. With clear instructions, helpful tips, and access to top-notch software, we aim to empower you to regain control over your Outlook email data once more.
Methods to Repair OST File
To address issues with the OST files, you can choose from two straightforward methods. By carefully reading and following the steps outlined below, you will be able to resolve your problems within a matter of seconds.
Method 1: Using ScanPST to Repair OST File
A commonly employed approach to resolving problems with Outlook OST files is utilizing ScanPST.exe, a built-in inbox repair tool offered by Microsoft. This integrated utility can efficiently repair both PST and OST files with minimal inconvenience.
To initiate the procedure, you'll need to first locate the ScanPST.exe tool on your system. Once you've located it, run the executable file to commence the repair process.
A new window for the Microsoft Outlook Inbox Repair Tool will appear, and within this window, you should click on the "Browse" button. This action will enable you to specify the precise location of the OST file you intend to repair.
Once you have confirmed the file location, click on "Start" to initiate the scanning process. Please be patient as this process may take some time, and it's essential to allow it to complete.
Once the scan finishes, you must select the backup option prior to clicking on "Repair".
Upon the successful repair of the OST file, an alert window will pop up, confirming the completion of the repair process. Simply click "OK" to close the window and conclude the repair procedure.
Method 2: Folder Update
For troubleshooting issues with a particular folder, you can look to update the Outlook folder manually. Here are the steps to do so.
To access Outlook, right-click on the folder, and then select "Properties."
Click on Clear Offline Items & hit OK.
Lastly, from the Send/Receive tab, click on the option Update Folder.
How to Proceed if the Above Fixes do not Work?
In some cases, the aforementioned fixes may not be effective. If your OST file includes offline items that are not synchronized with our server, recreating it won't be possible. In such situations, you'll need to extract and import the OST data into an Outlook PST file, necessitating an OST to PST conversion. Here's a more detailed examination of the additional reasons that may require OST conversion.
What is the need of OST Conversion?
Following are some crucial circumstances where you would require OST conversion:
When the Exchange server gets crashed and you are unable to access our email data saved on the server, you would definitely require an OST conversion tool to re-create and recover damaged OST file.
Sometimes, a user's MS Exchange server account can be accidentally deleted, rendering their email data inaccessible. In such a scenario, OST files stored on the user's local computer can be employed to extract their mailbox data.
When local OST files become damaged, and essential user data is exclusively stored within them, an OST conversion tool can be invaluable for recovering the lost data from these compromised OST files.
When dealing with the retrieval of data from password-protected OST files, OST conversion software can once again be a valuable resource for recovering inaccessible data by converting the OST file into the PST file format.
While minor issues with OST files can be addressed using Microsoft's scanost.exe utility, more severe OST problems may require a professional tool. Among these OST conversion tools, the Kernel for OST to PST Converter stands out as an effective software solution with the capability to repair, recover, and convert inaccessible OST files into Outlook PST format. This versatile tool can recover crucial items such as emails, notes, contacts, calendars, and other elements from corrupted OST files.
The software excels in its email recovery operation by comprehensively scanning the entire OST files and extracting all recoverable data. Once the OST recovery process is completed, it presents the retrieved data in a tree-like structure with a preview. Furthermore, the tool allows you to save the displayed files at your preferred location, providing a convenient and reliable solution for OST file recovery and conversion.
How to convert OST files quickly and easily?
The OST to PST conversion process is swift and straightforward with the converter tool. This software offers a wide range of options, allowing users to tailor the OST conversion precisely to their needs. Here are some of the tasks users can accomplish using this tool:
The OST conversion can be accomplished in a few simple steps as:
Open the tool. You can view almost all the features on the home page itself.

Now select the OST file and proceed. The tool allows you to convert single as well as multiple OST files to PST at a time.


Note: You also have a Search option to search for OST files in a desired drive.

Now you can view the mailbox hierarchy of selected OST file on the left. After preview, you can save items from the selected folders.

Note: You can search for specific emails using the Find option of the tool.

This tool allows saving multiple file formats and destinations. You can easily select the desired option in this step. For e.g., choose PST file (MS Outlook) as the file saving format .

Now you can filter the OST folder content (by the criteria To, From, Subject, Folder Name, Item Type, & Date Range). These inbuilt filters are very useful for saving selected items from the OST folders.

While saving in a PST file, you have the option to split the PST files into desired sizes.

Finally, you can choose a location and saving preferences.

After the completion, you will get a confirmation message with a link to the saving location.
Conclusion
In summary, we have explored various methods to repair OST files and recover email data from them. Whether it's through repairing or updating folders, or utilizing third-party tools like Kernel for OST to PST Converter, there are multiple solutions available to address this issue. It is crucial to comprehend how to effectively manage and repair OST files for secure data storage and retrieval. Working with OST files can be somewhat intricate, so becoming acquainted with safe methods to repair corrupt OST files is essential.
Watch Video: To know Complete Process of OST conversion tool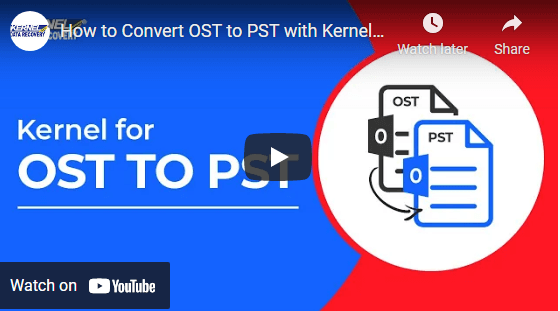 FAQs
Q- Can I recover emails from an OST file?
A- The only way to recover emails from an OST file is to re-establish the synchronization between the file & the Microsoft Exchange Server through its unique MAPI address. This process requires a professional level of proficiency with Outlook & Exchange Server
Q- Why are the OST files corrupted?
A- The reasons for OST file corruption can vary from hardware failure, viruses or malware attacks, sudden power outages, or improper shutdown of the application. Moreover, OST files are usually larger in size & when they exceed their file limitations, they can become vulnerable to corruption. 
Q- What happens if the OST file is deleted?
A- You won't lose your data in the process. In fact, you can easily download the file again from the Exchange Server. However, if you want to safeguard your information, experts advise backing up the offline storage file into a PST format.