Read time: 4 minutes
Outlook is now the official email client of Microsoft. Previously Hotmail was the email client of Microsoft but now is no longer in use as the company has stopped its services. Still, users can access their old Hotmail accounts. Hence Hotmail is now Outlook. And Outlook is now one of the most popular email clients among millions of email users around the world.
Can we get back emails from Hotmail?
Microsoft will automatically deactivate the account if the email account is not used at least once a year. User can reactivate their account by using their password. But if an account is constantly not used for five years, Microsoft will permanently delete the account, and you can't recover it.
Here are the methods you can use to recover data from old Hotmail accounts:
Solution 1- Connect the Old Hotmail Account to a New Outlook account
Using this method, you can connect and access your old Hotmail account to the new email client. Go through the following steps to know how to retrieve an old Hotmail account.
Open Outlook and go to Settings.
Click on 'Sync email.'
Select the 'Other email accounts.'
Now, type your Hotmail address and password and link your account.
Solution 2- Use Microsoft's Account Recovery Form
Users can access their old Hotmail accounts using Microsoft's account recovery form method. But there is a need to enable two-step verification to implement this method. If it's already disabled, you won't be able to use this method.
Navigate to account.live.com/acsr.
Here, input the Hotmail address to recover.
Now, enter the email ID on which Microsoft can contact.
Finally, confirm the email address and the security code.
Go with the onscreen steps to finish the process.
Within 24 hours, Microsoft will get back to you.
Solution 3- Recover Hotmail Account Without Mobile No. or Recovery Email
We will learn to recover a Hotmail account without using Mobile no. and Recovery mail:
Go to the Microsoft email recovery page and enter your Hotmail email address.
It asks for your email address and phone number. Now go and select the option, 'I don't have any of these tests.'
Microsoft will ask for any other recovery email address to send you the code and the CAPTCHA to know you are human.
Now, a form will appear where you need to enter all requested details of your previous Hotmail account, like your DOB, phone number, and all. This data will help Microsoft know that you are the account's real owner.
And when the data matches with the earlier data, Microsoft will ask you to type a new password to continue using Hotmail.
Solution 4- Create a New Account by Using an Old Hotmail ID
Users can opt to create a new Outlook account by using an old Hotmail ID.
Go to the browser on the system.
Now open a new Incognito Mode tab.
Here user should navigate to http://outlook.live.com/owa.
Lastly, click on the "Create a free account" option. To create a new account, follow the instruction on the screen.
Do we need a backup for our emails?
Whenever we use a mail account, we must have a backup for data because today, everything is about data, and data loss might be disappointing. Hence try to have a backup for every mailbox. Professional tools work great for this, like Kernel IMAP Backup. Using this tool, users can efficiently backup mailboxes from IMAP Servers like Yahoo, Gmail, G Suite, Amazon Work Mail, AOL, Zimbra, Outlook.com, Office365.com, Zoho Mail, etc. easily.
Users can choose the file type in whichever they want to save the mailbox data like PST, DOC, DOCX, EML, MSG, MHT, HTML, and PDF file formats. The entire data is backed up with all its metadata and properties without any changes in its originality. This tool makes the backup simple and secure throughout the whole process. Using this tool users can simply add an iCloud account to outlook and here they are ready to backup iCloud emails on windows outlook.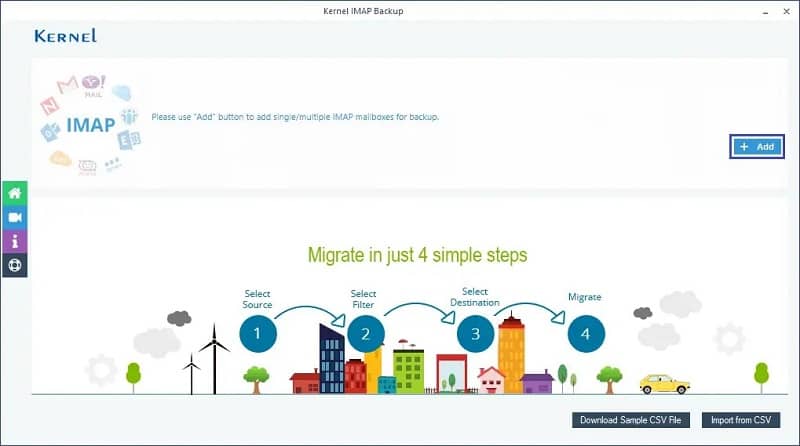 Conclusion
Hope you find this blog helpful. Hotmail is no more in service, and users can access their old Hotmail account only through the Outlook application. You can recover your old Hotmail account using different methods in Outlook. Also, we suggest having a backup of your data using an advanced solution. Even with this tool, you can backup Yahoo emails to PC as Yahoo offers IMAP access option. You can visit our customer support experts for more detailed information about the tool. Stay tuned to our blog page for a more detailed and informative blog.