Read time: 4 minutes
With so many amazing features, Google Workspace has truly taken employee engagement by storm. It has helped professionals and their organizations to reach new heights of productivity, innovation, flexibility, and collaboration. In addition, G Suite has been able to brilliantly turn all the words written about them into a successful reality. While continuing this trend, the concept of Shared team drive has made the lives easier for all the team members. As the name suggests, a shared drive belongs to the entire team. Though great for teamwork, a team drive can easily be deleted by any team member which immediately raises a few eyebrows. But don't you worry because in this article we will be discussing recovering a deleted Team Drive in G-Suite.
Shared Team Drives in G Suite
Shared drives basically act like a shared storage space where all the team members can store their files and folders and can access them anytime from any device. Instead of transfer of emails from one user to another in G Suite, emails can be sent from a single email. It belongs to the entire team and not to a single user. This simply indicates that an exit from a user will not result in the deletion of the entire drive. All the data will continue to stay in the same place for other members to carry on with their work. It guarantees work without any kind of interruption and prevents loss of data. Since the number of team members is higher, the chances of mistakenly deleting the drive also increase. That is the reason, the admins need to be careful about the shared drives. They should be quick to respond if they do get deleted.
Recover a Deleted G Suite Team Drive
The Google Workspace has been designed with advanced data recovery abilities which are capable to restore all kinds of data, under the condition only that the user will adhere to a fixed timeframe specified for each type of content.
Who can restore the team drive?
Only the administrator has the right to restore the entire Shared drive and all its content.
Till when can the data be restored?
The admins can recover the deleted drive and all its content from the Trash folder within a window of 25 days only. Nothing can be done after those 25 days have passed and no amount of effort would be able to bring back the data.
Steps to recover the drive within G-Suite
Sign in to the Admin Console using the Admin account.
From its dashboard, choose the 'Apps' icon.
Now, move to 'Drive and Doc' which is available under the 'Google Workspace' option.
Click on 'Manage shared drives.'
You can also choose to 'add a filter' to narrow down your searching procedure.
Select 'Restore' and provide a range of dates.
When you are restoring multiple files and folders at the same time it might take a while for the recovery process to complete.
Backup a deleted Team drive using a professional utility
If G Suite Team Drive data is lost or when G Suite not syncing with Outlook, things are still manageable for the users who have the wise habit of taking backup of their G Suite data on a regular basis. There are many 3rd party tools that allow users to keep their data saved on their local system. One of them is the Kernel G Suite Backup software which has been curated with powerful algorithms to take backup of all the G Suite mailboxes, appointments, and chats on your local system.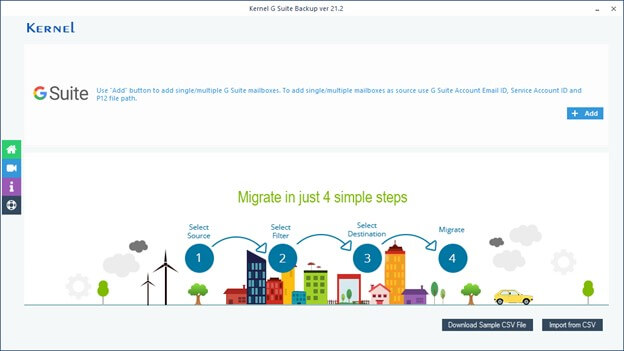 Reasons why you need to backup G Suite data
Multiple mailboxes can be backed up at the same time.
Certain filters like date, folder, etc. can be added to ensure selective backup of data.
The simple and self-exploratory user interface is ideal for all users, even for beginners.
Can be saved anywhere in the preferred destination of the user.
The software runs smoothly on all versions of the Windows operating system including the latest one, Windows 11.
Conclusion
Shared drives have made it possible for all G Suite team members to access common data more easily. But what if this Shared team drive gets deleted by a user? These situations are very likely to happen which is why the admins must be attentive. G Suite allows recovering the deleted team drives within only 25 days of deletion. Only a small percentage of users are able to regain their data through this manner as they often miss the deadline. There is no other method to recover the data unless you have taken the backup of your G Suite account. The Kernel for G Suite Backup is an excellent tool that serves the purpose.