Read time: 4 minutes
Summary: Google Workspace, especially G Suite's Shared Team Drives, enhances collaboration and data storage. This article guides on recovering a deleted team drive, emphasizing admin roles and a 25-day recovery window. It also introduces a G Suite Backup tool for proactive data protection.
Google Workspace has revolutionized employee engagement with its myriad impressive features. It has empowered professionals and their organizations to achieve unprecedented levels of productivity, innovation, flexibility, and collaboration. Notably, G Suite has adeptly transformed praise into tangible success. Keeping in line with this trajectory, the introduction of the Shared Team Drive has simplified the lives of team members. As the name implies, a shared drive is the collective property of the entire team. While it fosters teamwork, the fact that any team member can easily delete a team drive may raise concerns. However, fear not, as this article will delve into the process of recovering a deleted Team Drive in G-Suite.
Shared Team Drives in G Suite
Shared drives function as a collaborative storage hub, allowing team members to save and retrieve their files and folders effortlessly across various devices. Instead of transfer of emails from one user to another in G Suite, emails can be sent from a single email. It belongs to the entire team and not to a single user. This means that when a user leaves, it won't wipe out the entire drive. The data stays put for others to keep working seamlessly. This ensures uninterrupted work and safeguards against data loss. With more team members, the risk of accidentally deleting a drive goes up. That's why admins need to be cautious with shared drives and ready to act swiftly if they are deleted.
Recover a Deleted G Suite Team Drive
Google Workspace boasts sophisticated data recovery capabilities, proficient in restoring diverse data types, contingent upon the user's adherence to specified timeframes allocated for each content category.
Who can restore the team drive?
The sole authority to recover the complete Shared drive and its contents lies with the administrator.
Till when can the data be restored?
Once the admins realize a drive has been deleted, they have a 25-day window to recover both the drive and its contents from the Trash folder. After this period, all efforts to retrieve the data would be in vain, as the opportunity expires.
Steps to recover the drive within G-Suite
Sign in to the Admin Console using the Admin account.
From its dashboard, choose the 'Apps' icon.
Now, move to 'Drive and Doc' which is available under the 'Google Workspace' option.
Click on 'Manage shared drives.'
You can also choose to 'add a filter' to narrow down your searching procedure.
Select 'Restore' and provide a range of dates.
When you are restoring multiple files and folders at the same time it might take a while for the recovery process to complete.
Backup a deleted Team drive using a professional utility
If G Suite Team Drive data is lost or when G Suite not syncing with Outlook, things are still manageable for the users who have the wise habit of taking backup of their G Suite data on a regular basis. There are many 3rd party tools that allow users to keep their data saved on their local system. One of them is the Kernel G Suite Backup software which has been curated with powerful algorithms to take backup of all the G Suite mailboxes, appointments, and chats on your local system.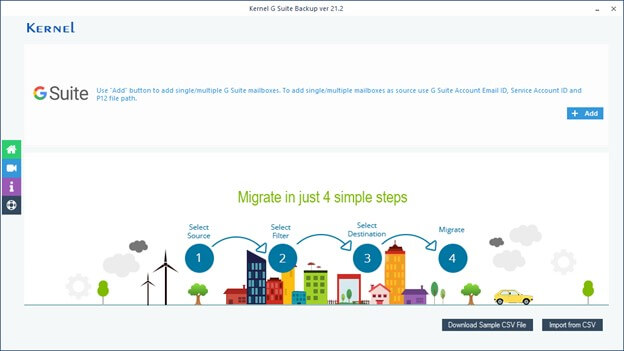 Reasons why you need to backup G Suite data
Multiple mailboxes can be backed up at the same time.
You can include specific filters, such as date or folder, to ensure that only selected data is backed up.
The user-friendly interface, with its simplicity and intuitive design, caters to users of all levels, making it especially welcoming for those new to the experience.
Can be saved anywhere in the preferred destination of the user.
The software operates seamlessly on various versions of the Windows operating system, including the most recent iteration, Windows 11.
Conclusion
Shared drives streamline access to shared data for all G Suite team members. However, the risk of accidental deletion by a user underscores the importance of vigilant administrators. G Suite provides a window of 25 days to recover deleted team drives, but the success rate is limited, with many users missing the deadline. Without a backup of your G Suite account, there's no alternative method for data recovery. The Kernel for G Suite Backup emerges as a valuable tool for this purpose.