Read time: 3 minutes
MPG (Abbreviation of Motion Picture Experts Group or MPEG) is the most used video file format in which videos, whether be web videos, animation, or anything else shot by you, are stored. This format is usually supported by Windows Media Player, VLC media player, and other media players. These videos have the file extension of .mpeg. These files may get corrupted while transforming when your computer witnesses sudden power failure, or virus attacks; it can happen during conversion of it into some other format also. In the present blog, we shall discuss how MPG/MPEG files get corrupted, signs of corruption, and ways to recover them.
How do you realize that the MPG file is corrupted?
The following symptoms indicate that your MPEG files are corrupt.
Video cannot be played.
Only audio is playing and not video.
Choppy/ blurry /flickering video.
Audio and video are not synchronized.
No audio. (like Instagram video has no sound)
Video is lagging.
Black screen.
The computer freezes when the video is played.
The Video file is broken.
Problem with video codec/ proper codec is not installed.
The format is not supported by your computer.
Probable reasons for corruption MPEG files:
MPEG corruption can occur due to various reasons. Some of the reasons have been listed here.
Unexpected stopping of media player. This leads to corruption or damage of MPG files.
Bad sectors on hard disks can cause corruption.
Virus/ Malware.
Already affected/infected files in the folder can corrupt other files as well.
Improper/unauthorized media players may corrupt files.
Occurrence of any kind of error when you are copying the MPEG file.
When file extension is changed to some other format.
Methods To Recover Corrupted MPG Files
You can try different workarounds one after the other to fix MPG corruption. Here are some methods:
Try to reinstall the media player:
When the MPEG video file is not playing on Windows Media Player then try to reinstall the WMP properly. This may prove helpful. It is recommended to install the latest version of the media player.
Use another media player to play the video.
Try to convert MPEG to another format that can be played on your media player.
Try to download the video again from the source. Improper or interrupted downloading may lead to the non-playing of the video.
Use VLC Player's inbuilt feature of video repair to repair MPEG files. (You may also use this method in case VLC is not playing MKV file)
A professional tool to repair MPG files
If nothing above works then Kernel Video Repair is the most intelligent resort to recover your corruptor damaged MPG files. It supports numerous video file formats including MPG/MPEG. All you need to do is download the software, select any number of corrupt or damaged video files of any format, and repair them. You can store the recovered files at any location of your desire.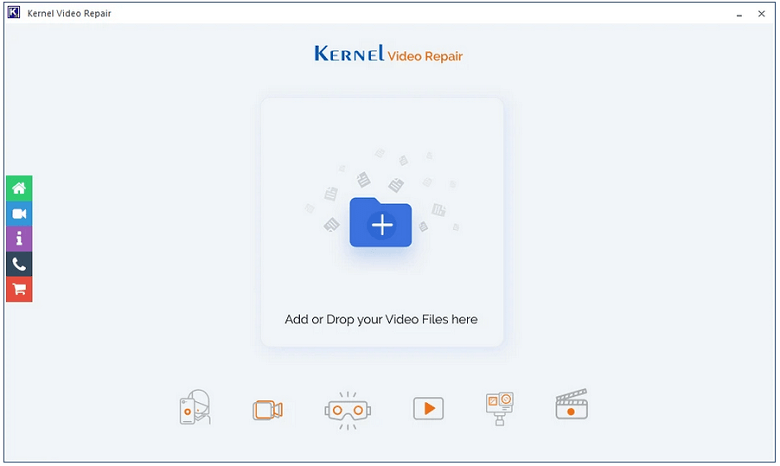 Conclusion
Kernel Video Repair is perhaps the one-stop panacea to repair video files of any format with any kind of corruption or inaccessibility irrespective of the extent of the damage. You can repair any number of files, of any size and format, simultaneously and can store the repaired video files at any location of your choice. Its feature of drag and drop makes it very easy to use. There is no compromise with the original quality of the video file(s). It supports all Windows media video file formats and is compatible with all versions of the Windows operating system including Windows 11. Moreover, a free version of the software is also available with the saving limitation of 30 seconds.