Read time 7 minutes
Whenever a new system version/upgrade is available, it brings the latest security patches, bug fixes and possibly new feature additions. But for some users, upgrading to the new version of the Operating system can become a mess. It can lead to data loss and can also result in data corruption.
From many user search queries, it was found that most of them were facing Outlook Contacts missing issue after the system upgrades to Windows 10.
In this write-up, we have come up with methods to help you get out of such mess and will guide you through the process of recovering the missing Outlook Contacts on a Windows PC (personal computer).

What Happens When You Upgrade to Windows 10?
When a system running an old version of Windows Operating System upgrades to the latest version available, all files created and stored in C drive by the previous installation are moved to Windows.old folder.
And in-case if the new Windows version fails to deliver expected satisfaction then, using the same folder you can restore the system to the version you prefer.
The same folder can also be used to recover Outlook's lost data; and to find the folder for Outlook, check in the path below.
C:Windows.oldUsersusernameAppDataLocalMicrosoftOutlook
Inside the Windows.old folder, the data usually remains hidden; to unhide the Outlook Folder data:
Open the Outlook Data Folder – inside Windows.old folder.
In the menu bar, switch to the View tab.
Now, checkmark the Hidden Items option.
If data restoration from Windows.old folder fails, in such situation try the other methods provided below.
Check Outlook Address Book Service is Added
First, check if the Outlook Address Book Service is added, as Outlook shows contacts in the Contacts Folder only if the said service is added to the Mail Profile.
With below steps you can check whether the Outlook Address Book Service is Added or not:
Open Outlook 2016.
Click on the File tab in the left > Account Settings > Account Settings.
Switch to Address Book tab and check if Outlook Address Book is added or not, as shown below:
To confirm, double-click on the address book highlighted:
If Outlook Address Book Service is not added yet, click New
Select Additional Address Book and click Next.
Now, select Outlook Address Book and click Next.
Close & restart Microsoft Outlook 2016.
Once you're done with the steps, re-open Outlook and check whether the service is now available or not, as it'll show all Contacts from the Contacts Folder associated with the Mail Profile.
Confirm that Contact Folder is Marked as Outlook Address Book
Along with adding the Outlook Address Book Service, we also recommend you confirm that Contact Folder is Marked as Outlook Address Book, as shown below.
To check or mark the Contact Folder as an Outlook Address Book, perform the steps given below:
Open Microsoft Outlook 2016.
Move the cursor down to bottom-left of the screen. Click the People/Contacts icon.
Click Contacts and right-click and select Properties.
Switch to Outlook Address Book tab.
Now, check if Show this folder as an email Address Book is marked, if not then checkmark it.
With this method, all your missing Outlook Contacts might appear back, but in some case even doing so would not help at all.
Recreate the Mail Profile
In case, even after marking the Contacts Folder as an Outlook Address Book, it remains disabled and you have made sure that the Outlook Address Book service is added, it means that the Outlook Address Book Service is not functioning as it's supposed to and is corrupt or broken.
To get over this problem, you would have to re-create your Mail Profile.
A Mail Profile is the combination of settings and files configured for a specific email account. It can carry many email accounts and support various account types like POP3, IMAP, Exchange, Gmail, and more.
To re-create mail profile, perform the steps provided below:
To manage mail profiles or re-configure an existing one or re-create, first, you need to locate the mail application (applet) available in the Control Panel.
Note: Mail applet's availability/location varies as per the Windows version running on your PC.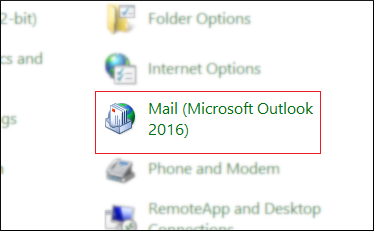 Once you click on the Mail application, a wizard would appear on-screen, similar as below. Click on the Add button.


While you start with adding a new Mail Profile, make sure that you do not use Copy, as It will copy the existing but corrupt data into the new profile.
Until your new Mail Profile is ready and working as expected, we recommend that you do not delete the old Mail Profile.

Now, enter a name for the new Mail Profile.
Click to add a new email account.
It is important that you select proper account settings & type as per your ISP and mail provider.

For most of the Outlook versions available currently, you may proceed to enter a display name, the email address, a strong & secure password, and rest leave on Outlook. The desktop email client will automatically acknowledge account details and configure the profile accordingly.

Go through the on-screen instructions to finish up configuring and re-creating the Mail Profile.
Now that the Mail Profile is re-created, it is time that you select that profile to let Outlook start with it; to do so, select Always use this profile in the mail application, said above.
Creating the Mail Profile again substitutes the issue of corruption associated with the old profile on your system.
Kernel for Outlook PST Tool
After considering all the above options for getting the missing Outlook Contacts back, you should also consider data restoration from PST stored locally on the hard drive.
With the right application, the native methods can prove to help, but these procedures are not a hundred percent reliable. In similar scenarios, we suggest using an Outlook PST Repair software to help and assist you in fulfilling all your Outlook objectives.
The tool helps you immediately repair and recover corrupt or damaged PST file data with no technical expertise required. And no matter how big or bulky the Outlook PST is in size, browse for the file and start the repair.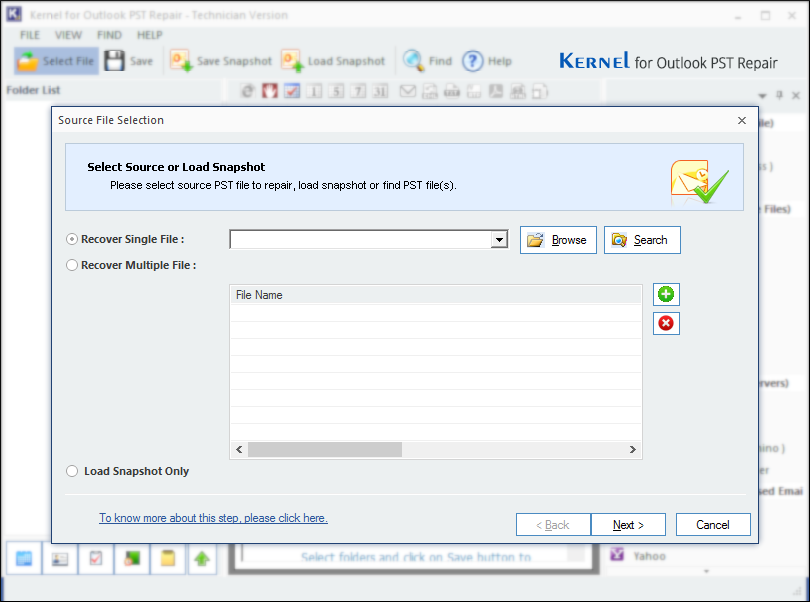 Along with getting the missing Outlook Contacts back, you can also use it to recover deleted emails, backup the PST data file, access attachment files, and much more.
Concluding
New system upgrade can either be a mess or super delight to users. To avoid the experience from turning into a mess, we suggest you enable system restore feature. If you find your Outlook Contacts missing after upgrade to Windows 10, you can try the above methods. Also to overcome situations similar to above, read through our article on tips to recover deleted contacts in Outlook 2016.