Read time: 5 minutes
Summary: This content provides a 5-minute read-time guide for business professionals on migrating emails from Horde Webmail to Office 365. It offers two methods for the migration process, highlighting the use of a recommended MBOX to PST tool for a seamless transition.
As a burgeoning and ambitious business professional, email serves as your primary channel for communicating with clients, customers, and colleagues. As your business continues to expand, the number of emails flooding your Inbox steadily increases. Before long, you discover it challenging to stay on top of this surge in incoming messages.
You've likely received positive feedback regarding the capabilities of Office 365 and how it can assist you in overseeing your expanding business. However, there's a particular obstacle standing in your way: the process of migrating all your emails from Horde Webmail to Office 365. This task may appear challenging, leaving you uncertain about where to begin.
Migrating your emails from Horde to O365 may present some challenges, but rest assured, it's entirely achievable. This straightforward guide will help you master the process in no time.
Horde Webmail to Office 365 Export
We have outlined two straightforward methods for migrating emails from your Horde Webmail to Office 365, tailored to your specific Horde Webmail configuration. Please review the following steps for guidance.
Method 1: Export Horde Emails to Office 365 in MBOX Format
You can effortlessly transfer Horde Webmail to Office 365 by adhering to these instructions.
Log in to the Horde web application.
The Horde Web app interface will come up with all your important emails.
Afterward, perform a right-click on the folder you intend to export. If you want to import the entire Inbox, simply right-click on the "Inbox" option.
Click the "Export" option.
Afterward, you have the option to choose between downloading a compressed MBOX zip file or an uncompressed MBOX zip file. Simply click "OK" to proceed.
This action will preserve your Horde email backups in the form of .mbox files.
You must utilize our software to transfer your MBOX data to Office 365.
Method 2: Using the Folder Actions Option
Utilizing the latest Horde Webmail, migrating your emails from Horde to Office 365 has become a straightforward task. It is not only advisable for Horde but even you must backup apple mail emails to external hard drive and others for precautionary measures. Here are the steps for Horde mail.
Access the Horde Webmail through the Cpanel menu.
On the left-hand side dashboard, locate the Folder Actions tab positioned beneath the Inbox. Simply tap on it to proceed.
Select the "Show All Mailboxes" option.
To export emails, simply right-click on the email or folder, and then select the "Export" option.
You are now able to retrieve the MBOX file from Horde Webmail through a download option.
Press the OK button and be patient as the server readies the data.
Save the file when prompted by your web browser.
To export all folders in Horde webmail, simply follow the same procedure mentioned earlier.
Once more, you have the option to utilize the recommended MBOX to PST tool to transfer the MBOX file to Office 365.
MBOX to Office 365 Migration
While you're in the process of exporting your Horde emails to MBOX, we're here to enhance your experience by providing assistance with your migration to Office 365 from MBOX. For a seamless and efficient MBOX to Office 365 migration, consider utilizing the Kernel MBOX to PST tool.
The tool supports the addition of multiple MBOX files and their migration to Office 365.
Additionally, this software can preserve the structure and formatting of the original data during the Office 365 migration process and it can even perform apple mail to MS Outlook migration. The tool provides several advanced features, including the capacity to filter data based on date or size and to preview mailboxes prior to migration. Additionally, there is a free version of this top-notch utility available, allowing users to assess its capabilities. In summary, it is a robust tool suitable for executing secure and efficient migrations from MBOX to Office 365 and various other destinations.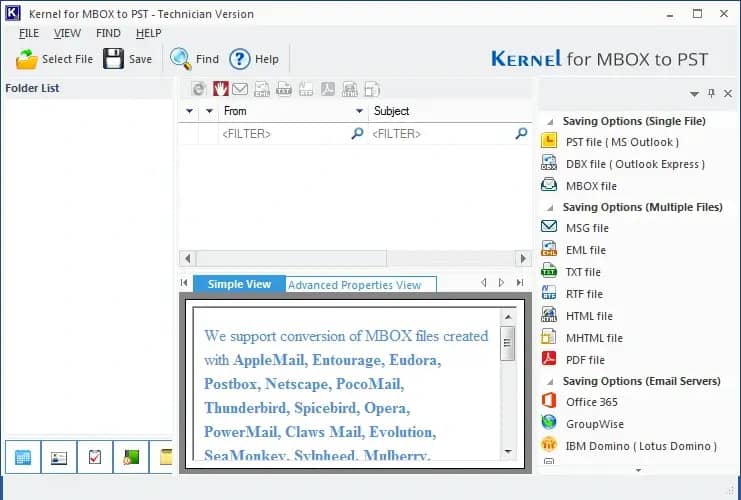 Last Say
If you're looking for a simplified method to move your emails from Horde Webmail to Office 365, we have the ideal solution for you. Our recommended approach involves first exporting your Horde emails to the MBOX format and then smoothly transitioning from MBOX to Office 365. What's more, our migration tool streamlines this process, making it as easy as a few clicks. Say goodbye to hours of grappling with intricate instructions when trying to transfer your MBOX data to Office 365; our tool handles it all effortlessly on your behalf. Give it a try today!