Read time: 5 minutes
As a young, up-and-coming business professional, you rely on your email for communication with clients, customers, and colleagues. As your business grows, the volume of emails in your Inbox grows. Soon, you find yourself struggling to keep up with the influx of messages.
You've heard great things about Office 365 and how it can help you manage your growing business. But one thing is holding you back… transferring all of your emails from Horde Webmail to Office 365. It seems like a tough task, and you're not sure where to start.
Transferring your emails from Horde to O365 can be a bit tricky, but it's definitely doable. With this simple guide, you will become a pro soon.
Horde Webmail to Office 365 Export
To transfer emails from Horde Webmail to Office 365, we have put up two easy methods as per the Horde Webmail you are using. Read the steps below.
Method 1: Export Horde Emails to Office 365 in MBOX Format
You can seamlessly export Horde Webmail to Office 365 by following these steps.
Sign-in to the Horde Web application.
The Horde Web app interface will come up with all your important emails.
Next, right-click over the folder you wish to export. You can even import the full Inbox by right-clicking on Inbox.
Tap on the option Export.
You can then select whether to download a compressed MBOX zip file or an uncompressed MBOX zip file. Click OK.
This will save your Horde email backups as .mbox files.
Now, you need to export your MBOX data to Office 365 using our software.
Method 2: Using the Folder Actions Option
With the newest Horde Webmail, you can easily migrate emails from Horde to Office 365. OIt is not only advisable for Horde but even you must backup apple mail emails to external hard drive and others for precautionary measures. Here are the steps for Horde mail.
Access the Horde Webmail via the Cpanel option.
In the left side dashboard, you will see a tab Folder Actions below Inbox; tap on it.
Choose the option Show All Mailboxes.
To export the mails, right-click over the mail or folder and click Export.
You can now download the MBOX file from Horde Webmail.
Tap on OK and wait while the server prepares the data.
When your web browser prompts you, save the file.
To export all Horde webmail folders, repeat the above procedure.
Again, you can export the MBOX file to Office 365 using the prescribed MBOX to PST tool.
MBOX to Office 365 Migration
As you export your Horde emails to MBOX, we are looking to add value by helping you with your MBOX to Office 365 migration needs. For such advanced MBOX to Office 365 migration needs, go for the Kernel MBOX to PST tool.
The tool supports the addition of multiple MBOX files and their migration to Office 365.
Additionally, this software can preserve the structure and formatting of the original data during the Office 365 migration process and it can even perform apple mail to MS Outlook migration. The tool also offers a number of advanced options, such as the ability to filter data by date or size and the ability to preview mailboxes before the migration. Moreover, this top utility is also available as a free version, making it possible for users to test its features. Overall, it is a powerful tool that can be used to perform a safe and effective migration from MBOX to Office 365 and other destinations.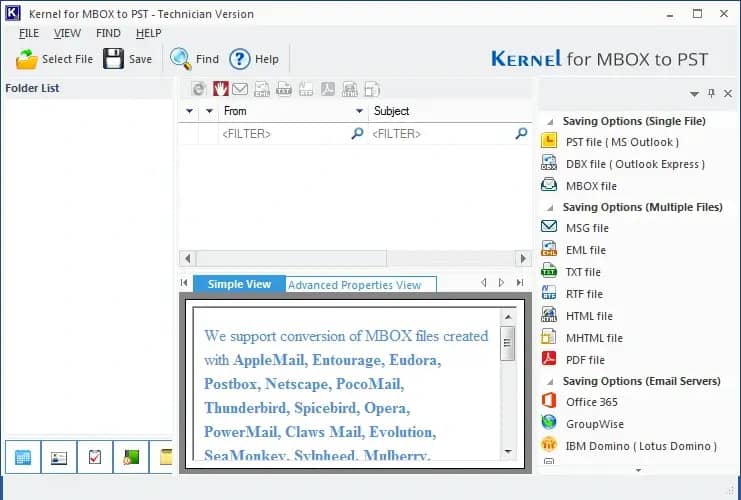 Last Say
If you need an easier way to transfer emails from Horde Webmail to Office 365, we have the perfect solutions. We recommend exporting Horde emails to MBOX format and then migrating MBOX to Office 365. Moreover, our migration tool helps easy migration from MBOX to Office 365 in just a few clicks. Don't spend hours struggling with complicated instructions, trying to figure out how to migrate your MBOX data to Office 365- our tool can take care of everything for you. Try it today!