Read time: 4 minutes
Exchange Server has seen many developments since its inception in the year 1996. Each version of Exchange brought multiple enhancements, and businesses quickly jumped from older to newer Exchange Server and remained active users of its services. Microsoft updates each product regularly and upgrades it with more convenient features for modern business requirements. Today, three active versions of Exchange Server are available in the market – 2013, 2016, and 2019.
Exchange Server 2010 support ended on October 13, 2020, and the businesses sticking to it are vulnerable to various threats as there will be no technical support, security fixes, bug fixes, etc. When Exchange Server 2010 was released in 2009, it had many outstanding features that empowered businesses with incredible benefits.
Database Availability Groups.
Several older features like LCR, CCR, and SCC were exchanged with DAG completely. It created several highly available databases, and the admin could make multiple copies of the same database. It did not require reconfiguring, creating, moving, or removing the copies.
Client Access Server
The Client Access Server handles client connection requests and connects them to mailboxes.
RPC Client Access
The RPC Client Access was the abstraction layer that enabled Outlook-based clients to connect with their mailboxes through Client Access Server roles. This way, there was minimal chance of negative impact on client data whenever a failover occurred with the database.
Personal Archive
The Personal Archive feature that has become a norm in Exchange Server was introduced with Exchange 2010, which accommodated the older data in a secondary mailbox belonging to the same user account.
Recoverable Items
Recoverable Items replaced an earlier feature known as dumpster to keep the deleted items from the user mailbox. It was designed to follow legal search compliance and protect mailbox objects from accidental deletion.
Administration delegation
The administrator can delegate some activities to the user to perform several actions. Tasks can be managed by delegating the roles based on the requirement of the job.
Outlook Web App
Outlook Web App was first introduced in Exchange 2010, where the users could access their mailboxes from any workstation or system using a web browser. Multiple browsers (Firefox and Safari) had support for Outlook Web App.
Exchange Server 2019
Exchange Server 2019 was launched a decade after Exchange 2010, with some great features with more emphasis on services. It is the first Exchange Server that works on Windows Server 2019. Now, in place of Unified Messaging, Skype for Business will require Azure cloud voicemail.
How can we migrate from Exchange Server 2010 to 2019?
Between Exchange 2010 and 2019, there were two more versions of Exchange – 2013 and 2016. So, there is no direct way to jump from 2010 to Exchange 2019. The business must upgrade to either 2013 or 2016 and upgrade the Exchange license to 2019. Microsoft allows to migrate Exchange 2010 to Exchange 2016 manually.
After Exchange 2016 migration, you can eventually move to Exchange 2019. The best-case scenario will be adopting Exchange 2016 as 2013 will end its cycle in 2023. So, 2016 will have a longer support cycle and better features. If you opt for Exchange 2013, then you can migrate Exchange Server 2013 to 2016 after the end of support.
Unsupportive Active Directory is a giant roadblock between the desired migration from Exchange 2010 to 2019. So, you should choose a possible situation where the older data from Exchange 2010 is moved to either Exchange 2016 or 2013 If you are looking for manual migration
Is it possible to migrate from Exchange Server 2010 to 2019?
If your business organization is still sticking to Exchange Server 2010 and want to adopt 2019, then you cannot use any manual method, and here comes Kernel Migrator for Exchange for your rescue. Exchange migration software will migrate the mailboxes along with all the features, properties, and metadata from Exchange 2010 to 2019. It has all the features and a simple user interface to access Exchange Server 2010 and connect with Exchange 2019.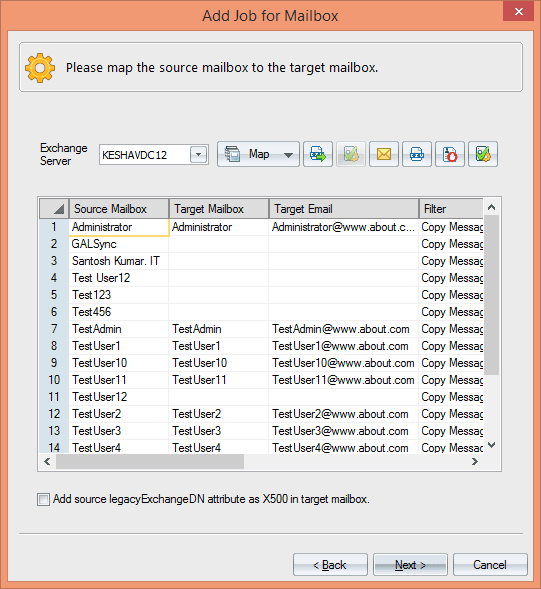 You can create multiple projects that will run separately. After you select multiple mailboxes, you can map each mailbox with a corresponding destination mailbox and schedule the migration at any future time.