Read time: 6 minutes
Important Note: This technical guide focuses on helping you understand how to migrate from Exchange 2007 to Office 365 quickly. It consists of the manual steps that are very technical to perform for users. In this article, you'll learn about planning, preparing, and migrating Exchange 2007 mailboxes to Office 365.
Even after the upgrades with the latest versions, many businesses still use earlier Exchange versions, such as the Exchange 2007. But the sudden growth in the cloud-based environment has forced companies for Exchange migration towards Office 365 for its cloud services. Office 365 provides a plethora of benefits for email and data management, such as flexibility and better security. However, moving from Exchange 2007 to Office 365 is tricky because it requires extensive planning and preparation.
Don't worry! This article will help you ease the Exchange 2007 to Office 365 migration process. Here, we will highlight the simplest methods to migrate your existing Exchange mailboxes to Office 365.
Methods to Migrate Mailboxes from Exchange 2007 to Office 365
Talking about the ways to migrate Exchange 2007 mailboxes to Office 365, there are three methods available. Let's look at each of these methods.
Cutover Migration
Cutover migration is one of the most effective Exchange migration methods that is ideally used to migrate user mailboxes from Exchange 2007 to Office 365 as a part of a one-time Office 365 deployment. Therefore, cutover migration is the most recommended method to migrate Exchange 2007 mailboxes to Office 365. But this method is suitable only if you need to migrate less than 2000 mailboxes. However, experts recommend migrating only 150 mailboxes using this method.
Staged Migration
Staged migration is the second unique method to migrate Exchange 2007 mailboxes to Office 365, which is performed as a part of Office 365 deployment. Staged Migration is generally used to migrate mailboxes in batches and is recommended if the total number of mailboxes exceeds 2000.
IMAP-based Migration
This technique is helpful if the Exchange server supports the Internet Message Access Protocol (IMAP). But there is one limitation to this method, you can only move the email items in the user's email folders, which means you cannot move contacts, calendar items, and tasks with IMAP. Besides, this method doesn't allow you to create mailboxes in Office 365. You'll have to create the mailbox individually for each user before the migration.
Note: There is one more Exchange to Office 365 migration technique – Hybrid Migration. But it is not applicable to Exchange 2007
Now that we know of the options to migrate Exchange 2007 to Office 365, let's see which method suits your purpose.
Note: Plan your migration with Exchange Server Deployment Assistant Tool.
Simplest Method to Execute Exchange 2007 to Office 365 Migration
When it comes to Exchange to Office 365 migration, you need a migration plan in place that can be used throughout the process. As mentioned above, the Hybrid Migration method is not available for Exchange 2007, and the IMAP technique has limitations, so you can either use the Cutover or Staged Migration techniques.
If you want to perform the Cutover Migration from Exchange 2007 to Office 365, you can refer to the below steps. But, before that, you need to keep a few points in mind:
Before Migration
Plan and test your migration on test servers before the final implementation
Backup your Exchange mailboxes and database files
Steps to Migrate Exchange 2007 Mailboxes to Office 365
You need to follow the below steps if you're using the Cutover Migration technique.
Step 1: Plan the Migration
Before migrating Exchange 2007 to Office 365, you need proper planning in place. Plan your migration with the below points:
Tell your users about the changes.
Enable Outlook Anywhere (OA) on your on-premises Exchange 2007.
Get your certificate from a trusted Certification Authority (CA) with OA and Autodiscover services.
See if the connection to Exchange is reliable using OA (outside the network). You can also use Microsoft Exchange Remote Connectivity Analyzer to establish a connection.
Assign full user access for all mailboxes on Exchange 2007, especially the Administrator account that will be used for migrating mailboxes from Exchange 2007 to Office 365.
Disable Unified Messaging on Exchange 2007 before migration.
Generate security groups based on your requirements.
Step 2: Test the Existing Setup
To test your existing setup, you need to ensure that the Exchange 2007 infrastructure supports Outlook Anywhere (RPC over HTTP) and Autodiscover. Later, you can use the MS Remote Connectivity Analyzer (RCA) to validate Outlook Anywhere (RPC over HTTP). Don't miss any of these steps, or the migration will fail.
Go to the RCA website.
Choose Outlook Anywhere (RPC over HTTP) test and click Next.
Provide all the required information.
Enter the verification code and then click Perform Test.
If the above process fails or gives any warnings, reattempt with the above steps. Once the test is successful, move to the next step.
Step 3: Organize and Begin Cutover Migration
To begin with cutover migration, you can follow the below steps:
Open Office 365 Admin Center and go to Exchange Admin Center (EAC).
Click Migration and then click the + icon.
From the drop-down menu, select Migrate to Exchange Online.
Select Cutover Migration and click Next.
Enter the on-premises credentials and click Next.
Give a name to the New Migration Batch and click Next.
Now, select a recipient from the list for the migration report. You can select multiple accounts here.
Select 'Automatically start the batch' or 'Manually start the batch later' as per the readiness.
To generate a new migration batch, click New. The status should be syncing.
Depending on the number of accounts and the data, it will take a few minutes to complete. Click View Details under the Mailbox Status to view Migration details.
Step 4: Completing the Migration
Once the synchronization is complete, a report will be emailed to you to complete the migration process. After that, execute the following steps:
Migrate Exchange Public Folders to Office 365
Assign the licenses to Office 365 users
Validate and update all DNS records while pointing towards Office 365 services
Configure the systems to use Office 365 services
Once you perform the above steps, you can stop the batch migration job. The above process might sound a little complicated for beginners, and it is. So, you need an automated solution to migrate mailboxes from Exchange 2007 to Office 365.
There are plenty of tools available in the market to migrate Exchange mailboxes to Office 365, but Kernel Exchange Migrator is one of the best options for you. The tool is integrated with advanced algorithms and filters that enable you to migrate all your Exchange mailboxes to Office 365. Just like it migrates primary mailboxes, it can migrate public folders from exchange 2010 to 2016 easily. In addition, the tool is capable of migrating multiple mailboxes at once while keeping track of the migration process. For beginners and technical experts, this works as a handy tool that makes the overall Exchange to Office 365 migration process easier.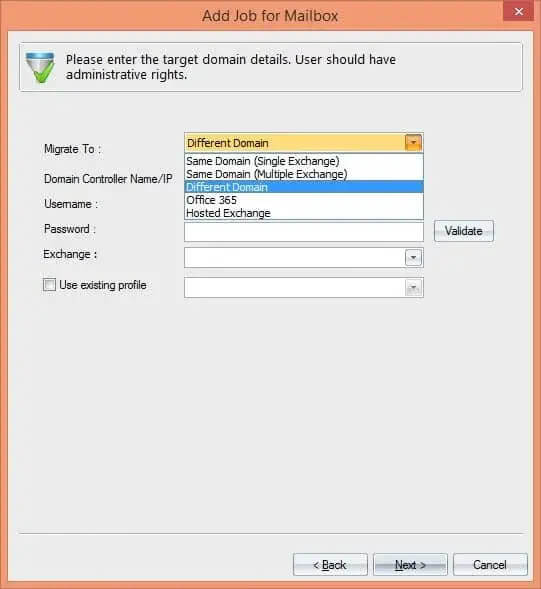 Conclusion
Migrating mailboxes from Exchange 2007 to Office 365 is a complicated process that requires attention, knowledge, and effort. Besides, it's risky to perform the steps as it can lead to data loss. This article focuses on helping you understand how to migrate Exchange 2007 mailboxes to Office 365 while covering all the essential steps. After migrating the data, you can setup an existing Office 365 account in Outlook. If autodiscover is not working for setting up Office 365 account, then ask for the Exchange administrator to do it.