Read time: 8 minutes
Summary: Microsoft Teams Security Best Practices: In the era of remote work, Microsoft Teams is a leading collaboration tool with over 250 million users. This article highlights the importance of securing Teams due to its critical role in business operations. It discusses security threats and provides best practices, including governance policies, data security features, data access control, user activity monitoring, and data management policies to ensure a secure Microsoft Teams environment.
The backbone of any organization lies in its data, underscoring the need for workplace tools to guarantee data security and uphold its integrity. This responsibility particularly falls upon collaboration and communication tools.
By the year 2020, countless businesses found themselves needing to swiftly adapt their organizational framework and operational methods to accommodate remote work. This led to the emergence of numerous collaboration and video conferencing platforms, gaining immense popularity within these organizations. Leading the pack is Microsoft Teams, closely trailed by Google Meet, Slack, among others. Since its inception, Teams has surged to become the swiftest growing communication and collaboration tool, boasting over 250 million active users.
Teams is one of the cloud-based applications included in the Office 365 suite. It seamlessly incorporates OneDrive, SharePoint, and Outlook, providing powerful and smooth file-sharing functionalities alongside instant messaging and video conferencing features.
Due to its array of advanced features, Teams has emerged as the prevailing choice for collaboration and video conferencing within organizations. However, a handful of incidents involving data leakage and inadvertent sharing raise a crucial question: just how secure is Microsoft Teams?
In this post, we will explore various facets of Microsoft Teams security and strategies to ensure its safety without compromising the effectiveness of end-user collaboration services.
Reasons Behind Microsoft Teams Security Being a Top Priority
Prior to delving deeper into the blog, it's crucial to understand the significance of Microsoft Teams Security, which has become a prominent subject of discussion. Below, we'll explore some of the key reasons driving this attention:
Teams act as an entry point into your business.
The escalating popularity of Teams and its expanding user base make it an appealing target for malicious actors.
The continuity and expansion of businesses now hinge on Teams, as it offers smooth communication, collaboration, and meeting solutions.
The diverse range of features in Teams streamlines tasks for your employees, yet it also introduces additional potential vulnerabilities.
How was Security Managed Before Cloud?
Prior to the advent of cloud computing, the cornerstone of security lay in firewall configuration. Security relied heavily on an organization's firewall, which acted as a robust perimeter defense. Within your data center, servers like the application server, Exchange Server, SharePoint Server, file server, and Skype for Business Server operated behind this protective firewall.
The emergence of cloud platforms such as Office 365 simplified operations, enabling users to collaborate and communicate on files beyond the confines of a traditional data center. This shift means companies no longer need to rely solely on their own servers and firewalls. Instead, they can opt for Cloud services, gaining access to applications like Exchange, SharePoint, OneDrive, and Office 365. Notably, Cloud security services offer a higher level of protection compared to traditional firewalls.
The security measures of Microsoft Teams extend far beyond that.
Is Microsoft Teams Secure?
Certainly! Without a doubt, Microsoft Teams is meticulously crafted with robust security measures. It guarantees that file sharing and communication exclusively take place between recognized and authorized users with data access privileges.
Much like securing the doors of our homes, it's imperative to implement the lock feature in Office 365. This ensures a harmonious blend of user-friendliness and robust security measures.
Prior to delving into this topic, let's first examine what constitutes a security threat for Microsoft Teams. Here are some noteworthy potential risks:
External Access or Guest Access.
Access from untrusted locations or unmanaged devices.
Malware uploaded through Microsoft Teams.
Sharing and displaying of confidential data.
Data loss through Microsoft Teams chat, file shares, and other applications.
Data residency.
Best Practices to Secure Microsoft Teams
Here are some recommended security practices for bolstering the security of Teams and reducing potential risks:
Define Microsoft Teams Governance
Implementing governance policies for Teams is a paramount strategy for ensuring security. These policies dictate the internal operations of the organization, guide end-users in app utilization, specify who is authorized to create Teams accounts, and regulate the sharing of information or data. Appointing a dedicated Teams administrator is crucial for effectively enforcing these policies throughout the organization.
When it comes to security, you can also consider these points:
Who can Create Teams?
The first and the most important thing is to decide who can create a Team in Microsoft Teams because it will allow you to reduce teams sprawl and other security issues it arises.
Teams Ownership and Membership
By establishing appropriate membership and ownership policies, you gain improved oversight of teams and private channels, allowing you to regulate the information or data being exchanged. Owners of teams possess the authority to expel members, adjust settings, invite guests, and undertake administrative responsibilities.
Configure Data Security Features
Office 365 provides a few additional features to secure your data or information
Data Loss Prevention (DLP)
This tool aids in the detection of sensitive information, such as credit card numbers, and serves to prevent inadvertent exposure, thereby minimizing the potential for data breaches. You have the capability to establish Data Loss Prevention (DLP) controls in alignment with sensitivity labels. This feature restricts unauthorized individuals from either accessing or disseminating crucial data within a private chat or a Team's channel. In order to fortify your data's security, you can extend the application of these policies to include guests or external users.
Use Sensitivity Labels
The sensitivity labels provided by Microsoft Information Protection (MIP) offer a means to safeguard data within Teams without impeding user productivity and teamwork. They extend protection to teams against third-party applications and apply security measures like watermarks and encryption. For example, designating a team group as "Private" ensures encryption, thereby preventing users external to your organization from accessing that particular Team.
Configure Data Access Control for Teams
Ensuring data security and controlling file sharing beyond the organization's boundaries is crucial. You have the option to grant access to external parties and guests in the Teams channel. Let's delve into a detailed discussion of these access controls.
External Access
By default, Teams allows external access, enabling your users to collaborate with individuals outside your organization. This feature authorizes Teams users from distinct domains to engage with users in your own domain. This capability proves beneficial when two separate organizations need to collaborate. Consequently, it has become imperative for organizations to establish and oversee external access in Teams. Moreover, you have the option to manage external access exclusively for specific businesses by adjusting a few settings.
Guest Access
Guest access involves extending an invitation to an external user, enabling them to join and engage in your chats, file sharing, and channels. This process allows you to provide entry to external users while maintaining control over their access to your enterprise data.

Incidentally, administrators have the ability to deactivate guest access or control the privileges granted to guests, including their ability to modify or remove chat messages in channel posts, share files, and more. Properly configuring and monitoring guest access is essential for maintaining data security.
Here are some other methods to control external or guest access in your Teams channels:
Use the Lobby Feature
This functionality serves to block external users from entering your Teams meeting. If an external user attempts to join, they will be automatically directed to a virtual waiting area, where they must await approval for entry.
Enable Private Channels within the Team
Create a private channel and add all team members and guests, but only team owners have the right to access it.
Monitor user Activity Regularly
Observing user activity within Teams allows you to analyze their interactions effectively. By leveraging these insights, you can assess user behavior and make necessary adjustments to enhance the security of your Teams environment.
Teams offer restricted monitoring features to avoid granting broad permissions to third-party apps available in Office 365 that need access to user and corporate data. Administrators can establish a predefined roster of approved third-party apps. If a Team needs to use an app not on the list, they can review it manually before granting permission. This serves as a safeguard against external attacks on teams.
You can monitor teams' activity on analytics and reports in the admin center.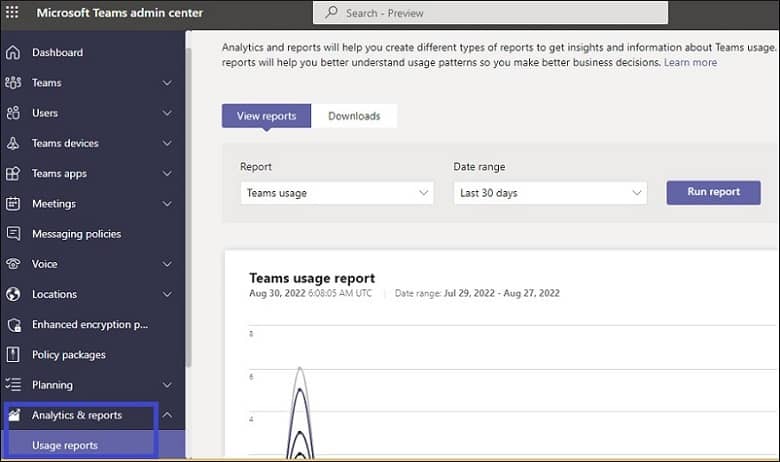 Implement Effective Data Management Policies
If the sensitive information persists within the Team beyond its intended use, it poses a security threat, increasing the likelihood of data leakage or loss. Implement the following three policies for effective data management:
Retention
Set up retention policies in Teams for both channel messages and chats, and then transfer them to SharePoint and OneDrive after their designated time period has elapsed. This will help clear up storage space in Teams.
eDiscovery
This tool, part of the Office 365 suite, enables you to locate and retrieve electronic information or data for use as evidence in legal proceedings. You can utilize this tool to reconstruct Teams conversations specifically for the legal team's needs.
Expiration
Setting an expiration date enables you to effectively oversee the lifespan of Office 365 groups. Owners will receive renewal requests for their expired groups; failure to renew will result in permanent deletion. Group administrators or owners also have the option to restore deleted groups within a 30-day window.
Conclusion
Microsoft Teams has emerged as a critical component of ensuring uninterrupted business operations. Given its expanding utilization, it is imperative to gain a comprehensive understanding of the various crucial facets of Microsoft Teams security. This blog aims to provide you with a comprehensive overview of the key domains essential for safeguarding Microsoft Teams.
Still, if you are worried about issues like Microsoft Teams performance, data loss, and data leakage, we suggest you use a professional tool named Kernel Microsoft Teams Migration. It quickly backs up the entire Teams data and improves Microsoft Teams performance. For a better understanding of the tool, use its free trial version.