Exchange Server is quite a robust and secure platform which has all the settings and features to protect the data. But still, many threats are roaming around to damage the database. These threats make the Exchange data inaccessible. Some major causes of Exchange database corruption are –
Virus attack
User error
Abrupt shutdown
Application malfunction
Error in database objects
Improper changes in the database schema
Let's see the two methods to recover the lost data from a corrupt Exchange database file
Manual method using Eseutil utility
Automated method using Kernel for Exchange Server
Manual method using Eseutil utility
Eseutil is an inbuilt tool within the Exchange Server which is useful to repair the corrupt databases, defragment them, check database integrity, and reduce the size.
The default location of the tool in Exchange 2013/2016 is –
C:\Program Files\Microsoft\Exchange Server\V15\Bin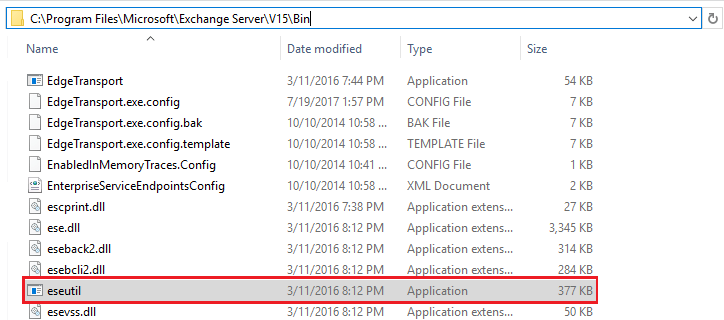 The functional aspect of Eseutil tool is quite broad, and you can perform following actions using multiple switches –
To repair the database – eseutil /p
To defragment the database –eseutil /d
To restore the database – eseutil /r
To verify checksum in the database – eseutil /k
To check the database integrity – eseutil /g
To do hard recovery– eseutil /c
To display the headers, logs or checkpoint files – eseutil /m
To copy database and log files – eseutil /y
Use ESEUTIL to defragment the database.
Before starting defragmentation of the database, you should save a backup of the database in case of emergency.
First, dismount the database from Exchange.

Dismount-Database –Identity <name of the database>

Run Eseutil /d command

eseutil /d <name of the database> /T <location of temporary path>

After successfully running the Eseutil command, mount the database back to Exchange.

Mount-Database –Identity <name of the database>

Repair the database with Eseutil /p command.

eseutil /p <location of the database>

Finally, run the new-mailbox repair request command to fix the errors in the database.

New-MailboxRepairRequest -Database <name of the database> -CorruptionType <type of corruption>

You can try this command multiple times to eleminate all issues in the Exchange database.
Automated Exchange recovery using Kernel for Exchange Server
Kernel for Exchange Server recovery is a professional Exchange EDB to PST converter tool which can fully recover a corrupt Exchange database by retrieving the mailboxes (even the deleted ones). It has quite a simple interface and completes the recovery process in minimum steps possible. Here are the complete steps to repair Exchange Database –

Launch the software and click the Offline EDB icon.

Browse the corrupt EDB file.

NOTE – If you do not know the location of EDB file, then click the Search button. It will help to search the EDB file from any folder or drive.

Select among the two scan options – Standard Scan and Deep Scan.

All the data is recovered. Click Finish.

The EDB data gets added as the source and the mailboxes get listed as in the Exchange.

Select an item from the mailbox folder and click Preview button. The tool will present its preview.

To save a mailbox or message, click PST File option

Select the Create New PST file option to create a new PST file.

Enter the destination folder, provide a new name for PST file and click Next.

Now you can copy mailbox, folder, or messages from the EDB file to the PST file.
Conclusion –
Both the tools – Eseutil utility and Kernel for Exchange Server— are useful to recover a corrupt database. But the Kernel for Exchange Server is capable of handling all types of corruption, whereas the Eseutil just checks the health of Exchange database and does not guarantee a full recovery. So, use the Kernel for Exchange Recovery tool to handle Exchange server errors correctly .