Read time 6 minutes
Summary: Experiencing a "File does not exist" error when opening your mail? This blog offers a practical solution to resolve this issue, helping users troubleshoot and navigate their way past this common error message for a smoother email experience.
IBM Notes, formerly known as Lotus Notes, serves as the go-to professional email client for numerous business organizations, facilitating seamless communication. While IBM consistently updates the application to provide users with the latest features and immediate mailbox access, users may occasionally encounter specific issues. Among these challenges is the 'File does not exist' error message, which can occur when users attempt to open the application.
IBM Notes, a prevalent email client following MS Outlook, holds a significant place in today's business landscape. Nevertheless, like any software, it encounters occasional issues. Among the challenges faced by Notes users is the 'File does not exist' error message.



The 'File does not exist' error message in IBM Notes can manifest for various reasons, often appearing unexpectedly. Here are some common scenarios in which this error may occur:

Instant Solution
Download automated tool Kernel for Lotus Notes to Outlook converter to easily convert Lotus Notes NSF file to Outlook/Exchange server in quick time.
Now, let's explore the potential causes behind this issue and then delve into possible solutions.
While Opening an Email in IBM Notes Application
At times, users may encounter the 'File does not exist' error message in IBM Notes when clicking on an email. This error may also surface during various other activities within Lotus Notes, not limited to email opening.
Reasons –
The different reasons for this error are:
You are working with a lost network connection
You are trying to open a file that does not exist anymore or stored in a removable device that is not attached to the system
You are trying to import an attachment or file that is not present in the directory
Solutions –
Check the network connections and adapters carefully. Then try again to open the emails
Remove the external drive or storage device, replace it, and then click on mail to open it
You must be careful about the specified location of the directory in which your file is stored. Check it again to ensure that selected directory location is correct
You must ensure that key files – names.nsf, bookmark.nsf, desktop.ndk, and cache.ndk – exist in the Notes\Data directory. If not, then .NTF equivalent files must be there in the Notes\Data directory.
While Archiving the Emails in Notes
When attempting to archive old or unnecessary emails in IBM Notes to reduce database size, users may encounter the 'File does not exist' error, which can disrupt the archiving process.
Reason – This error may pop up if the archive NSF file is renamed or deleted from the directory.
Solution – Go to File > Database > Properties > Archive Settings . Check if the file is missing or renamed. If the file is removed or deleted, create an NSF file or rename the same in the exact location.
When Notes is Launched After Upgrade
When a user attempts a new version update with a different user account, they may encounter the 'File xxx.nsf does not exist' error. For example, if the individual installing Notes 8.5.2 Fix Pack 3 is not using the same user account as the one used for the previous version installation, this issue may arise.
Solution – This error can be prevented by installing the new version with the same user account with which the earlier version was installed. Once the installation is done, restart the IBM Notes application. It will prevent the error message to occur again.
While Accessing Mail in a Local Replica
When the user is trying to access the mail in a local replica, he may get an error message:
'Notes Error: File does not exist (CalendarProfile).'
Reason – Using a local replica in place of server copy is the cause for this error. Also, accidental deletion of Notes temporary files (.DTF) is one of the reasons for the issue. Sometimes anti-virus software activities also play an important role in the deletion of temporary files.
Solutions – Try one or more tasks to resolve the file error:
You can try opening the mail in server copy to see the effects
Launching Lotus Notes application again can solve your problem
Configuring anti-virus software excluding the .DTF files from it can fix the issue
Updating the latest version of anti-virus software for the system
The above mentioned solutions can solve your problem.
Thinking of Moving from Notes to MS Outlook?
Frequent errors in IBM Notes, often with no straightforward manual solutions, may compel users to consider migrating to Outlook. While some attempt to convert their profile using CSV files, this method can be technically challenging. Alternatively, a professional third-party software like Kernel for Lotus Notes to Outlook converter offers a reliable solution. This tool simplifies the process, allowing users to migrate multiple NSF files efficiently, including special folders, while preserving the read/unread status of emails. It supports all versions of MS Outlook and IBM Notes, and even facilitates the migration from IBM SmartCloud to Outlook.
Software Working Video to Move Data from Lotus Notes to MS Outlook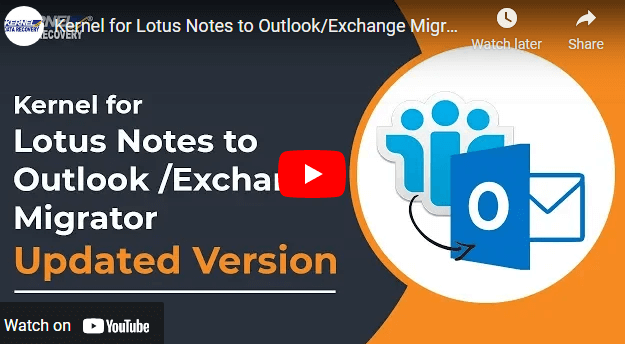 Marked as answer by Simon_Wu Microsoft contingent staff, Moderator



Read more : https://social.technet.microsoft.com/Forums/en-US/e2bb9b73-7804-4ce6-b3b8-2781df0f7b96/migration-lotus-notes-to-exchange-how-to-migrate-confidential-emails-in-ln-encrypted
Conclusion
Facing an NSF file error can severely impede user access to their IBM Notes account. This article comprehensively addresses the various causes of such issues and offers effective solutions. Among the recommended methods, converting NSF to PST using professional software emerges as the ultimate solution, facilitating a smooth transition to Outlook as the preferred email client.