Read time: 6 minutes
Summary: Microsoft provides consistent support through timely cumulative updates for Exchange Server 2019 and 2016. Neglecting updates can lead to issues. Reverting updates is impossible, so careful planning is crucial. Follow prerequisites and steps for installation, and maintain best practices, including backups and testing. Consider using Kernel for Exchange Recovery to handle database file integrity and data recovery during updates, ensuring a reliable safety net for valuable data.
Active Exchange Server 2019 and 2016 systems receive consistent support from Microsoft developers in the form of timely cumulative updates. These updates are not arbitrary modifications; rather, they are purposeful responses to user queries and issues reported to the support team during that specific timeframe.
Each cumulative update represents a comprehensive Exchange setup that incorporates all the changes from previous Cumulative Updates (CUs). If your server has not received updates for an extended period, it is advisable to bypass installing all the previous updates and instead download and install the latest Cumulative Update exclusively. Neglecting regular Exchange updates can lead to consistency-related issues, resulting in errors such as "Exchange Database Consistency Check Failed" and others.
Caution note
Once you've upgraded to a newer version of Exchange, it's important to note that reverting to a previous Cumulative Update (CU) isn't possible through uninstallation. Uninstalling the updated version will completely remove Exchange from the server, preventing a rollback to an older CU.
Timeline of cumulative updates for Exchange Server
The Exchange operates on a quarterly release schedule, providing Cumulative Updates (CUs) that address customer complaints while occasionally introducing new features and capabilities.
Critical product upgrades encompass those addressing security bulletins from Microsoft or incorporating alterations to time zone definitions. During Mainstream Support, substantial product upgrades are provided monthly, as required, for both the latest Cumulative Update (CU) and the preceding CU. In Extended Support, critical product updates for the most current CU are issued on a monthly basis as necessary.
In the provided table, there's no need to download older updates. Instead, simply obtain the latest update, which will encompass all changes from previous versions. Clicking the provided link will take you to the dedicated page for the cumulative update, complete with detailed information.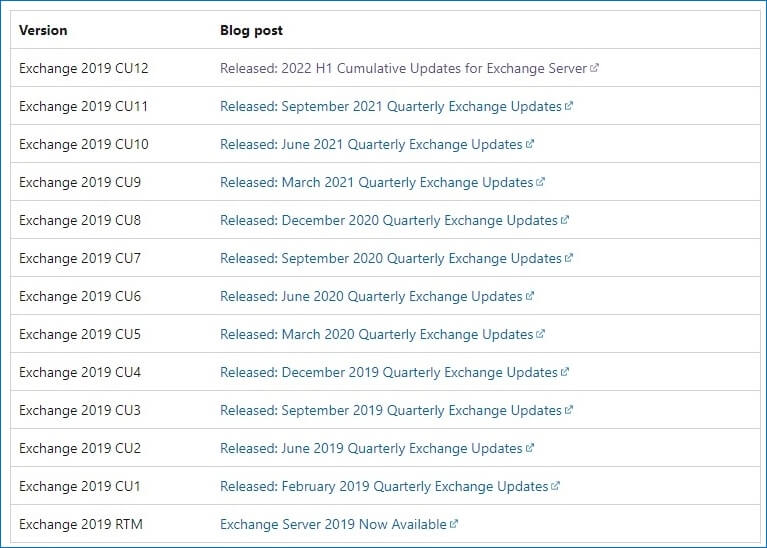 On the Cumulative Update page, you'll find comprehensive information about the latest changes. In the Release Details section, simply click the "Download" button to obtain the setup files.



Click the Download button in the new page.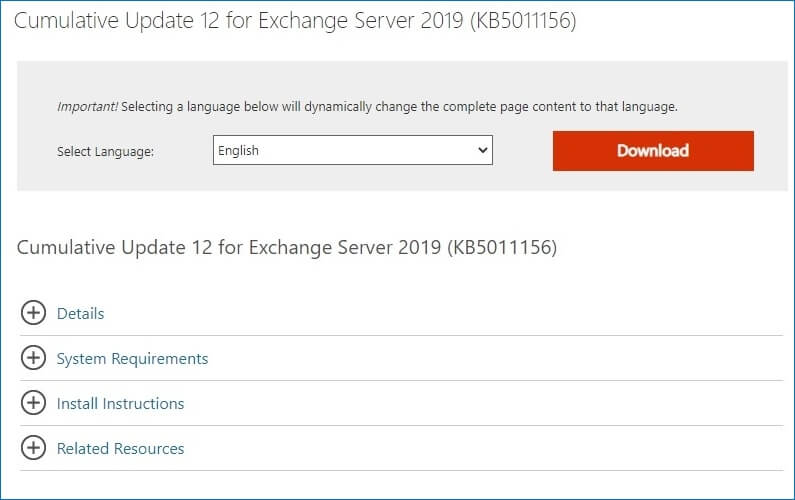 The setup will take some time to download completely as it is a bigger file in multiple Gigabytes. Let it complete and after that, you can check its ISO file.

Prerequisites to Install Exchange 2019 cumulative Update.
When you have the ISO file downloaded, then before installing the setup, there are some prerequisites that you must complete beforehand. Checkout the following-
The estimated time to complete the process is 180 minutes.
The account that you use during the CU setup should have Exchange Management Role Group membership.
The target server should match the new system's requirements and physical/software prerequisites.
Any customization to the Windows Server's TLS/Cipher settings will overwrite after new cumulative update.
Any customization in Exchange or IIS Settings in the Exchange XML application configuration file will overwrite.
You should disconnect your current account in Outlook and later connect Outlook to Exchange after updating it.
Install Exchange 2019 cumulative update using setup wizard
Right-click the Exchange CU ISO image file you downloaded in File Explorer and choose Mount. Double-click Setup.exe to launch Exchange Setup in the resultant virtual DVD drive.
The setup wizard opens Check for updates page in which you can either connect with internet and download more updates or do not check for the updates right now. Select the second option and click Next.
The setup starts to copy the files to the system.
A readiness check is looking for all the prerequisites necessary for installing the update. Let it complete.
After completing the readiness check, you can check its results and if all is fine, then click on Install option.
Setup is installing the files into the system.
Once the setup is complete, you will get a congratulatory message that a new Exchange is installed in the system. Click Finish.
Important points related to all cumulative updates
There are several best practices that an Exchange Administrator may employ before installing the setup file.
Maintain as much modernization on your servers as you can. This is particularly true when installing a new server.
The most recent Cumulative Update should always be installed when building a new server.
Installing the RTM build or earlier builds before updating to the most recent Cumulative Update is not necessary. Because each Cumulative Update is a complete build of the product, this is the case.
Restart the server first.
To prevent any issues with the new version from harming the active production environment, test it first in a non-production environment.
Have a validated and functional backup of both your Exchange Server and Active Directory.
Make a backup of all modifications. The upgrade won't let them live.
Run the Cumulative Update from a command prompt with elevated privileges.
Disable any antivirus programs temporarily while the update is running.
Once the update has been completed, restart your server.
Follow the instructions in Manage database availability groups in Exchange Server to place the DAG members in maintenance mode prior to applying the cumulative updates for Exchange servers that are part of a DAG.
Conclusion
An inadequate cumulative update process can potentially compromise the integrity of Exchange database files, underscoring the importance of having a robust contingency plan for handling damaged files. Kernel for Exchange Recovery offers a comprehensive solution, effectively eliminating various forms of corruption and deletions within EDB files. Furthermore, it enables the seamless restoration of recovered data into Live Exchange. This indispensable tool is a crucial asset for businesses engaging in routine updates to their on-premises Exchange infrastructure, providing a reliable safety net for their valuable data.