Read time 7 minutes
Summary: Importing MBOX files to Thunderbird and MS Outlook can be difficult due to differences in file formats and software compatibility. Shortcomings may include data loss or corruption during transfer. An effective resolution is to use a reliable tool such as Kernel for MBOX to PST Converter, which safely and accurately converts MBOX files to PST format for use in both Thunderbird and MS Outlook. Its user-friendly interface makes the process simple for individuals and businesses. Try it out today.
Are you switching from one email client to another? Did you know that you can still keep your old mailbox items, even though you're using a different email client? Yes, you can. The solution is to import your MBOX files. Importing MBOX files is a simple and straight-forward process, but it can be a challenge if you're not familiar with the steps. In this post, we'll guide you on how to import MBOX file to Thunderbird and MS Outlook with easy-to-follow steps.
Understanding the need for importing MBOX files to MS Outlook
MS Outlook offers a wide range of outstanding features like offline accessibility, mailbox organization, anti-spam features, password protection, advanced configuration & settings, and a lot more add-on features.
For better accessibility than the Apple Mail MBOX email client
MS Outlook only supports PST file format
MBOX cannot be used in another applications file format
More enhanced features in MS Outlook such as email management, calendar integration, task tracking, etc.
To open MBOX file in Thunderbird, we first need to figure out the file location on your system. So, where to find the MBOX file?

Instant Solution
Download Kernel for MBOX to PST, the most recommended and easy-to-use tool to import MBOX files to Thunderbird & MS Outlook.
MBOX File Location – Windows all Versions
To find the location of MBOX files on your system, follow the steps:
Launch the RUN utility by pressing + R keys together.
Type %APPDATA% in the box and press Enter.
Double-click on Thunderbird > Profiles.
Every folder inside the Profiles folder is your MBOX email client profile.
Alternatively, you can go to the following location path:
C:\Users\<Windows user name>\AppData\Roaming\Thunderbird\Profiles\<Profile name>\
Import MBOX file to Thunderbird
On Windows
Mozilla Thunderbird requires the installation of an add-on, using which you can proceed with the import process. After installing the ImportExportTools add-on in Thunderbird, you can proceed with these steps to open MBOX file in Thunderbird:
Open Thunderbird, click on Tools, select ImportExportTools, and click Import MBOX file.
In the pop-up, the option Import directly one or more MBOX files is set by default; click Ok.
Browse for the MBOX file in the specific location.
Below, you can see all your mailbox items after the import.

On Mac
The importing steps would be slightly different if you're a Mac user. Follow the steps below to open MBOX file in Thunderbird while working on a Mac system:
Open Thunderbird for Mac, click on the Tools tab and click the Import option.
In the pop-up window, select the Mail option; click Next.

Select Apple Mail in the dialog box and click Next.

Upon completing the import process, a folder named Apple Mail will be listed in Thunderbird, and you can see all the mailbox items on the left-hand side of the email client on Mac.

Import MBOX Files into MS Outlook
Importing MBOX files or migrating Thunderbird emails to Outlook is a common requirement for many Outlook users. Migration using manual methods may sound handy and fuss-free, but it doesn't guarantee a complete migration.
You should not consider manual methods unless you are ready to face the consequences that come with them. You can import only a single MBOX file at once. The exact process will be repeated if you migrate multiple MBOX files. The most common occurrence of this approach is loss of data, which permanently impacts work. Moving MBOX files to Office 365 is another desired action that the users want to perform. But the lack of support for the platforms reduces the chances of any such manual attempt.
But Kernel for MBOX to PST Converter tool helps you to sideline all these drawbacks. The tool offers various features like file repair, data recovery, cross-platform migration, filtered migration, etc. Multiple file migration in a single go, live preview, Apple Mail & Thunderbird support, etc., are some additional salient features.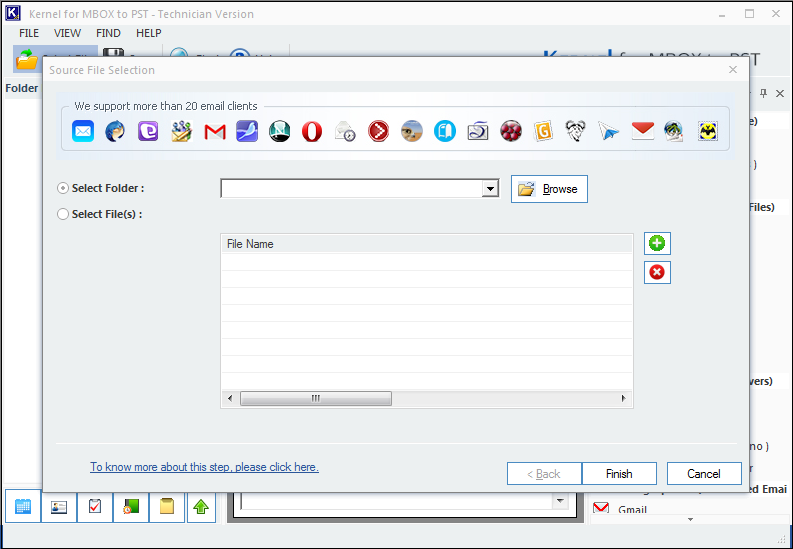 Conclusion
If you try to import MBOX file to Outlook and Thunderbird without a proper understanding of the steps, you may get stuck somewhere in the middle and possibly risk the integrity of your MBOX file; then, the chances of file corruption also increase up to an extent. So, it is recommended to use a specialized MBOX file to PST conversion tool for the task.
We hope you got all the necessary information needed to carry out the import process. It is advisable to follow each and every step carefully with data loss precautions taken into account. For any further assistance, we are available 24×7.
FAQs
Q- Is ImportExportTools a safe add-on to import the MBOX file. Will it protect the structure of the file?
A- The add-on comes from the available add-on list in thunderbird, and it offers various services in which Import is one. So, it is safe to import your MBOX file using this one.
Q- Does the add-on provide any filter to the MBOX file before uploading it?
A- The add-on imports the complete file as a whole. So, there are no filter options there.
Q- How many MBOX files can I upload manually?
A- You can upload one file at a time.