Read time 9 minutes
Summary: Since Outlook extends accessibility to various email platforms, users often require their Google contacts imported into Outlook. This can be done smoothly by exporting contacts in an Outlook CSV file and importing the same using the import/Export facility. However, for exporting bulk data from multiple G Suite accounts, Kernel G Suite Backup is the right fit.
Gmail, a widely embraced email platform by Google, enjoys global popularity. Numerous small and medium-sized enterprises opt to establish Google Workspace (formerly G Suite) accounts using their custom domains, thereby leveraging the full spectrum of features and functionalities it offers.
However, Outlook is not only employed by numerous organizations and individuals to oversee their Gmail and various email accounts but also accommodates email services such as Yahoo, Outlook.com, and Exchange/Office 365 accounts. Yet, there are instances when we require access to Google contacts across different email services as well.
That's where the need to import G Suite data to MS Outlook arrives. However, most organizations are not interested in moving the entire data at once; they just want to import Gmail contacts to outlook first. Now, as you know, you can easily export them to Outlook PST, making the process of G Suite Emails to PDF conversion hassle-free.
Sure, let's rephrase that: In this discussion, we'll explore straightforward methods for exporting contacts from Google and importing them into Outlook from Gmail.

Instant Solution
Download Kernel G Suite Backup tool to import G Suite contacts to MS Outlook 2019 in secure and simple way.
Export Contacts from Gmail
Open your Gmail account and go to Contacts from the Menu section.

After opening Contacts, click the Export option in the left menu.

A window will pop up on your screen. Pick the contacts you wish to export, opt for the Outlook CSV format, and hit the Export button.

The contacts will be exported to your system in Outlook CSV format.

Now that you've exported your contacts, you're ready to bring them into Outlook from Gmail by importing.
Import Google Contacts to Outlook
Make sure you've got the specified MS Outlook installed on your system before importing Google contacts into Outlook 2013/2016/2019. Once that's done, follow the steps below:
Launch MS Outlook on your system and go to the File tab.
Select the Open/Export option and then click the Import/Export option.

In the opened tab, click Import from another program or file and click Next.

Now, select the Comma Separated Values option and click Next.

From the Import a File section, click Browse and select the CSV file of your Gmail contacts.

Choose how you want to handle duplicated contacts and click Next.
In the next step, select the Contacts folder in your Outlook mailbox, click Next, and then click Finish.

Outlook seamlessly brings in all contacts from the .CSV file, allowing you to easily review them in your mailbox. To access your contacts in MS Outlook, simply choose the Address Book and click on Contacts. This will present a comprehensive list of all your Outlook contacts, including the most recently imported ones.
Challenges while Importing Gmail Contacts to Outlook
Transferring your contacts from Gmail to Outlook isn't overly complicated, but you might encounter a few hurdles in the process.
Importing more than 2000 contacts could result in an unexpected error. In this case, try to split the CSV into smaller .csv files with MS Excel.
If your contacts aren't showing up in Outlook after importing, make sure to verify that the CSV file contains the contact information.
The CSV file lacks contact information post-import. In these situations, you can utilize MS Excel to modify details in the CSV file, including names and other absent information.
Users need to possess technical proficiency to employ these methods; otherwise, there's a risk of potential data loss.
Aside from the mentioned errors, there's another crucial point to be aware of. While the method described earlier is effective for exporting/importing contacts from a single Gmail account, it falls short when dealing with G Suite accounts that house multiple accounts, each with its own set of contacts. To address this, you'll require a sophisticated utility capable of exporting contacts from multiple accounts simultaneously.
How to Import Contacts from Multiple Gmail Accounts to PST
Kernel G Suite Backup is an advanced tool that is designed to export all your Google Workspace data to Outlook PST format. Moreover, it offers sophisticated filtering features enabling the selective export of items, such as contacts, from your Google account. Its straightforward workflow adds to its versatility, making it accessible to users of all kinds.
Here, we will cover how you can export contacts from multiple Google accounts to Outlook PST.
Install and launch the software on your system, and click the Add button to add the G Suite account.

In the G Suite login page, provide the details for the G Suite account, such as email ID, service account ID, and P 12 file path. Now, select the option 'List all mailboxes' and then click Get User Mailbox.

The software will fetch all the mailboxes linked to G Suite. Select the specific mailboxes and click Add.

Once the selected mailboxes are added, click the Set Filter and Migrate option.

The filter section window will appear on the screen, select the Contacts from every mailbox and click I am OK Start Migration.

Now, select the format in which you want to export the G Suite mailboxes and click OK.

Select a location to save the contacts on your system and click OK.

The tool will start exporting the contacts in PST format. Once it is finished, a notification will appear on your screen, confirming the same.


After finishing the process, you can save the report to CSV format as well.
Video Tutorial to Backup G Suite/Google Workspace Contacts to Outlook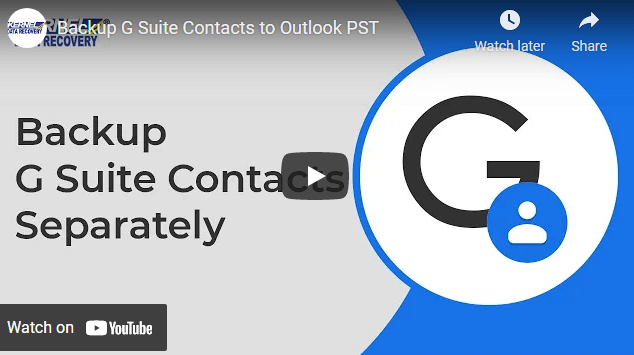 Conclusion
Bringing in your Gmail contacts becomes crucial, especially when juggling various email services or accounts within MS Outlook. While the manual route involves exporting contacts from Gmail and then importing them into Outlook, it's not without its limitations. This method faces hurdles, particularly when dealing with multiple contacts across various Gmail accounts. Therefore, having an alternative solution for importing Gmail contacts into Outlook is beneficial, especially for G Suite Emails to PDF conversion. This article explores the use of an advanced utility to import contacts from G Suite mailboxes to Outlook PST.