Read time 5 minutes
Finding specific content in Office 365 is not that complicated as most users think. Microsoft provides various features in Office 365 that make it easy for users to search for any content. For example, you can use the Content Search eDiscovery tool in Office 365 Compliance Center to find in-place items like emails, messages, and documents in your organization. You can use the Content Search feature to search for content in the following Office 365 services:
Exchange Online mailboxes and public folders
Skype for Business conversations
Office 365 Groups
SharePoint Online sites
When you put a content search query, the search will display a number of content locations and an estimated number of search results in the search statistics. Then you can run the search, preview the data, and export it to your PC if required.
Pre-requisites for Office 365 Content Search
To run Office 365 content searches, view its results, and export the results, you must be a member of the eDiscovery Manager role group. No user is assigned this permission by default.
You can run content search only for cloud deployments (Office 365).
Creating a Search in Office 365
As an eDiscovery Manager, Compliance Officer, or Administrator, you can access the Content Search page (in the Security & Compliance Center) to run searches and display search results. However, remember that the account should be a member of the eDiscovery Manager role group. Follow the below steps to understand how to do it:
Visit https://protection.office.com/ and sign in with your Office 365 account.
In the menu tab, click Content Search.
The Search page will appear on the screen; click +New Search from the options.

Give a name and description for the Content Search. Click Next.

On the Locations page, specify Locations – Select a specific location or all locations where you want to perform the search.
You can include or exclude content as per your requirements. Click Next.

You can also apply conditions to narrow down your search to get more defined results. Conditions are indirectly connected to keywords. Now specify your search conditions. Click Next.
Now review your content search and click Submit
The new search gets saved and listed. You can manage the search at your convenience.
Export Search Results
Also, you can export the results to the local PC.
On the Content search page, select the required search, click Export.
Now, complete the process on the Export results page.
Benefits of Office 365 search
The Office 365 search is pretty easy to use, and it brings instant results.
The advanced search feature is adaptive enough to search the shared files also. So, you can search the data that is collaborated with you.
The search results are always relevant and brings the correct answers to you. You can also look into groups that you have created.
Office 365 search is enabled by default. So, you do not require any authorization from the administrator.
Office 365 Content search Using Professional Tools
There are many professional tools that provide advanced search features to find specific content in Office 365 mailboxes. Kernel for Exchange Server is one of them. This Exchange Recovery tool allows us to search for desired data in Office 365 mailboxes based on various criteria like email metadata (From, To, Cc, & Bcc), email properties (Category, Class, Status, & Size range or Size), etc. You can use this tool with live Exchange Server and offline EDB files as well.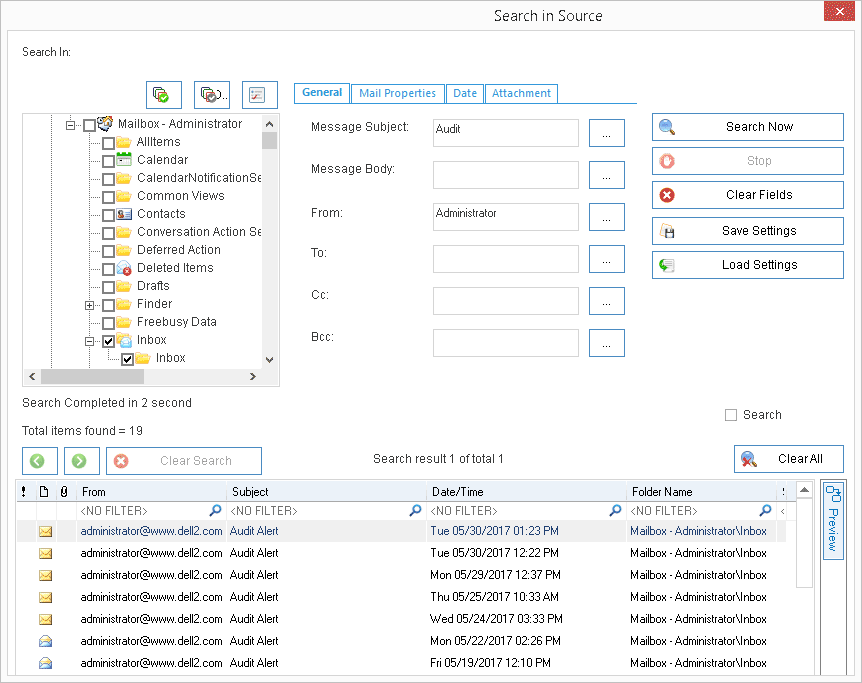 Conclusion
A primary mailbox in Office 365 can have the size up to 50 GB. It allows to have thousands of emails, contacts, notes, and other mailboxes. If you the manual content search does not bring the desired items, then you can use Kernel for Exchange Server to scan the EDB file for the deleted items.
The software will scan and recover all deleted mailbox in Exchange server. After recovery, you can use the Search facility that offers various criteria and factors for better searching. If you use the software, then you will no longer need to remain dependent on the basic searching in Office 365.
Video – How to Search for Content in Office 365?