Read time 9 minutes
Cloud storage is a next generation thing which is getting a lot of appreciation. It's available for free and is easy to use, but still many people like to keep their media, for example, photos, videos, music files and more, stored on their PC (likely a Windows machine) offline.



But sometimes, the files that you stored locally gets deleted mistakenly or knowingly, whatever be the reason, the fact is that you lost the files. On a system running Microsoft Windows 10 OS, you simply can delete a file, that is, photo(s) specifically, by right-clicking on it and selecting Delete. It then gets transferred to Recycle Bin.
Or, you can use the Shift + Delete key combination to permanently delete a file. In those situations, no matter the same happens unknowingly or mistakenly, you immediately need to find a way to recover the permanently lost files, photos in our case, back to the original location.
Windows 10 doesn't offer you a thousand ways to do the same, but there remain some workarounds which you can try, although, it may not be working all the time.

Instant Solution
Download Kernel Photo Recovery Tool and recover the permanently deleted photos taken from your smartphone, DSLRs, iPads, tablets, etc
In this article, we'll guide you on how to recover permanently deleted photos with the help of some native Windows 10 workarounds, followed by another method which ensure complete photo recovery, no matter how those pictures were lost.
Restore from Recycle Bin
As it's mentioned above, when you delete anything by right-clicking on it, it goes straight to Recycle Bin. So, before we suggest you with any other methods or Windows 10 native workarounds, it's best to check there first.
On the desktop, double-click on the Recycle Bin icon to open it, and check if the photos you're looking for are there or not amongst other deleted files. And if the photos are found then, restore the items by right-clicking on the photos or using the Restore all items button.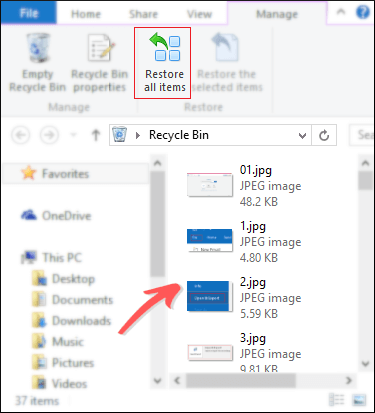 And if you don't find anything, and there's nothing inside the Recycle Bin folder, as below, move on to the other Windows 10 workarounds, which you can try.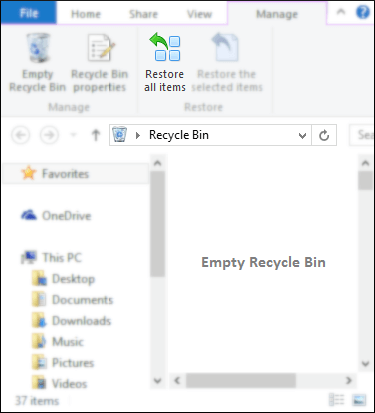 Restore Photos from a Current Backup
Current or recent backups you create on a system running Windows 10, will include any file type or folder available on the system. Thus, from using the current backup, you can try to restore the permanently deleted photos.
To restore photos from a current or recent backup taken, go through the steps given below:
Click on, search for Settings, and click on the Settings button.
Click on Update & Security button.
Under Back up using File History section, click on More options.
Scroll through the page down and select Restore Files from a Current Backup.
Now in this step, click in the Search Bar and type the name of Photos/Pictures you want to restore.
Once the search result appears on-screen, select all the Photos to restore. Now click on the Restore button.
Once the restoration completes, browse back to the original location of permanently deleted photos/pictures, your lost photos will now be available there.
Note: For this method to work, it is necessary that you have created a backup before, and it has the photos, which are now permanently deleted.
Restore System to a Previous Restore Point
It's another option or you may say a utility that allows restoring the system to a previous restore point. For this method to be useful, it is necessary that you'd created a System Restore Point before.
Creating system restore points are not only useful for the same scenarios, but are also in situations when users face problems due to major system software updates, and critical software installations.
To start using the System Restore Utility, you first need to enable the service (as it comes disabled by default in Windows 10) and create a System Restore Point.
Assuming, that you'd created a System Restore Point before, you now can proceed to system restoration part.
Open System Properties wizard in Windows 10, and click on System Restore, now select the Restore Point and click Ok, similar as below.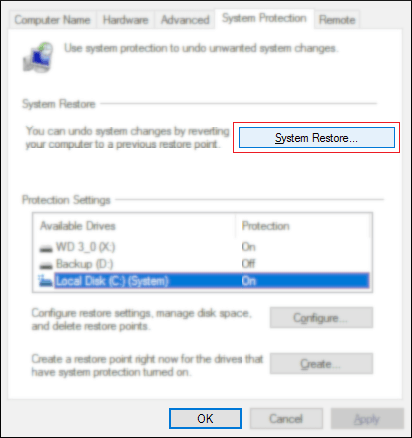 Use a Photo Recovery Tool
When all the methods or Windows 10 native workarounds fail and doesn't prove to be helping, we suggest you use a dedicated photo recovery software, to satisfy your Photo Recovery needs.
Kernel Photo Recovery software for Windows 10 (and other Windows versions), is a smart photo recovery software, that supports photo recovery of different formats, such as JPG, PNG, BMP, TIF, RIFF, GIF, and more. It gives you the upper hand, no matter how the files were deleted. With Kernel Photo Recovery, recovering permanently deleted Photos is fast, smooth, and easy.
Follow the steps given below to recover permanently deleted photos in Windows 10 system:
Launch Kernel Photo Recovery.
Once the tool is open, it'll look the same as below.
By default, it shows you all the drives (both internal & external) connected to the system and details about all of them.
Let's start with permanently lost photo recovery.Select the drive in which you'd stored the photos/pictures you lost and click Next.

Note: For us, it is the C drive, replace it with yours.
Select the photo file format in this step and click Next.

Note: For most of the photos, the format is JPG; you may select other file extensions above if required.

Wait while Kernel Photo Recovery finishes the scan process.Note: In case if you want to re-select the drive, then click on the Stop button to immediately halt the scan process.
Once the scan is done, all the lost photos/pictures will be shown, as below.
To recover selected or all permanently lost photos, click on the Save button.Note: To select all the photos either click on Save All button or use CTRL + Click combination.
Browse for a location/path to save permanently lost photos after recovery. Click Ok.Permanently lost photos/pictures are recovered successfully; open the recovered photos folder and check, as below.
Wrap
Above we've shown, how you can recover permanently lost photos on your Windows 10 system. But when no workarounds or methods comes handy, users search on help topics like how to recover lost pictures from hard-drive, how to recover deleted photos from SD card, pictures lost because of anti-virus scan, and more. To answer all such queries, Kernel Photo Recovery is the best software you can find on the Internet.