Read time 7 minutes
PowerMail is a Mac-based email client application empowered with advanced features and functionalities that simplifies email management for the novice as well as experienced users. It uses MBOX as the default file format to save mailbox data. PowerMail includes advanced features like drag and drop menu, email search, email storage, management, etc.
PowerMail searching is quicker and more accurate as compared to other email client applications. Along with advanced features and functionalities, the tool also offers an interactive GUI (Graphical User Interface), which makes it convenient for novice users. However, the question arises why do we need to import PowerMail mailboxes to Outlook PST? Here is the answer- Since PowerMail stores its data in the MBOX file, which is not supported by the Outlook platform and many users need a more advanced and secure platform, they migrate from PowerMail to MS Outlook. To achieve such migration, one needs to convert MBOX file to PST format first.
Here, we will discuss the easiest method to import MBOX file to MS Outlook. First, we will discuss Power Mail's inbuilt functionality to export emails to other email clients, and later we will highlight a reliable third-party tool to convert PowerMail's mailbox data to Outlook PST. But before that, let us have a look at some of the salient features and advantages of the PowerMail client.
Salient Features of Powermail
It supports attachments like xls, ppt, pptx, doc, docx, and xlsx files.
HTML or plain text formatting for emails.
The tool also offers a contact list to store an unlimited number of email addresses.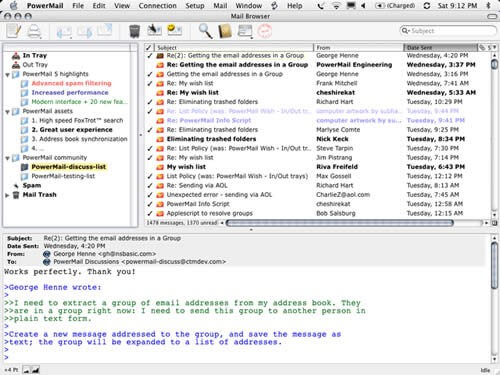 Export Emails Using Powermail Export Feature
Since PowerMail itself does not provide any direct feature to convert MBOX to Outlook PST. First, we have to use its inbuilt utility to export emails to Unix Mailbox (MBOX) format, and then we will convert the resultant MBOX file to PST using an efficient converter tool.
To use this inbuilt feature, follow the steps given below:
Launch Powermail on your Mac machine.
Go to File >> Database >> Export.
Select the format as Unix Mailbox to export all your mailbox data as an MBOX file. You can also choose to include attachments by checking the Include attachments checkbox.
Click on the Go Ahead button.

The resultant MBOX file contains all the items of the Powermail mailbox. Now, it's time to use a reliable converter to convert the resultant MBOX file to PST format.
Automated MBOX file to PST Converter Tool
Kernel for MBOX to PST converter is an efficient tool that can convert MBOX files to Outlook PST. With the use of this tool, you can convert Powermail mailbox data to Outlook PST.
It quickly extracts the mailbox data like emails, attachments, drafts, sent items, notes, deleted items, and many more from the MBOX file. It allows the conversion of several MBOX files to PST file format in a single conversion cycle. It provides different filter options based on email properties like To, From, Subject, and Date field for mailbox conversion.
The utility allows users to save Powermail MBOX data multiples PST files. This software completely maintains original formatting and structure of emails in converted PST files. The converter tool supports several versions of MS Outlook such as Outlook 2000, 2002, 2003, 2007, 2010, 2013, 2016, and 2019. It also supports the conversion of UNICODE characters. You can judge the capabilities of the MBOX file converter in its evaluation version. However, the trial version has some limitations, and therefore, you must purchase the licensed version to use the software without any restriction.
Get a quick tour of the outstanding advantages of the most popular MBOX file converter tool.
Conversion of about 20 MBOX supported email clients files
Support MBOX, MBX, MBS, MSF file formats for conversion
Converts MBOX file to PST and other file formats – DBX, MSG and EML
Moves MBOX data to Office 365 and other destinations like Gmail, Exchange, Domino, etc.
Advanced Preview feature for a quick review of data to be migrated
Desired selection of data with integrated filter options based on email metadata, Date and Attachments
Option to split converted PST files into small-sized PST files.
For you to get a better understanding of the tool's features and functionalities, here is how it works:
Launch the software, select the mode to add files, i.e., to add a folder containing the required MBOX files, select the "Select Folder" button whereas to add MBOX files, select the "Select Files(s)" radio button.
Browse to locate the directory containing the required MBOX files. Select the folder and click OK.
Once you have specified the required directory, Click Next.
The next window shows the data in the MBOX file. The left pane shows mailbox folders, whereas the right pane shows the content inside a specific mailbox folder. Preview the data, select folders from the left-hand side pane, and click on the Save.
Select the PST file (MS Outlook) as the output type and click Next.
Apply desired filters to save specific data from the converted PST. Once you are done applying filters, click Next.
The next window enables you to manage your converted PST by splitting it into two pre-defined proportions. If required, select the desired ratio to split your file, click Next anyways.
Browse to provide a destination path to save the converted file and click Finish.
The PST file gets saved to the specified location. Click OK to finish the process.
Conclusion
PowerMail does not have the facility to export mailbox data to MS Outlook. You must take the assistance of a powerful email converter for this purpose. KernelApps MBOX file Converter is an efficient tool that can convert MBOX files to Outlook PST. With the use of this tool, you can convert PowerMail email client data to Outlook PST.