Read time 7 minutes
Summary: PowerMail, a Mac email client, offers advanced features like drag-and-drop, robust search, and contact lists. To switch to Outlook, you must convert MBOX files. Use PowerMail's export feature or Kernel for MBOX to PST converter for seamless conversion. The tool supports various email formats and Outlook versions.
PowerMail, a Mac-centric email client application, boasts a wide array of advanced features and capabilities designed to streamline email management for users of all levels of experience. Its default file format is MBOX, ensuring efficient storage of mailbox data. Among its standout features are drag-and-drop functionality, robust email search capabilities, and comprehensive email storage and management tools.
PowerMail's search functionality outpaces other email client applications in terms of both speed and accuracy. In addition to its advanced features and capabilities, the tool boasts an interactive Graphical User Interface (GUI), making it particularly user-friendly for beginners. Nevertheless, the question arises: Why should one consider importing PowerMail mailboxes into Outlook PST? The answer lies in the fact that PowerMail stores its data in the MBOX file format, which is not compatible with the Outlook platform. As many users seek a more advanced and secure email environment, they opt to transition from PowerMail to MS Outlook. To facilitate this migration, the initial step involves converting MBOX files into PST format.
In this context, we will explore the simplest approach to import MBOX file to MS Outlook. To begin, we'll delve into Power Mail's native capability for exporting emails to various email clients. Subsequently, we'll introduce a dependable third-party solution for converting PowerMail's mailbox data into Outlook PST format. However, before we delve into these topics, let's first explore some of the notable features and benefits offered by the PowerMail client.
Salient Features of Powermail
It facilitates the inclusion of attachments such as xls, ppt, pptx, doc, docx, and xlsx file formats.
Formatting for emails can be done using either HTML or plain text.
The tool additionally provides a contact list feature for storing an unlimited quantity of email addresses.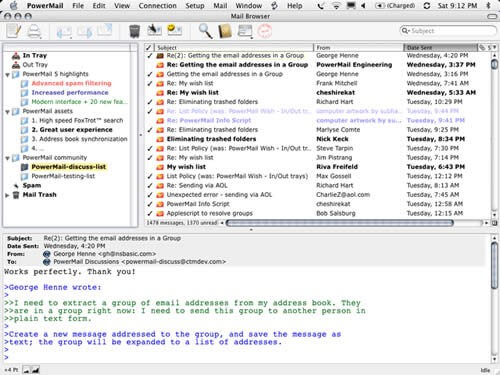 Export Emails Using Powermail Export Feature
PowerMail lacks a built-in feature for direct MBOX to Outlook PST conversion. To achieve this, we must initially employ its integrated utility to export emails into Unix Mailbox (MBOX) format. Subsequently, we can utilize a proficient converter tool to transform the resulting MBOX file into PST format.
To utilize this built-in function, simply adhere to the following instructions.
Open Powermail on your Mac computer.
Navigate to File > Database > Export.
Choose the Unix Mailbox format to export your entire mailbox contents into an MBOX file. If you want to include attachments, simply tick the "Include attachments" option.
Please select the "Go Ahead" button.

The resulting MBOX file encompasses all the contents from the Powermail mailbox. Next, it is advisable to employ a dependable converter for the transformation of this resultant MBOX file into PST format.
Automated MBOX file to PST Converter Tool
Kernel for MBOX to PST converter is an efficient tool that can convert MBOX files to Outlook PST. This tool enables you to transform Powermail mailbox data into Outlook PST format.
It rapidly retrieves various mailbox data elements, such as emails, attachments, drafts, sent items, notes, deleted items, and more, from the MBOX file. The tool facilitates the conversion of multiple MBOX files into the PST file format within a single conversion operation. Furthermore, it offers various filtering options, allowing users to selectively convert mailbox items based on email properties such as To, From, Subject, and Date fields.
The utility offers users the ability to effortlessly save their Powermail MBOX data into multiple PST files. This software ensures the preservation of the original formatting and structure of emails within the converted PST files. Furthermore, the converter tool is compatible with a wide range of MS Outlook versions, including Outlook 2000, 2002, 2003, 2007, 2010, 2013, 2016, and 2019, and it also supports UNICODE character conversion. To assess the capabilities of the MBOX file converter, you can take advantage of its evaluation version. However, it's important to note that the trial version does come with certain limitations. Therefore, to fully utilize the software without any restrictions, it is recommended to purchase the licensed version.
Take a brief tour to discover the remarkable benefits of the most widely-used MBOX file conversion tool.
Converting approximately 20 email client files that are compatible with the MBOX format.
Provide conversion support for MBOX, MBX, MBS, and MSF file formats.
It facilitates the transformation of MBOX files into various file formats, including PST, DBX, MSG, and EML.
Transfers MBOX data to various destinations, including Office 365, Gmail, Exchange, Domino, and more.
"Utilize the Advanced Preview functionality for a rapid data assessment prior to migration."
Preferred data selection with integrated filtering capabilities using email metadata, date, and attachments as criteria.
Choice to divide the transformed PST files into more compact PST files.
To provide you with a clearer grasp of the tool's capabilities and operations, let's delve into its functioning:
Start the software and choose the desired file addition method. To add a folder containing the necessary MBOX files, click on the "Select Folder" button. Alternatively, to add individual MBOX files, select the "Select File(s)" radio button.
Navigate to the directory where you can find the necessary MBOX files. Once you've located the folder, choose it and then press the OK button.
After specifying the necessary directory, proceed by clicking "Next."
In the subsequent window, you'll find the contents of the MBOX file. The left panel displays mailbox folders, while the right panel reveals the contents within a particular mailbox folder. To review the data, simply select folders from the left-hand panel, and then click "Save" to proceed.
Choose the PST file format within MS Outlook as the desired output option, then proceed by clicking the "Next" button.
After applying your preferred filters, save the specific data from the converted PST file. When you've finished applying the filters, proceed by clicking "Next."
The following window provides you with the option to oversee your converted PST file by dividing it into two predetermined portions. If necessary, choose your preferred splitting ratio and proceed by clicking Next.
Navigate to select a destination directory for saving the converted file, then proceed by clicking the "Finish" button.
The PST file is stored in the designated location. To complete the procedure, click on the OK button.
Conclusion
PowerMail lacks the capability to directly export mailbox data to MS Outlook. To achieve this task, you'll need the support of a robust email converter. Enter Kernel for MBOX to PST – a highly efficient tool designed for seamlessly converting MBOX files into Outlook PST format. By utilizing this software, you can effortlessly transform your PowerMail email client data into Outlook PST files.