Read time 4 minutes
Exchange disaster can happen despite all the precautionary measures taken by the administrators. Fortunately, there are many professional Exchange recovery tools that help in dealing with such situations. Still, many experienced administrators keep regular backups so that everything can be recovered after Exchange crashes. This two-part article shows you how to use the backup feature of Windows Server to backup and restore Exchange data.
Recover Exchange data from Windows Server backups (Part II)
Recover Exchange data from Windows Server Backups
You are lucky if you have Exchange backups to rely on after Exchange crashes. Here, we will show you how Exchange data can be recovered from Windows Server backups. However, any changes post backup would not be recovered. Here are the steps to be followed for the recovery:
Start Windows Server Backup and choose Local Backup.
Click Recover in the Actions pane. The Recovery Wizard opens up.

On the Getting Started page:

If the backup is on a local server, then select This Server (Server Name) and click Next.
If the backup is on another computer, then select Another server, and click Next. On the Specify Location page, select Local drives or Remote shared folder, and click Next.

For local drives, select the drive and back location; for remote shared folder, provide UNC path (on Specify remote folder page); click Next.


On the Select Backup Date page, select the time and date of the backup and click Next.

On the Select Recovery Type page, select Applications and click Next.

On the Specify Recovery Options page, specify the location where you want to recover the data, it would be either Recover to Original location or Recover to another location.

Now, on the Confirmation page, check the recovery settings and click Recover. You can view the status of recovery on Recovery Progress page and click Close once the recovery operation is complete.
If you don't have any backups to restore the Exchange data, try to repair the corrupt EDB files using a third party tool like- Kernel for Exchange Recovery, a third-party tool which handles all the possible issues of Exchange server. This EDB to PST Converter tool is embedded with extensive recovery features that help administrators to repair the corrupt Exchange database items easily.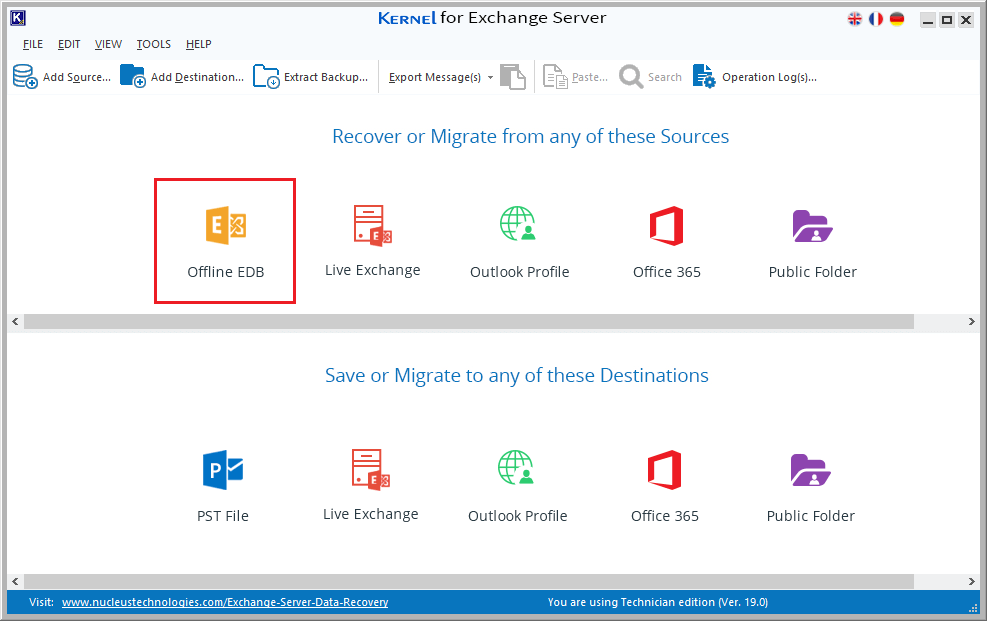 Proposed by Mr Ahmed MALEK, Senior IT Security Manager at INSEAD(MCC, MVP)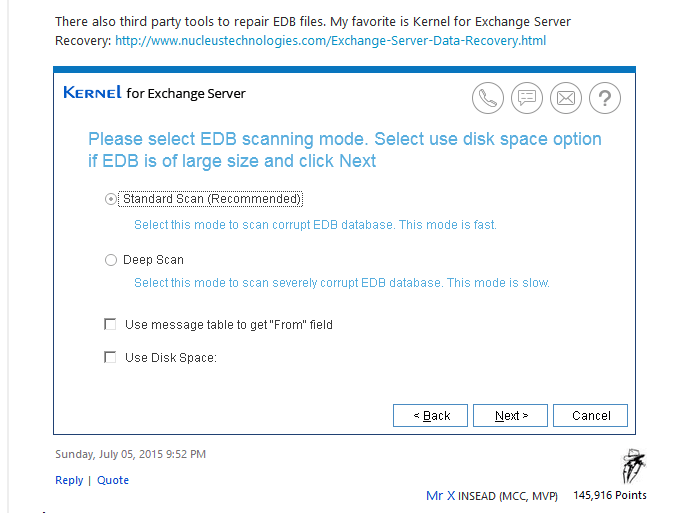 Read more : https://social.technet.microsoft.com/Forums/office/en-US/45ea5440-728a-442e-949f-8d330abea079/exchange-edb-corrupt