Disasters are undoubtedly distressing, and they are situations no one wishes to confront, even in their worst nightmares. However, certain scenarios can unexpectedly strike, impacting your Exchange data and environment, and often these are beyond your control. Some of these incidents, such as hardware failures, connectivity issues, or unexpected disruptions, are external and unforeseen. Therefore, it is essential to proactively prepare for such events and consider creating timely backups in advance. With reliable backups at your disposal, you can explore professional tools to restore Exchange data from these backup files in case of any unforeseen incidents.
Kernel for Exchange Server supports a wide range of Exchange backup formats, enabling seamless data restoration from various sources. Users will find it remarkably straightforward to restore their complete data without encountering any issues. It allows you to specify the path for the recovered files and restore EDB files, STM files, and more from backups created by different applications.
Basics of NTBackup:
NTBackup is a built-in backup utility in Windows 2003 designed to safeguard your Windows environment. Particularly advantageous for users with Exchange 2003 installed on their computers, NTBackup excels in performing reliable backups of Exchange databases.
NTBackup features
Provides a solution to take local as well as remote data backup.
Gives instant backup solution for Exchange
Offers to schedule backups at ease
Readily supports Volume Shadow Copy
Provides removable storage from Windows 2003.
Recommended Solution to Restore EDB Files from NTBackup/BKF:
The laborious process of restoring Exchange EDB files from BKF files, which may include backups from NTBackup, Symantec Backup, VERITAS Backup, HP Backup, and CAARC backup, has now been simplified thanks to the advanced tool provided by Kernel Data Recovery, known as Exchange Recovery. This tool is equipped with cutting-edge algorithms that enable swift extraction and successful saving of EDB files, STM files, and Log files to the specified destination.
To execute the EDB file restoration process from NTBackup or BKF files, follow the steps outlined below:

Step 1: Launch the software and click the Extract Backup from the ribbon menu.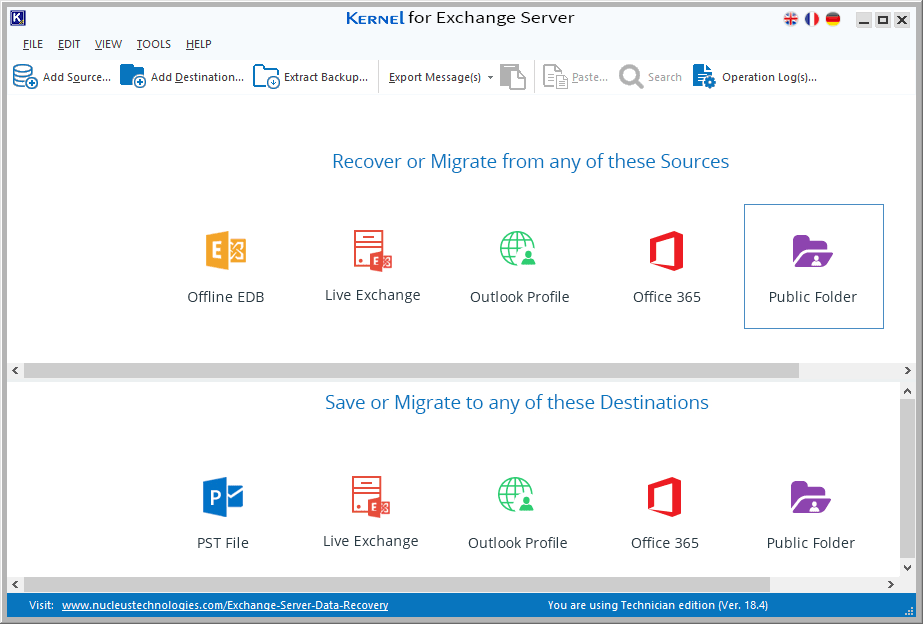 Step 2: Now, browse to add source as BKF file and set a destination path to save the EDB files after extraction. Click OK button to proceed to the final step.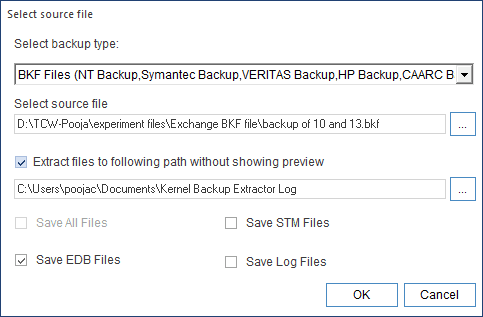 Step 3: All the EDB files are successfully saved to the desired location, you can save the report for future use.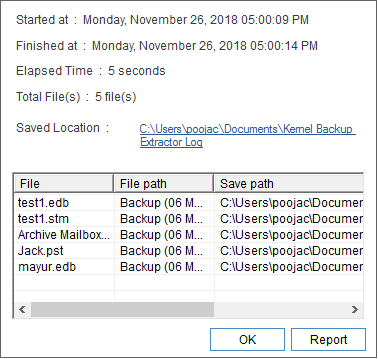 Benefits of Using Exchange Mailbox Recovery Tool:
It takes instant actions to convert and extract data from EDB to PST file.
Successfully migrates Offline EDB files, Live Exchange, Outlook Profile and Office 365 account to PST, Live Exchange (On-Premise), Outlook and Office 365 (Exchange Online).
It is incorporated with an inbuilt backup extractor that works efficiently to restore EDB files, NT Backup, Veritas Backup and more.
The software also works to restore data from corrupt EDB files.
Concluding Lines
As we are aware, Windows NTBackup is the built-in utility designed to restore backups created on Windows XP and Windows Server 2003 to Windows Vista and Windows Server 2008, which have become outdated versions for most organizations. However, there is a hassle-free solution to restore backups from BKF files of Windows using a third-party tool. This tool offers seamless assistance to small and medium-sized Exchange organizations in extracting data from BKF files and saving them in various file formats.