Disasters are awful, and nobody wants to face them, not even in the worst of their dreams. But, you have no control over some scenarios that do wallop at some point that affect your Exchange data and environment. Some of them are external and unexpected like hardware failure, connectivity issues or failed connection. Therefore, you should be prepared beforehand to face such issues and consider taking timely backups in advance. If you have backups, you can try professional tools to restore Exchange data from backup files.
Kernel for Exchange Server supports majority of the Exchange backup formats and restores Exchange data from them. The user will find it quite easy to restore complete data without any issues. You can mention the path of the recovered files and restore EDB files, STM files, etc. from backups created by various applications.
Basics of NTBackup:
NTBackup is built-in backup utility in Windows 2003 that can be used to backup your Windows environment. It can also benefit users who have installed Exchange 2003 on computers, NTBackup is performed tremendously and allow backups of your Exchange databases
NTBackup features
Provides a solution to take local as well as remote data backup.
Gives instant backup solution for Exchange
Offers to schedule backups at ease
Readily supports Volume Shadow Copy
Provides removable storage from Windows 2003.
Recommended Solution to Restore EDB Files from NTBackup/BKF:
The tedious task of restoring Exchange EDB files from BKF files that include NTBackup, Symantec Backup, VERITAS Backup, HP Backup, and CAARC backup is now made simple with the advanced tool offered by Kernel Data Recovery named as Exchange Recovery. The tool is incorporated with innovative algorithms that instantly helps you to extract and save EDB files, STM files, and Logs files successfully to the desired location.
You can carry out the process of restoring EDB files from NTBackup or BKF file with the help of below-mentioned steps:

Step 1: Launch the software and click the Extract Backup from the ribbon menu.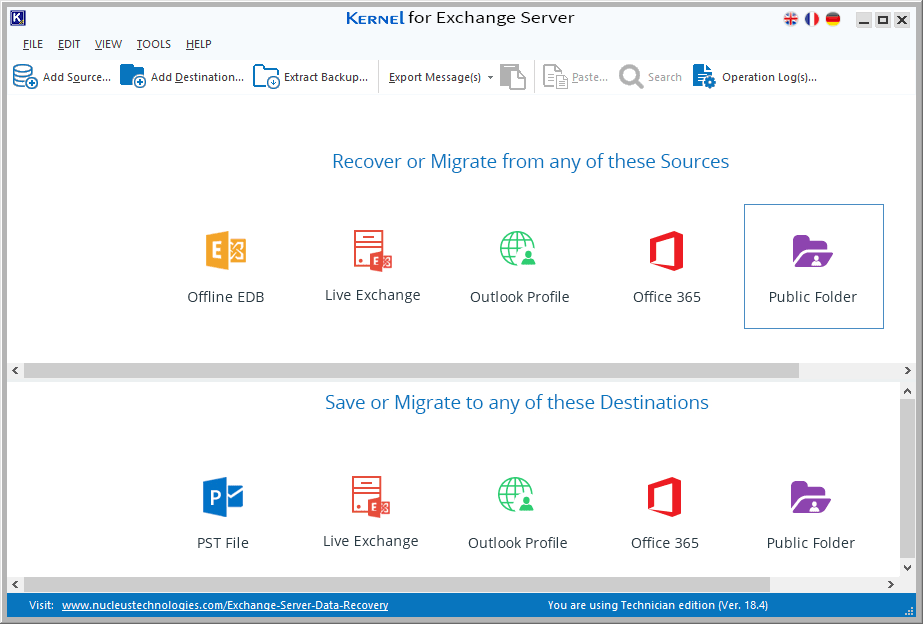 Step 2: Now, browse to add source as BKF file and set a destination path to save the EDB files after extraction. Click OK button to proceed to the final step.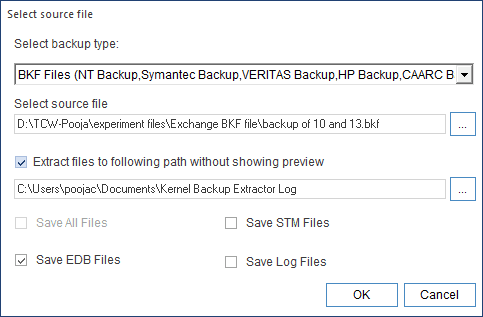 Step 3: All the EDB files are successfully saved to the desired location, you can save the report for future use.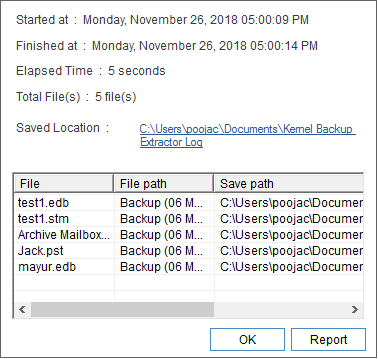 Benefits of Using Exchange Mailbox Recovery Tool:
It takes instant actions to convert and extract data from EDB to PST file.
Successfully migrates Offline EDB files, Live Exchange, Outlook Profile and Office 365 account to PST, Live Exchange (On-Premise), Outlook and Office 365 (Exchange Online).
It is incorporated with an inbuilt backup extractor that works efficiently to restore EDB files, NT Backup, Veritas Backup and more.
The software also works to restore data from corrupt EDB files.
Concluding Lines
As we know, Windows NTBackup is the built-in utility that restores backups created on Windows XP and Windows Server 2003 to Windows-Vista and Windows Server 2008 which are now outdated versions for most organization. But, here is the hassle-free solution restore backups from BKF files of Windows using the third-party tool. The tool readily helps small as well as medium size Exchange organizations to extract data from BKF file and save them to different file formats.