Read time 5 minutes
Learn to use Office 365 shared mailboxes in MS Outlook 2016
In Office 365, a shared mailbox is created as a group mailbox, and members are added to it with full rights and permissions to access it. With a shared mailbox, it becomes quite convenient for a group of users to send and receive emails from a common email address.
In Office 365, shared mailboxes do not require any separate license. Also, shared mailboxes are easily accessible in portable devices like mobiles, laptops, etc.
To use or access Office 365 shared mailbox in Outlook 2013 and Outlook 2016, the user must be a member of the shared mailbox (the Office 365 admin can add the user as a member).
How to Add Office 365 Shared Mailbox to Outlook 2016?
First, open your MS Outlook app and then go to File>>Account Settings>Account Settings.

In the Email Accounts page, navigate to Email, and click New.

Now add your Office 365 global admin account address and click Connect.

Now go to Account Settings as done in the beginning. Select the default account and click Change. Then, select the added new account and click Next.

Now, your account is successfully added, and your shared mailbox is also displayed (though it may take some time).

Once the shared mailbox is added to Outlook 2016, you can perform the following:
Send mail from a shared mailbox
Reply to emails
Use a shared calendar
Use a shared contact list
Use a shared mailbox on mobile devices
Send mail from a shared mailbox
Open your Outlook application. Click New Email.

At the top of your message, click From and select your email address from the drop down. If not found, click Other Email Address from the drop-down list and enter your Office shared mailbox address.

Now, click Send to send the email with required content and recipient (To) email address.

Your email will be sent by the specified shared mailbox address.
Reply to Emails
Open your Outlook application. Click the email you want to reply to. Click Reply. Select your Shared mailbox address from the From drop-down list. Type the message and then finally, click Send.


Use a Shared Calendar
Open your Outlook application, then go to Calendar view at the bottom-left of the page. Select your shared mailbox. Make entries or edits in your shared mailbox calendar as per your need.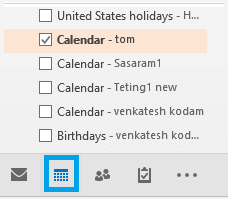 Note: All the members of the shared mailbox can create, view and manage calendar appointments. Each member would also be able to view the changes performed in the calendar.
Use a Shared Contacts List
Using a shared contacts list in Outlook is also quite easy. Just select the Peoples icon at the bottom left of the page, select your shared mailbox and view all the contacts with the details.



Note: All the members of the shared mailbox can access or export the contacts from the mailbox.
Use Shared Mailbox on a Mobile Device
Users can access their Office 365 shared mailboxes in their mobiles by signing into their Office 365 account and going to Outlook on the web.
Note: Before accessing your Office 365 shared mailbox on your mobile phone, you need to add it to your Outlook web-app.
Conclusion
Office 365 users can access their shared mailboxes in Outlook (2013 and 2016). The members of the shared mailbox can send emails, reply to emails, access calendar, and access contact list.