It wouldn't be wrong to say that in present times, we are drowning in digital data. Since the invention of digital cameras, people have become fond of capturing their joyous memories on them. As digital data is growing at an unprecedented rate, so do the problems associated with it. There is a surge in data-related issues such as data corruption due to various factors. Among all other file formats, JPEG is the most popular photo format for saving and sharing image data. Due to this, the JPEG related data corruption is on the rise. Here are a few popular and efficient methods to repair corrupt JPEG files without even spending a single penny!
Causes of JPEG Corruption
Abrupt system shutdown
Power loss and system shutdown during the file transfer process
Header related corruption in the JPEG images
Malicious attacks on the image files, leading to data corruption
Improper sharing of files via an infected medium
Hardware and software issues.
Types of Issues with JPEG Files
The inbuilt preview tools such as Windows Photo viewer are unable to open these files
The JPEG file opens, but with degraded image quality
One might see the error message while opening the JPEG files, as shown in the snippet below.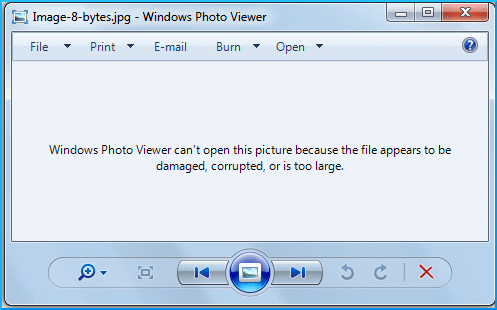 Types of JPEG Corruption
Check out the types of JPEG corruption listed below if you want to know more about JPEG Corruption.
The Header Corruption in JPEG File

In many cases, only the header of the JPEG file is corrupt. The actual data in the image remains health.

A corrupted header looks like the following:

A header related corruption is easy to solve. One can extract the header from a healthy image file and replace it.

Data Corruption in JPEG File

In this case, the actual data in the image is corrupted or damaged. Though, the JPEG file opens, but with display issues. The image appears incomplete, or the colors appear dim.

These distortions might look like the following:
Top Free Ways to Repair Corrupt JPEG Files
Don't lose your hope over it yet as we are soon going to see some fascinating ways to repair your corrupted JPEG files for free. Check out the methods listed below if you want to repair corrupt JPEG files for free.
Change the Image Format

By changing the file format of JPEG/JPG files to another format might just do the trick. One can try importing the corrupt image to the Paint tool, which comes preinstalled with Windows. Then go to File > Save As and then select the format of your choice. Tinkering with different formats might undo the effect of corruption from images.

Repair with Image Editors

Professional image editing tools such as Photoshop, Lightroom, and Picasa can also be used to repair benign JPEG corruption issues. It is often the case that merely opening these corrupt JPEG files with these tools and renaming them fixes the problem.

Repair with a HEX Editor

A hex editor is a tool that is used to display raw data of the image file. One can edit the image with a hex editor to get rid of corruption. If some of the data is missing (showing zero bytes), then there can be difficulty in repairing the file. Some of the most common hex editor tools are HxD, Hex Workshop, Cygnus, and Neo.
Conclusion
In this article, we have put forward some of the most promising and tested methods that can be used to repair corrupt JPEG/JPG files for free. All of these methods are DIY methods and does not require special skills to accomplish the recovery task.