Read time 4 minutes
Over the years, Outlook has got better and better and its developers have done a tremendous job with every updated version. Outlook is very strict when it comes to add-in performance as many plug-ins do not behave expectedly.
If the Add-ins have issues, an information bar appears when you start Outlook 2016, 2013 or 2010 saying – "ADD-IN PROBLEM A problem was detected with an add-in and it has been disabled".

A View Disabled Add-ins button also appears with the warning message, you can click to view all the add-ins that are slowing down the performance of Outlook.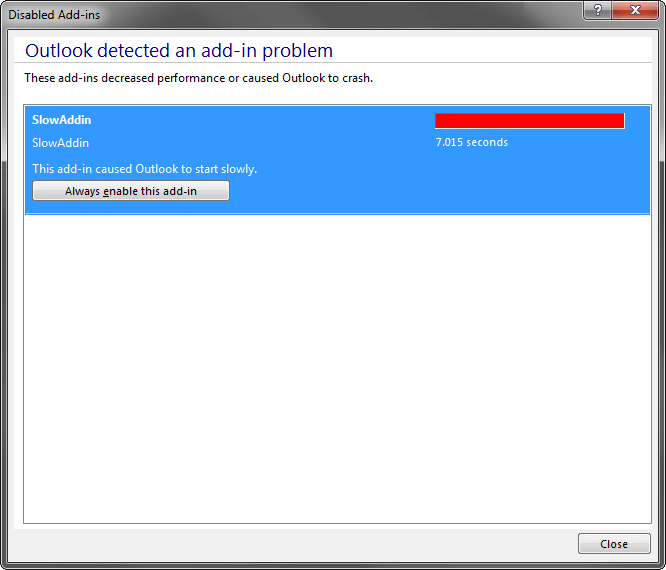 You can troubleshoot the Inactive, Disabled or missing Add-ins in Outlook using the simple steps mentioned for you below. The process is simple and easy to use or any novice user as well.
STEP 1: Start MS Outlook (2016, 2013 or 2010) and click on the File tab within MS Outlook.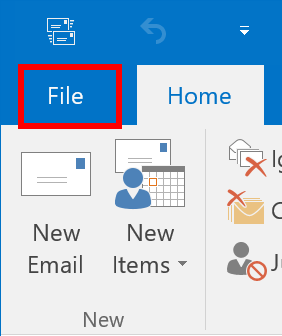 STEP 2: Now, to directly manage add-ins that are affecting the performance of Outlook, click Info >> Slow and Disables Add-ins as shown below. And, click Always enable this add-in from the Disable Add-ins window.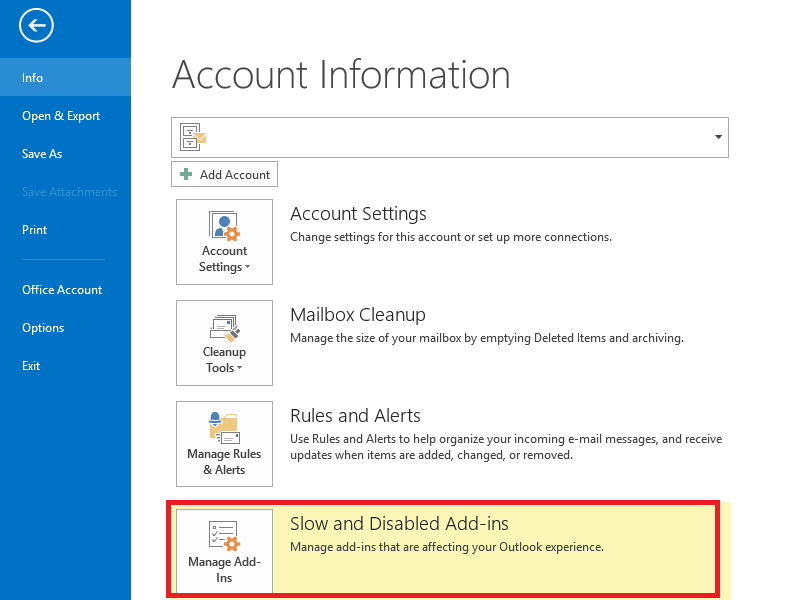 And, to enable a disabled add-in on Outlook 2016, 2013, 2010, click Options from the list.

STEP 3: Now, click on Add-ins from the popped-up Outlook Options window.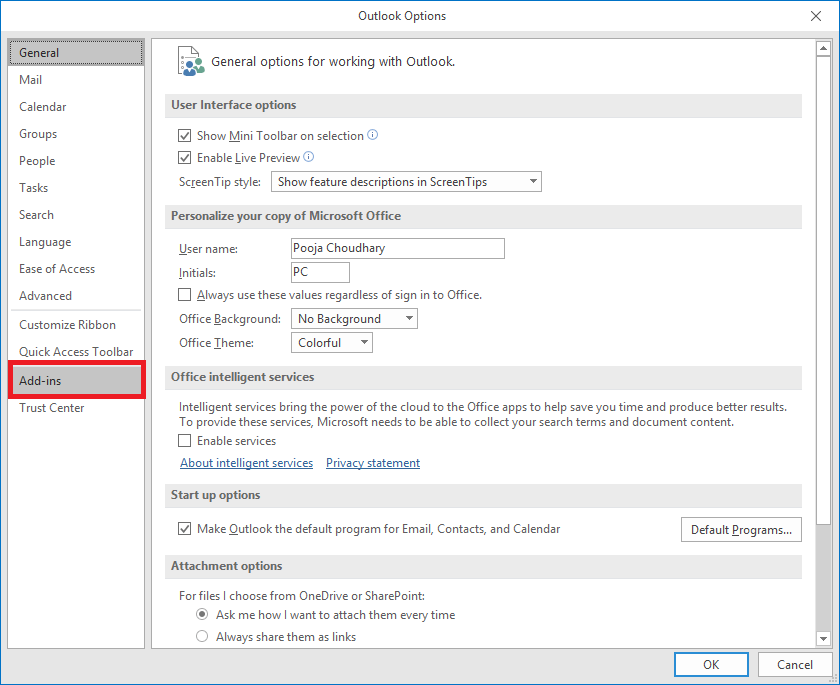 STEP 4: In this step, scroll down and look for Inactive or Disabled Application Add-ins.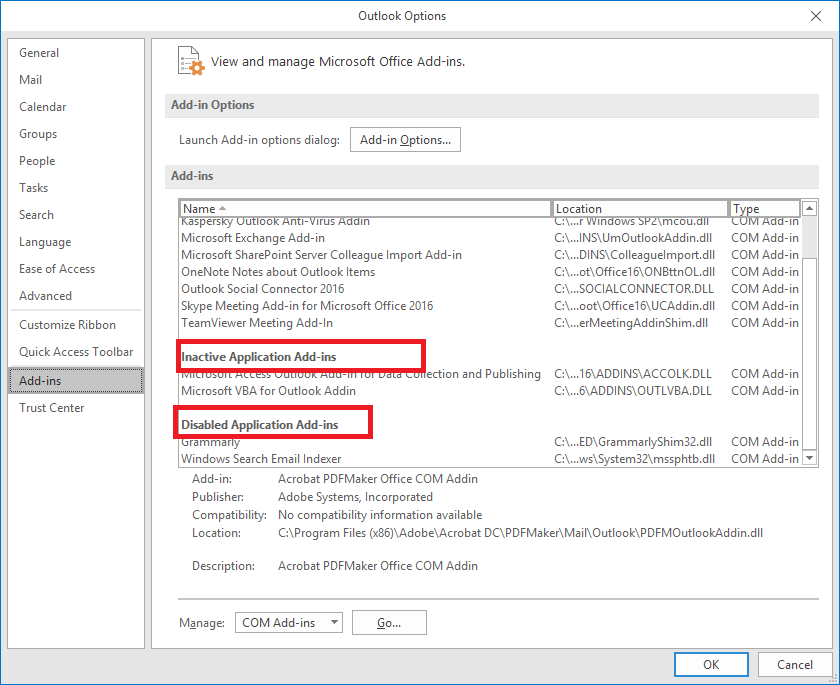 STEP 5: In this step, to enable the disabled plug-ins, go to Manage at the bottom of the window and choose Disabled Items from the drop-down and click Go…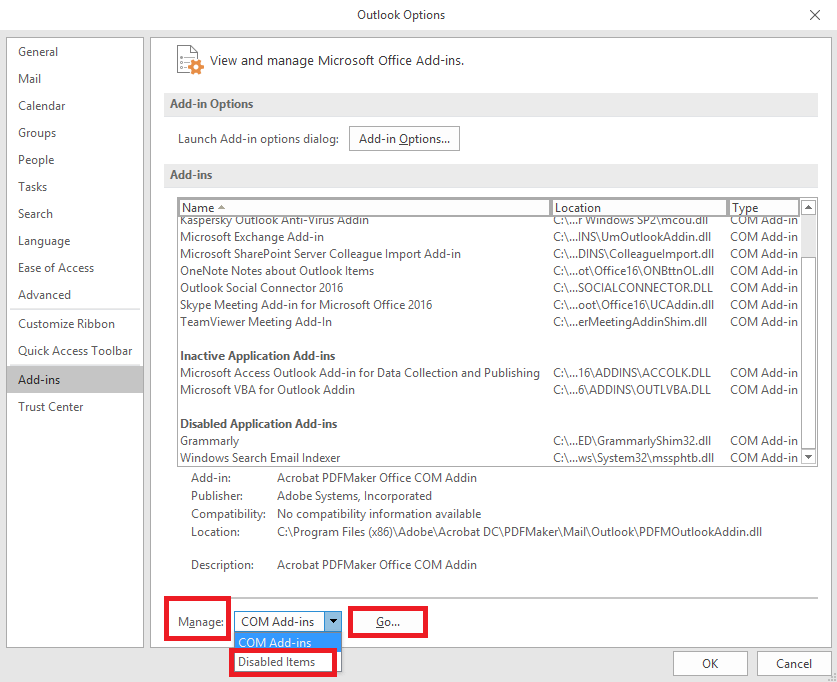 STEP 6: Finally, select the plug-in you want to enable from the list and Click Enable and then click Close.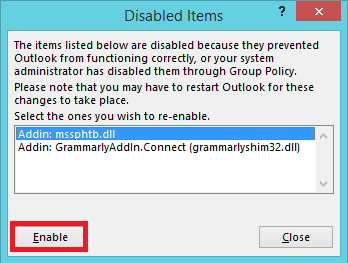 Final Words:
The process of enabling the disabled plug-ins is simple but if this is a frequent issue with the add-ins, then there are high chances that Outlook data files (PST or OST) can get corrupt or damaged. Being a very common issue, you will surely face PST corruption cases. To fix corrupted PST files you can consider the highly proficient third-party software – Kernel for PST Repair Tool to recover and save your Outlook mailbox data with ease.
Please Note: You can also run scanpst.exe (Inbox Repair Tool) repeatedly on every PST file, to check for errors with PST files.