Read time: 6 minutes
Microsoft's Office 365 is now being used extensively by organizations and individuals to manage their work-related tasks and duties in a much more effective way. With a substantial user base of millions, it aims at increasing the productivity of work by providing a wide range of applications and services. So, in all the ways, it is much more than just an email application.
But all this goes in vain if you are not even able to smoothly sign in to your Office 365 account.
Office 365 is definitely an advanced l platform but even it can throw some rare errors like the error code 801C03F2. This issue has been experienced by a few users when they tried to sign in to their accounts. Corruption in files is one of the many reasons behind this. It might seem complex, but on the contrary, it can be easily fixed.
Here, we will be discussing all the methods on how to fix the error code 801C03F2 in Office 365.
This issue can occur due to problems with the system or an Office 365 application. If the system is responsible for it then, the following methods can work-
Perform Disk Clean-up
Reboot the system
Check the Wi-Fi connection
Clear the Credential Manager's data
However, if the problem is due to an Office 365 application, these techniques will help you-
Restart the application
Repair Office 365 applications
Reinstall the Office 365 applications
For a better understanding, all these methods have been discussed in length below-
Perform Disk Clean-up
Disk Clean-up is an inbuilt utility that safely removes all the unnecessary files and folders, improving the performance of the overall system. Regular maintenance clean-ups can help you to speed up its functioning.
Follow these steps to run the Disk Clean-up-
Press the Windows key and X simultaneously to open the Task menu. Select the Run option.
Type cleanmgr and click on OK.
Reboot the system
It is usually recommended to reboot your system as a troubleshooting method. It closes all the running tabs and unloads the drives. Later, it restarts the operating system. This can also prove to be helpful in resolving error code 801C03F2.
Check your Wi-Fi connection
This error is likely to occur due to some undetermined network issues. Similar is the case with this error which is restricting users to sign in to their accounts. You can simply switch off your modem and router and then switch it on again after a few minutes. If the connectivity issues still exist, then you should switch to a more stable and stronger network.
Clear the Credential Manager data
This utility allows the user to view and manage all their login credentials for various websites and applications. However, at times this may cause authentication problems.
You can clear the Credential Manager using these steps-
Move to Control Panel and select Credential Manager.
Click on Windows Credentials.
Choose the password which you want to delete and then, select Remove.
To apply the changes, restart your computer.
Restart the Office 365 application
There might be some minor issues with the currently running Office application. In a situation where any of the Office applications are not working properly, you can try to simply close and launch it again. Check if the error code persists.
Repair the Office 365 applications
Another method that helps to resolve error code 801C03F2 is repairing the applications in the Office suite. This error can also occur due to low space, for which you can always increase Office 365 mailbox size to 100GB.
This repairing process can be performed using the steps mentioned below-
Right-click on the Start button present in the extreme bottom left corner and click on Programs and Features.
Select the Office application and click on Modify and this will repair all the Office applications.
Follow the instructions presented on the screen to successfully complete the process.
Reinstall the Office 365 application
Often some unidentified problems cause such errors. A workaround is to uninstall the Office 365 application and then, install it again. This will give users a clean slate and they can start fresh.
You can uninstall the program by going to the Control Panel and reinstalling it from the official Microsoft website.
What to do if you lose your data due to Office 365 errors?
Data loss is not an alien concept. It is highly probable in case of even a minor error. Hence, it is necessary to keep your data protected by keeping regular backups of it. It even helps in situations where the user has deleted user mailboxes in Exchange online. Data can be restored anytime using its backup, leaving no interruptions in work. Since the data is confidential in nature, it is essential that you choose a secure tool to perform its backup.
Kernel Office 365 Backup & Restore tool is a professional utility that ensures a secure backup of all your important data. You can restore these backed-up data at any time. The format of the backup file can be selected from a wide range of options. Along with that, it enables users to perform selective Office 365 data backup. This software extends its support to all plans and versions of Microsoft Outlook and Exchange Server.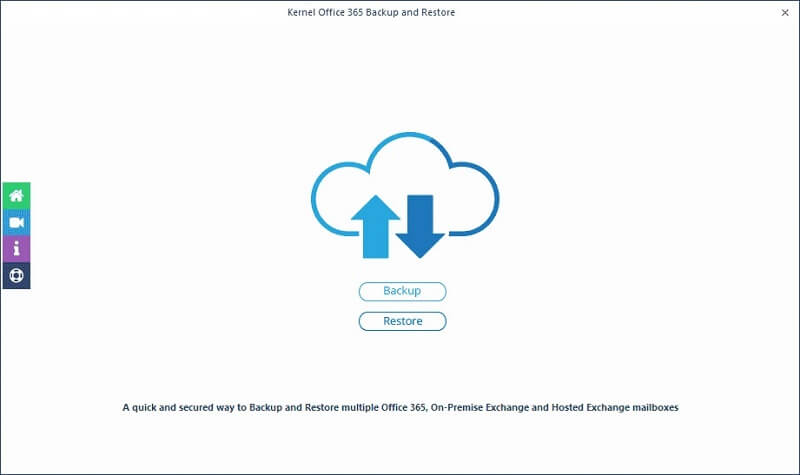 Conclusion
The error code 801C03F2 is experienced by users when they try to sign in to their Office 365 accounts. This can occur due to problems with the system or an Office application. Accordingly, some methods can be put to use to resolve this error- perform a disk clean up, reboot the system, check your internet connection, clear the data of Credential Manager, close and relaunch the Office 365 app, repair the Office applications and remove/reinstall the Office 365 application. And it is a wise decision to take backup of all your data using a professional utility.