Read time 6 minutes
Numerous Windows 10 users frequently encounter a variety of blue screen errors when attempting to boot their systems. One such prevalent issue is the "Bad Pool Header" error, which persistently appears with each restart, rendering it impossible for users to access their Windows data and services. In this discussion, we will delve into the details of this error and explore potential solutions.
About "Bad Pool Header" error in Windows 10
This error, known as a BSOD (Blue Screen of Death), can occasionally occur during the startup of a system in normal mode. It signifies an ongoing problem related to memory allocation within the system. Specifically, this error is linked to issues with Windows memory allocation and a corrupted pool header.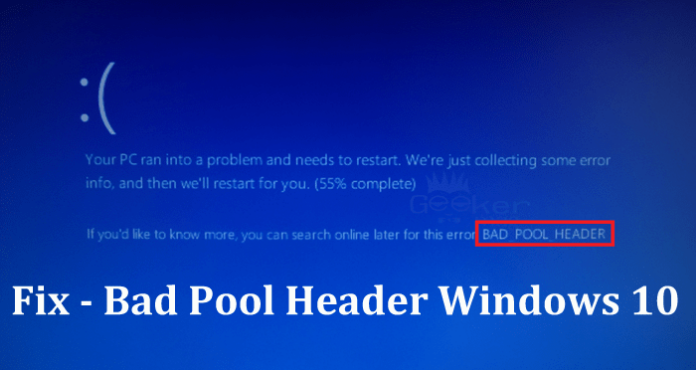 What causes the "Bad Pool Header" error?
Bad sectors, corrupted Windows registry, disk write-up issue, failed storage drive, faulty drivers, hardware, software, incompatible software applications, etc. can be the likely reasons for the "Bad Pool Header" blue screen error.
Fix the "Bad Pool Header" error manually
Windows 10 "Bad Pool Header" error can be fixed using some manual techniques to get access to your Windows 10 system again:
Remove the External Devices
Check the Hardware
Check/Replace RAM
Boot Windows 10 in Safe Mode
Remove the External Devices– If any external devices, aside from a keyboard or mouse, are currently connected to your system, please disconnect them promptly and proceed to restart your system.
precaution is necessary to prevent the occurrence of a "Bad Pool Header" error, which can arise from corruption in external devices or incorrect connections between your system and the peripherals.
Check the Hardware – If you've recently added any non-essential hardware components to your system, it's advisable to disconnect them. Such additional hardware may be the underlying cause of the blue screen error you're encountering. This hardware might include items like a printer, fax machine, dual monitor setup, or a sound card.
Check/Replace RAM – Insufficient RAM storage and sector corruption can have a detrimental impact on the system, occasionally leading to the occurrence of a blue screen error known as "Bad Pool Header." To proactively address this issue, users should verify the condition of their RAM and replace it with a healthy module that meets the system's storage requirements.
Boot Windows 10 in Safe Mode – Users can try to run the system in Safe Mode and then perform certain Troubleshooting actions to fix the error.
To initiate Safe Mode in Windows, you'll need to access the Windows Recovery environment. You can achieve this by following these steps.
Press and hold the system power button for about 10 seconds to shut down your system.
Now, press the power button again to start the system. As soon as you view the Windows logo, press and hold the power button for about 10 seconds to shut down the system.
Repeat the cycle of power on and shut down for a total of 3 times.
After the third time, allow the system to restart. Now the users will enter the Windows Recovery environment on their Windows 10 system.
On the Windows Recovery environment screen, under Choose an option, click on the Troubleshoot option.
On the Troubleshoot screen, click on Advanced options.
Now, click on Startup Settings.
On the Startup Settings screen, click the Restart option.
The system will get restarted. Now, click on the fifth option from the displayed list, or you can directly click on the F5 option for enabling Safe mode.
Note: If you want to exit the Safe Mode, type msconfig in your Windows Run box and click on OK. Then select the Boot tab and unselect the Safe boot checkbox under Boot options.
Within the Windows Recovery Environment, accessible through the "Troubleshoot" menu and then selecting "Advanced options," users have the following choices: "System Restore," which allows you to revert your system to an earlier restore point, and "Startup Repair," a tool for modifying Windows startup behavior.
Utilizing these manual methods can assist you in resolving the blue screen error and regaining access to your Windows 10 system. Nevertheless, it is recommended to safeguard your Windows data by employing a Windows data recovery tool to proactively protect against potential data loss scenarios. In the event of data loss, you can also explore the option of using a Windows data recovery tool to retrieve your missing data. An ideal solution for this would be the Kernel Windows Data Recovery tool. This utility performs a comprehensive scan of the designated system drives, partitions, and sectors to retrieve files, folders, Office documents, media files, and emails that have been lost, deleted, or gone missing from damaged Windows partitions and removable external devices. It is capable of recovering inaccessible Windows data resulting from issues such as hard disk failures, drive bad sectors, corrupted Windows registry, damaged disk partitions, virus infections, and more. The recovery and restoration process is executed seamlessly, ensuring no data loss occurs throughout the procedure. So, now it is easier to fix Windows 10 file corruption issues as it has three scanning modes and a content preview facility. You can try its free trial version for data recovery from any Windows version.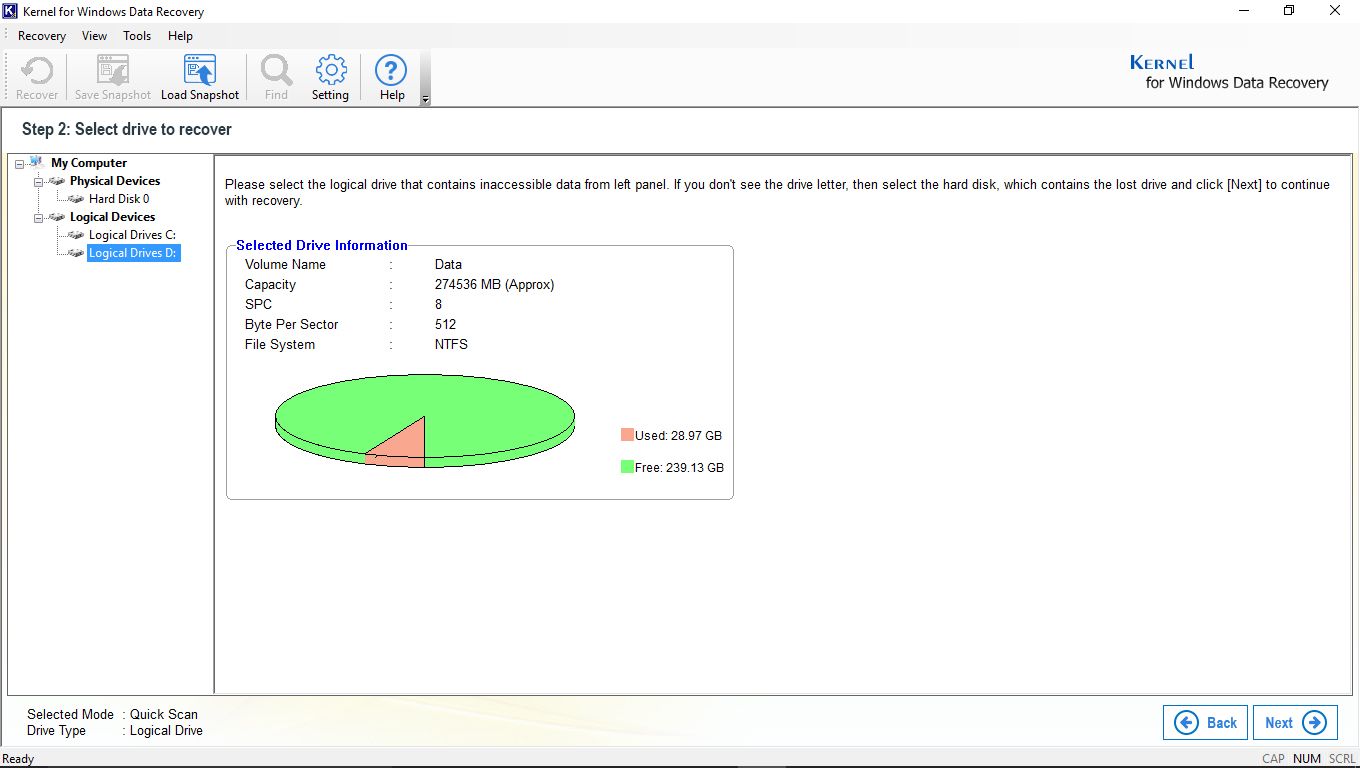 Wrapping Up
You have the option to try different manual methods to address the "Bad Pool Header" error, potentially helping you recover your lost Windows data. If you experience data loss on Windows 10, you might also explore the use of a Windows data recovery software like Kernel for Windows Data Recovery as a potential solution.