Read time9 minutes
Did you know that Microsoft Excel is the most popular application for data analysis in the world? In fact, a recent study found that more than 90% of businesses use Excel to manage and analyze their data. As a result, it's critical for businesses to have a basic understanding of how to fix Excel files and recover lost data. In this blog post, we'll outline five easy ways to repair Excel files and recover the lost data. So read on and get your business back up and running!

Here, you will find a few manual methods by which damaged Excel files can be repaired.
1. Open and Repair Excel files
A corrupt Excel file opens in File Recovery mode automatically. If not, you can repair Excel files manually as below:
Click on File and select Open.
Go to the location where the corrupt workbook is present and the corrupted worksheet.
Expand the arrow next to Open. Here select Open and Repair.
In order to repair the file, click Repair.
Note: If the Repair option doesn't work, you can select Extract Data and extract values and formulae.
If the automatic or manual Repair doesn't work, then a few other recovery methods can help you overcome the loss of data and files. These recovery methods are listed below:
2. Recover the Data from an Open Workbook
If you face issues while working in an Excel file, you can choose to return to the last saved version of the Excel file. For this:
Click on File. Select Open.
Double click on the name of the workbook (the one that is open in your Excel)
Click Yes to reopen it.
The workbook will now appear. Please note that you will not have the latest modifications in the newly opened document.
3. Recover by Setting Calculation Option as Manual
You can recover data from Excel workbooks that cannot be opened. For this, you will need to configure the calculation option as manual in Excel as:
Begin by clicking on File. Select New. In New, select Blank workbook
From File, select Options.
From the Formulas category, under the section Calculation options, select Manual. Now click on OK.
Now, click File, and select Open to and open the corrupted or damaged Excel file.
4. Recover the Data Only
Another way is to recover only the data (leaving formulas/calculated values) from the workbook using external references (to link Excel workbook) as:
Click on File. Select Open.
Navigate to the folder that contains the corrupted workbook.
Now, right-click on the file name of the corrupted workbook and click on Copy. Hit Cancel.
Click the File button. Then, select New.
Under New, select Blank workbook.In the first cell (A1), type =!A1 and press Enter.

Select the corrupted workbook, in the Update Values dialog (if it appears). Then click OK.
Select the relevant sheet in the Select Sheet dialog (if it appears) sheet. Then click OK.

Again, select the cell A1, click on Home and select Copy.
Now select (start from the cell A1) an area equal to that of the data in the original workbook.
Click on Home now and select Paste.
Click on Home, and select Copy again (on the same selection of cells)
Click on Home, and then on the arrow below Paste. Here click Values (under Paste Values).

By pasting values, you remove the links to the corrupted workbook leaving only the data only.
5. Using Professional Excel Recovery Tools
If all the manual methods fail and still things do not work as normal with Excel files, then a third-party tool can be of great help. Excel Repair Software is a professional third-party tool that repairs corrupt MS Excel worksheets. From inaccessible excel files due to unexpected system shutdown or power failure to corrupted excel files due to virus attacks or software crashes, this advanced tool does it all. A few features of the tool include:
Repairs corrupt all types of Excel files (Excel XLS And XLSX Files)
Two repairing modes: Single-File and Multi-File mode
Supports Unicode character recovery
Uses Live Preview technology to view the recovered data
Owns friendly graphical user interface
Works with all formats and versions of Excel
Easily Recover Excel Worksheet Data using this Software
Follow the steps below to recover data from corrupt or damaged Excel Worksheets:
Download and launch the latest version of The Software


Note: Tool's main screen is marked to get a better understanding of easy to use software.
In section (1) is the top menu bar where you can find options like selecting single or multiple files to repair and recover.
In section (2) you can track the stage of operation. Also, you can jump into a specific step if you need to change something.
In section (3) you can browse for the corrupt or damages Excel worksheet.
In section (4) you can proceed towards the recovery.

Browse for corrupt Excel file(s) and clickRepair
Note: You can repair single or multiple files at one go.
Once the scanning completes, you can see the worksheet contents of the original file in section (2). The tool would save all the file content in the same hierarchy as shown in section (3).
Once you're done with content preview, you can move to the next step.
Browse for a location to save the new Excel worksheet with the recovered data,

Now, the tool will be saving the new Excel worksheet, and upon completion, you can open the folder with the help of the Active File Path,

Close the program.
Conclusion
So, if you're ever in a situation where your Excel file becomes corrupted and lost data is the result, don't despair. There are five ways to repair Excel files and recover that lost data. We've walked you through each of them, so all you need to do is try them out until you find the one that works for you OR You can use a reliable third-party software such as Excel Repair to repair the corrupt Excel file and recover the lost data. The software is easy to use and has a user-friendly interface. It also supports all versions of MS Excel. Try it out and see how easily you can recover your lost data.
Watch the Complete Video to Repair Corrupt Excel Files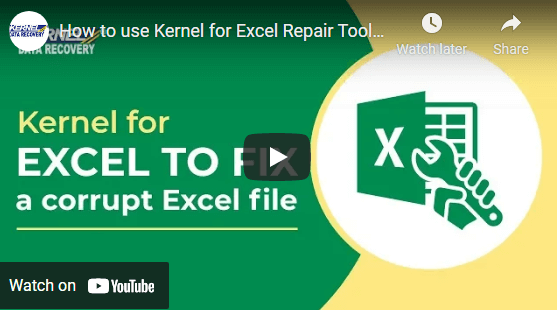 Reviews about This Tool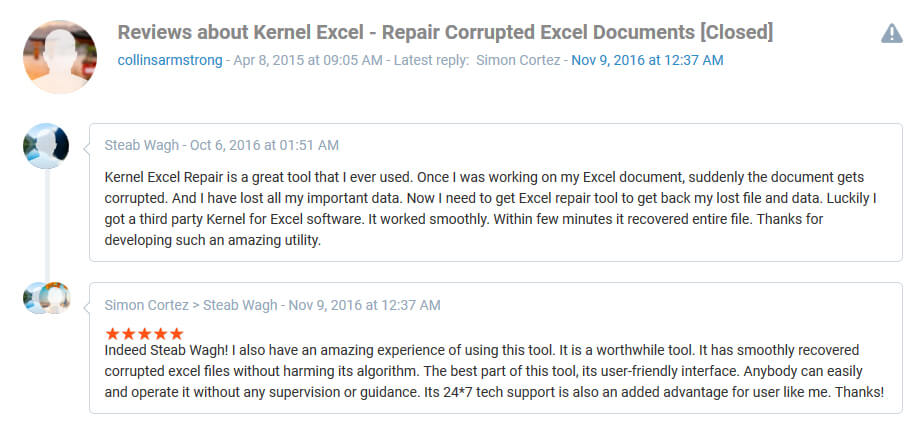 Best Excel File Recovery Software by The Top Tens