Read time 6 minutes
It is a healthy habit to move old mailbox items in Outlook by exporting them to an archive file. An email-loaded Outlook can be slow. It can lead to corruption in files, continuous hitches, and even data loss in extreme situations. If you're using Outlook for Mac and want more free space in your Inbox, then the best way is to archive your emails, contacts, and other items. You can archive OLM data anywhere on your system. In this article, we will be discussing all the possible ways to export Outlook for Mac emails/items to an archive file.
There are a few reasons for the users to export emails and other items into an archive file:
Outlook provides limited storage which gets full very quickly
Users used to convert old emails to an archive file to avoid the loss of data
To reuse data again with Outlook for Mac.
It allows free space for new emails to store.
Regular cleaning of the inbox ensures that the system isn't slow
This keeps files and data corruption-free
How to Export Emails or Items to an Archive File?
This task might seem intimidating to some users but can be easily achieved by following 2 approaches
Manual – Use this only if you have adequate knowledge about Outlook and its features.
Professional – Using a third-party tool to take backup of the mailbox items.
Manually export Outlook for Mac emails/items to an archive file
These steps will help you to export Outlook for Mac emails/items to Archive in an OLM file
Open Outlook on your Mac on your Mac and go to the "Tools" tab and select "Export."
A new wizard "Export to Archive File (.olm)" will appear on the screen; select the items that you want to export to the archive file and click "Continue."
Now, in the "Save as" box, select the "Downloads" folder, and click the "Save".
It will take a few seconds to export the data; once it's done, you'll receive a notification. Click "Finish" to complete the process.
Using this technique, you can easily export your mail items to Archive in an OLM file.
Professionally take Backup of OLM Files to PST Files
If the manual method to convert OLM to PST is not enough to export data from Outlook for Mac data files, you can export your data to PST files easily. Kernel OLM to PST converter is the most reliable tool to convert your OLM files to PST.

The conversion process is quick while maintaining the accuracy of the entire data. Users can even split large-sized PST files into smaller ones to keep them much more organized; the tool is well supported by all the versions of MS Outlook. Let's see the working process of this tool:
Download the software. On launching OLM file to PST converter software, a window will appear on the screen; select the file that you want to convert and click "Next."
Once the file is scanned, it's folders will be visible on the left pane of the tool. Click any folder to preview its emails/items and preview them in the "Simple View."
Now, to convert it to PST, select "PST file (MS Outlook)" from the right pane of the tool and click "Next."
If you want to apply any filters to the OLM file before converting it, apply from the filter section.
Browse the location where you want to save the file and click "Finish."
It will take a few seconds to save the file. Once it is done, you'll receive a notification displaying, "File has been saved on the location." With the help of this tool, you can also export OLM files to Office 365 easily.
After converting the OLM file to PST, you can free up space from your Outlook for Mac account by removing the emails/messages from your Inbox.

Conclusion
We discussed how to export Outlook for Mac emails/items to an archive file, both manually as well as professionally. This helps in keeping the functioning of Outlook smooth and problem-free. Taking the backup of OLM files in PST is the perfect solution to save the files at a safe location and access them. Rather than exporting the OLM files into an archive, you should use the OLM file to PST Converter and save all the data in the PST file. The software has multiple filter options to save only the important part and leave the rest.
Video Tutorial to Save OLM Files to Outlook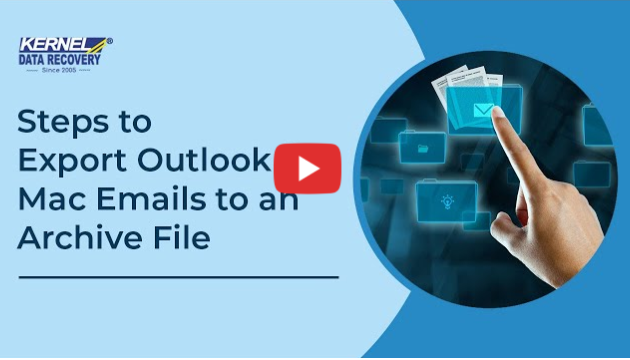 FAQs
Q- Can I save multiple archive OLM files in Outlook for Mac?
A- You can create a single Archive file for the selected account. For saving multiple archive files, you should use the software.
Q- Is there no filter option during the archive process?
A- The archive saves complete emails that come under its category. Only the software provides various filters.