Read time6 minutes
The MP4 or MPEG Part-14 is a video file format generally used for movies and video clips which is well supported by all websites and other devices. In this type of file format, videos are compressed so that they have a smaller file size. And it contains audio, video, subtitles, still images. On the other hand, MPEG (Moving Picture Experts Group) comes in MPEG-1, MPEG-2, and MPEG-4 editions with file extension .mpg and stores metadata, video, audio data. These MPEG formats support the compression of videos and audios for VHS, CD, DVD, and TV broadcasts.
So, whenever there is a need for burning MP4 videos and audios into CDs, DVDs, VHSs, and TV broadcasts, you need to change the video file format from MP4 to MPEG format.
One can perform this conversion using the VLC Media Player Convert/Save feature. For this, add MP4 files for conversion and select the output from MPEG-2+MPGA (TS), MPEG-4 720p, and MPEG-4 1080p.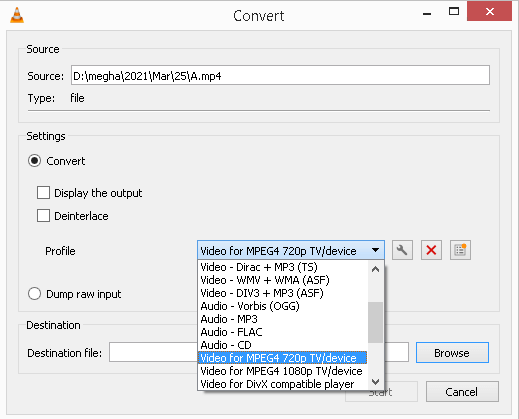 Although it seems feasible, the manual way does not assure the complete conversion. Also, there are chances of quality loss and structural modifications in the manual conversion.
In such a case, a professional video conversion tool might help. We recommend the most popular and reliable software known as the Kernel Video Converter tool, which supports conversion from any video file format to another efficiently and quickly. Learn more about this software in our next section.
Why is simple video file converter software is the best?
Among all the video conversion tools available in the online market, this tool stands out due to its efficiency and simple user interface. It integrates powerful features which compel users to choose it from a lot of other converter tools. Some of these benefits are listed here.
Limitless: No limitations of file size, type, format, number, and source
Flexible: Selective videos conversion with audio extraction facility
Saving options: Allows saving the converted files to the desired destination creating a new folder
Simplicity: Smart tool with minimal features and steps for quick conversion
Highly Compatible: Supports all video file formats, resources, devices, recorders, Smartphones (Android, iPhones), Windows OS, etc.
Output Formats: Supports almost all type of output formats for videos and audios for flexible conversion
Data Integrity: Maintains original properties, quality, resolution, structure of videos after conversion
Performance: Offers quick conversion of all types of video files to the chosen output format
Thumbnail Preview: Assures added video files by providing a big thumbnail preview before the conversion
Converting MP4 to MPEG format via the Tool
Visit the software website https://www.nucleustechnologies.com/video-converter/ to install the tool on your system. Follow the working process of the tool to convert your MP4 video files to MPEG format directly.
Start the tool by double-clicking the installed application.
Click the Add option on the Welcome Screen to add MP4 video files for conversion.

Browse the folder on your system drive, which contains MP4 files for conversion, select files and click Open to add them.

The MP4 video files are now added. The Thumbnail preview of the added files can be viewed. Click the Next option to proceed.

Select the output format for the conversion as mpeg from the list and click Convert Now.

Select the destination folder for saving your converted video files. Click on the Make New Folder option if you want to create a new folder with a name, and then click OK.

The video file conversion from MP4 format to MPEG will start, and the tool will display the live progress of the conversion. Wait for the process to complete.

The conversion process will complete in a short time and display the Success status for each file. To go to the destination folder directly, click the blue highlighted link against each file. Save the conversion report to the CSV file at desired system drive folder by clicking on the Save report to CSV option.

Hence the video file format conversion is completed with easy procedure and steps.
Final Words
Conversion from MP4 to MPEG video file format is required to burn video and audio into DVDs, or VHS, or CDs. For such a conversion, we have provided both manual and automated methods with the explanation. Try the recommended tool for converting video files to another format most quickly and effortlessly.