Read time6 minutes
Summary: This guide explains the differences between MP4 and MPEG video formats, suggests manual and Kernel Video Converter methods for conversion, and emphasizes the tool's efficiency in converting videos effortlessly while preserving quality.
The MP4, also known as MPEG Part-14, is a widely used video file format primarily utilized for movies and video clips. It boasts extensive compatibility with various websites and devices. This file format employs video compression techniques to reduce file sizes while encompassing audio, video, subtitles, and still images.
In contrast, the MPEG (Moving Picture Experts Group) format is available in MPEG-1, MPEG-2, and MPEG-4 editions, denoted by the .mpg file extension. MPEG formats are designed to store metadata, video, and audio data efficiently. They excel in compressing video and audio content for use in VHS, CD, DVD, and TV broadcasts.
Indeed, when you intend to burn videos and audios onto CDs, DVDs, VHS tapes, or prepare content for TV broadcasts, it's often need to convert the video file format from MP4 to MPEG. MPEG formats are well-suited for these purposes due to their efficient compression and compatibility with various playback devices and broadcast systems. Converting from MP4 to MPEG ensures optimal quality and compatibility for these specific media formats and platforms.
One can perform this conversion using the VLC Media Player Convert/Save feature. For this, add MP4 files for conversion and select the output from MPEG-2+MPGA (TS), MPEG-4 720p, and MPEG-4 1080p.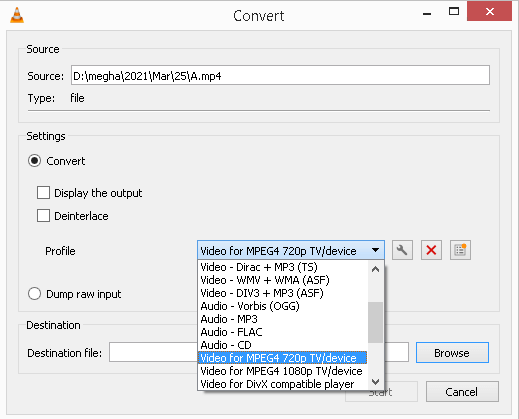 While it may appear possible, manual conversion does not guarantee full accuracy. Furthermore, there is a risk of quality degradation and structural alterations during the manual conversion process.
In such situations, turning to a professional video conversion tool can provide a solution. We suggest utilizing the renowned and dependable software known as the Kernel Video Converter tool, renowned for its efficient and swift conversion capabilities. To gain a deeper understanding of this software, please explore our next section.
Why is simple video file converter software is the best?
Among the myriad of online video conversion tools in the market, this particular tool distinguishes itself through its remarkable efficiency and user-friendly interface. It incorporates robust features that make it the preferred choice for many users over a multitude of other conversion tools. Some of these advantages are outlined below.
Limitless: No limitations of file size, type, format, number, and source
Flexible: Selective videos conversion with audio extraction facility
Saving options: Allows saving the converted files to the desired destination creating a new folder
Simplicity: Smart tool with minimal features and steps for quick conversion
Highly Compatible: Supports all video file formats, resources, devices, recorders, Smartphones (Android, iPhones), Windows OS, etc.
Output Formats: Supports almost all type of output formats for videos and audios for flexible conversion
Data Integrity: Maintains original properties, quality, resolution, structure of videos after conversion
Performance: Offers quick conversion of all types of video files to the chosen output format
Thumbnail Preview: Assures added video files by providing a big thumbnail preview before the conversion
Converting MP4 to MPEG format via the Tool
Visit the software website https://www.nucleustechnologies.com/video-converter/ to install the tool on your system. Follow the working process of the tool to convert your MP4 video files to MPEG format directly.
Start the tool by double-clicking the installed application.
Click the Add option on the Welcome Screen to add MP4 video files for conversion.

Browse the folder on your system drive, which contains MP4 files for conversion, select files and click Open to add them.

The MP4 video files are now added. The Thumbnail preview of the added files can be viewed. Click the Next option to proceed.

Select the output format for the conversion as mpeg from the list and click Convert Now.

Select the destination folder for saving your converted video files. Click on the Make New Folder option if you want to create a new folder with a name, and then click OK.

The video file conversion from MP4 format to MPEG will start, and the tool will display the live progress of the conversion. Wait for the process to complete.

The conversion process will complete in a short time and display the Success status for each file. To go to the destination folder directly, click the blue highlighted link against each file. Save the conversion report to the CSV file at desired system drive folder by clicking on the Save report to CSV option.

Hence the video file format conversion is completed with easy procedure and steps.
Final Words
Converting video files from MP4 to the MPEG format is essential for tasks like burning videos and audio onto DVDs, VHS tapes, or CDs. We have presented both manual and automated methods, along with detailed explanations. However, for the swiftest and most effortless conversion, we highly recommend giving the recommended tool a try for seamlessly converting your video files into the desired format.