Read time 4 minutes
Summary: Discover the power of Office 365 Cloud Platform in our latest blog post. Learn how this versatile suite of cloud-based productivity tools empowers businesses with seamless collaboration, secure data storage, and flexible access from anywhere. Dive into the benefits of Office 365, from enhanced productivity to simplified IT management, and stay ahead in the modern workplace.
Data safety and accessibility have always been critical concerns for email client users, such as MS Outlook. Over time, email clients like Outlook have evolved, offering increased stability and improved data security. However, with the emergence of cloud-based platforms like Office 365, Outlook users now have enhanced options to ensure the safety of their email data.
Outlook PST Corruption
Imagine a scenario where a PST file containing crucial emails becomes corrupted due to an unexpected system shutdown or a virus attack. In such a situation, your immediate response would be to attempt to salvage the affected PST file while preserving all of its contents.
For Outlook PST recovery, you have two choices. You can either utilize Microsoft's built-in utility 'Scanpst.exe' or seek help from a dependable third-party Outlook PST recovery tool. While 'Scanpst.exe' can aid in rescuing moderately damaged PST files to some extent, it may not be effective for severely corrupted files. It may not deliver precise recovery and could potentially worsen the data situation.
Hence, it is advisable to consider a reliable third-party tool like Kernel for Outlook PST Repair for efficient Outlook PST data recovery. Furthermore, this tool offers the convenience of directly saving PST data to Office 365.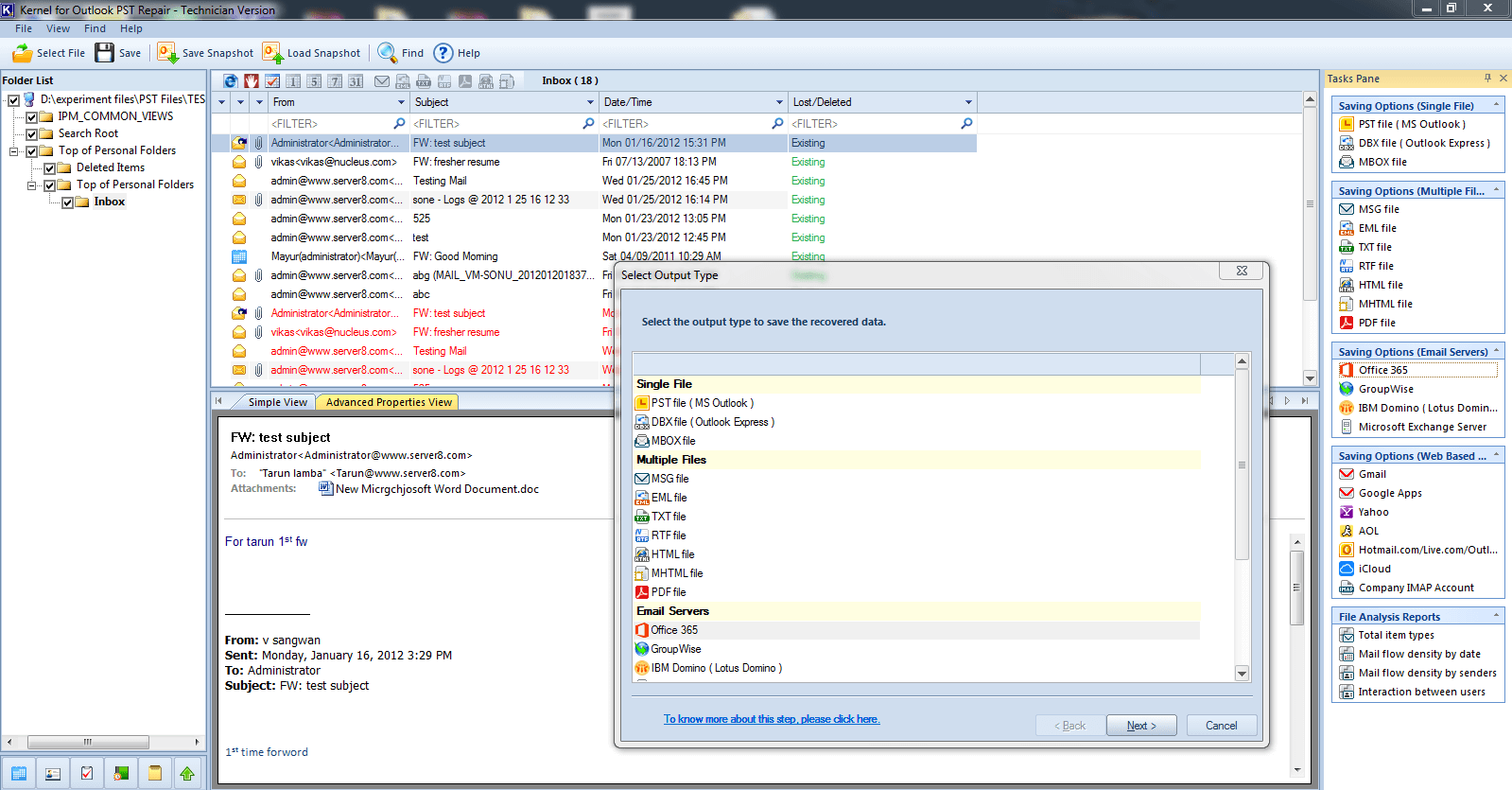 Rescuing PST File and Migrating it to a Better Platform
When rescuing a damaged PST file, it's crucial to choose the right third-party tool. With numerous tools on the market, each boasting promising features, selecting the right one can be challenging. In such cases, it is advisable to opt for the most highly recommended third-party tool.
It is the most recommended and result-oriented third-party software that provides PST file migration to cloud-based platforms for better accessibility and data security.
Preferring Cloud-Based Migration Over PST Conversion
Converting PST files to various formats is a viable option. However, many Outlook users prefer migrating their Outlook emails to Office 365. Office 365, being a cloud-based platform, offers seamless access to PST files without any associated limitations. This universal accessibility has earned the software high praise among professionals who utilize it.
Reasons for Importing PST Data to Office 365
Cloud migration is safe because there is no chance that your data may get damaged or lost. Some of the reasons for moving your data to Office 365 are stated below.
It reduces the risk of data loss as Office 365 is secure and safe (as there is no possibility of issues like PST corruption).
The cost of maintaining and managing email clients like MS Outlook can be avoided.
Office 365 offers high availability.
You can quickly access emails from any location and with any device (just with internet connectivity).
Kernel Import PST to Office 365 – A Solution to Import Healthy PST File
Kernel Import PST to Office 365 is a specialized tool designed for seamless importing of healthy PST files into the cloud-based Office 365 platform. It effortlessly handles the import of both PST and OST files to Office 365, and you can also use it to import PST files to Exchange Server. This tool offers filtering options, allowing you to select specific folders or items before initiating the PST to Office 365 import process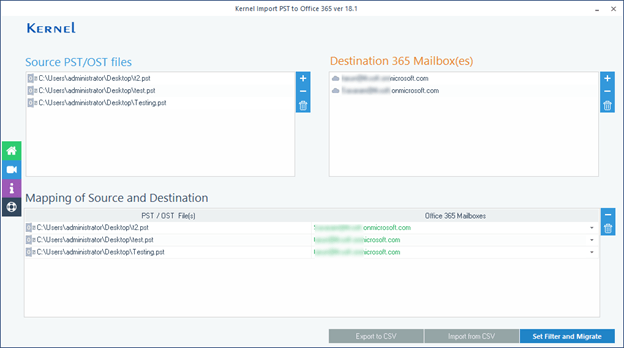 Note: This tool cannot repair corrupt PST files. If your PST files are corrupt, you should use Kernel for Outlook PST to restore them to Office 365.
PST to Office 365 – Kernel for Outlook PST Repair vs. Kernel Import PST to Office 365
| | |
| --- | --- |
| Kernel for Outlook PST | Kernel Import PST to Office 365 |
| Repairs corrupt PST files | Does NOT repair PST files. |
| Requires MS Outlook to save PST data | Does NOT require MS Outlook to import PST data. |
| Can save damaged PST files to Office 365. | Can only import healthy PST files to Office 365. |
| Does NOT save OST files to Office 365 | Imports healthy OST files to Office 365 |
| Has multiple file saving options – email servers (like Exchange), webmails (like Gmail), MBOX, DBX, and more. | Only imports to Office 365, Exchange (hosted/on-premises). |
| Free trial version to save 25 items/folder to selected formats | Free trial version to import 10 items/folder to Exchange/Office 365 |