Read time: 4 minutes
Microsoft SharePoint has earned a reputation as the best document management platform due to numerous features designed to handle documents extremely well. It facilitates the creation of documents that can be shared with other users for validation and editing. It also allows migrating files from the user system to SharePoint through a simple migration method.
SharePoint Migration
As soon as a new SharePoint is deployed, you may think of migrating complete folders and several files to the site from your file shares. However, it is not a simple process. You need to plan the content migration, foresee the possible issues, do a checklist for SharePoint migration, prepare the destination environment, perform the migration, and onboard end users.
Though it is a long process, we will briefly go through the major steps.
Step 1. Understand the source data well
First, you should go through all the folders (and subfolders) and determine which information is suitable to migrate and which you should avoid. It will be an inventory cleanup that will reduce the overall size of the migratable data.
While going through all the folders, you can check out various items that are not suitable for SharePoint migration-
Application files.
Executable software codes.
Large individual files.
Folders that include more than 5000 items.
Inactive sites or unsupported templates.
Empty groups.
Empty lists & libraries.
Duplicate files.
Files containing multiple customized permissions.
Older versions from the version history.
SharePoint is a Microsoft product, so it can collaborate with other MS Office applications like Word, Excel, PowerPoint, Access, OneNote, etc. Many files in the list and libraries are the files created by these applications. Lately, with the new advancements, SharePoint can also store Image Web Part in a modern site. The Image Web Part can insert the image on a webpage from another site, user's computer, or Web.
Identifying the crucial data and fixing the issues is vital for SharePoint migration. Most importantly, you will migrate system files to your SharePoint account that belongs to your business, so you do not want the migration process to fail.
Step2. Classify the files, documents, and folders into categories
Once you have chosen the right content scattered in various drives and folders, your next move should be to categorize them smartly. You can categorize the data based on their utility or ease of accessibility. The benefit of creating different data categories will simplify the migration process. Next time, you can migrate a selected category as a single batch and try another category. Generally, the SharePoint files have mixed folder names like Policies and Procedures, customer files, project files, department files, etc. You can create such categories that avoid confusion related to the information saved. You can also check SharePoint Online storage information that how much data you want to migrate.
Step3. Inform the site owners
The site administrator is responsible for managing the data after migration, and they should have permission to do so. Also, take steps to make sure that users have proper access to the data in the new environment. Migrating metadata and permissions
Step4. Start the migration using the SharePoint Migration tool
Once you have chosen the necessary files for migration, you can download the SharePoint Migration tool and move sites from on-premises SharePoint to SharePoint Online. It is a free utility tool that reduces the complexity of manual data transfer. It migrates selected sites with their pages, metadata, images, and other web parts. Also, you can try a professional migration tool for SharePoint migration.
[popupbox_btn]
To lower the chances of data loss during migration, you should use Kernel Migrator for SharePoint software. The software lets you choose various sites, sub-sites, and entire collections. It offers multiple filter options to hinder the non-required data from migration too. It also moves lists & libraries while protecting them and moving all versions for accessing the latest data after completing the migration. The software will automate the complete migration process where you do not worry about data security.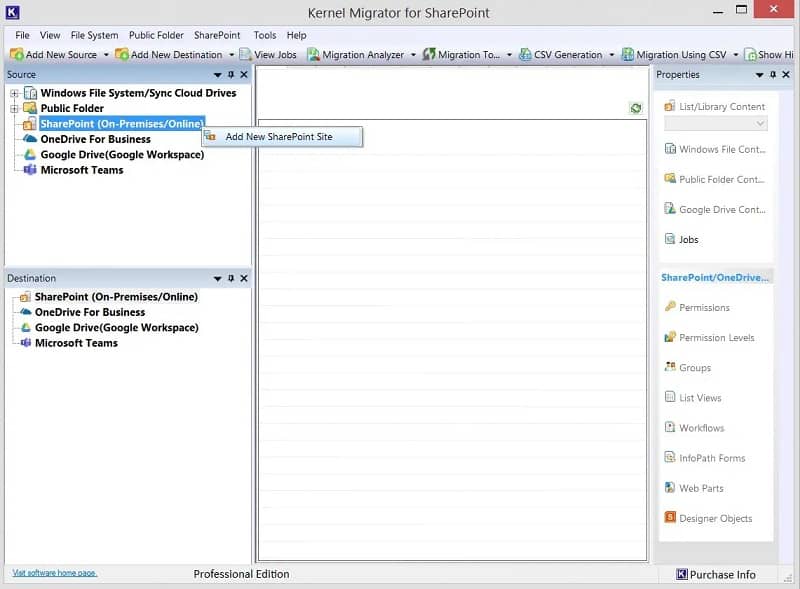 Final Words
Data organization is a prudent step that each SharePoint administrator must perform to ensure a clean SharePoint migration. It removes the unnecessary risks and chances of migration failure. And for the migration, one can try Kernel Migrator for SharePoint. It is a simple tool that supports all SharePoint versions.