Backup Mozilla Thunderbird Emails to Hard Drive

Read time 10 minutes
Creating a backup for emails is something Thunderbird users need to perform regular occasions. Data theft and data loss has been a rising concern in these tech savvy times. The main idea behind backing up your Thunderbird emails is to protect your valuable data from unnecessary corruption and hard drive disasters. For instance, if your machine got physically damaged, then the chances are that you would not be able to access your Thunderbird data at all. In such scenarios, if you had created a backup for your Thunderbird emails in an external drive, you could easily retrieve them back on your new machine whenever needed. It resolves many problems and that's why we are here to discuss backing up your Thunderbird emails to a hard drive.
Significance of Thunderbird Email Backup
Having Thunderbird email backup to a hard drive has its own importance-
You and I, as users, may think that Mozilla Thunderbird does not require backup because its data is saved on the system. But in cases such as data theft and data corruption or system crashes, Thunderbird emails will become irrecoverable.
It can enhance the performance of the server, as the local server gets more space.
You can prevent data loss; having a backup means saved copy which lets the organization continue their regular work without interruption.
One can easily recover their data if accidentally got deleted. Basically, backup safeguards data from all accidental loss.
How to Backup Mozilla Thunderbird Emails?
There are different methods to backup Mozilla Thunderbird emails to Hard Drive. Manual methods are quite lengthy and complex since Thunderbird doesn't provide any built-in feature to backup emails. Some standard manual methods to backup Thunderbird emails are listed below:
Export Thunderbird Emails Using Add-on
You have to add a specific add-on (ImportExportTools add-on) in order to make Thunderbird functional to export emails.
Backup Thunderbird Profile
Thunderbird saves the data to where it belongs, i.e., the User's profile folder. You have to locate the User's profile folder, copy the contents, and paste them to a convenient backup location.

We will discuss this process in a more detailed manner later in this section.

Instant Solution
Try automated tool Kernel for MBOX to PST Converter to backup Mozilla Thunderbird Emails in Outlook PST file format anywhere on your PC.



Method 1- Export Thunderbird Emails Using Add-on
As we discussed earlier, Thunderbird doesn't have any built-in feature to export emails. Therefore, you have to add the ImportExportTools add-on to make it capable of exporting emails to external formats like EML, HTML, Plain text, Spreadsheet, PDF, etc. Eventually, the exported files can be saved to desired backup locations on a hard drive. Follow the steps given below to export emails via Thunderbird.
Lunch Mozilla Thunderbird on your PC.
Click the "Display the Thunderbird Menu" icon located at the top-right corner of the tool's interface.
Select Add-ons >> Add-ons from the drop-down menu. It will open a new window within the tool's interface.
Click the Get Add-ons button from the Add-ons Manager window.
You can either select the ImportExportTools add-on under the Featured Add-ons list or click the Browse all add-ons button and then search for the ImportExportTools add-on.
Then, click the Add to Thunderbird button.
Click the Install Now button when prompted.
Now that you have successfully installed the add-on to your Thunderbird client go back to the Add-ons Manager window and click the Restart now button to finish the process.

Note: If Thunderbird restarts in Safe Mode, close the tool and relaunch it in normal mode.

Right-click the Inbox you wish to export and select ImportExportTools >> Export all messages in the folder >> EML format.

Note: Select the file type from the list as per your intent for the emails. For instance, if you want to be able to import your backup to Thunderbird on a new machine, select the EML format option. And, if you wish to be able to retrieve your emails in their original formatting and attachments, select the HTML format (with attachments) option.
Select a destination directory to save your backup files and click the Select Folder button.
Your backup files will be saved at the destination.
Method 2- Backup Thunderbird Profile
Backing up your entire Thunderbird profile is another option to backup your emails and other mailbox data. Your profile stores all information associated with your account, such as emails, account settings, etc.
When you backup your Thunderbird profile, you simply copy the contents of the User's Profile folder and paste them to a convenient backup location.
Launch Mozilla Thunderbird
Click on the "Display the Thunderbird Menu" icon.
Go to Help >> Troubleshooting Information. This will launch the Troubleshooting Information window in a new tab within the tool.
Click on the Open folder (Local drive) button under the Applications Basics section.
As soon as you click the Open Folder button, it will launch the User's Profile directory, which has a specific name format that consists of a string of random characters followed by the profile name.
Just come outside this folder and copy the User's Profile folder and paste it to a convenient directory.

Note: You can copy-paste the User's Profile folder to the location of your convenience. It may be an external hard drive or some location on the system.
Limitations of Manual Method
One should always keep in mind that manual methods have their own limitations. They are basically a time-consuming process and take a lot of time, attention, and effort of the users. Even this method contains multiple numbers of steps and while performing the users must be alert. And while using these, one cannot back up their data in major formats.
A Professional Tool to Back Up Mozilla Thunderbird Emails
Till now, we have discussed two manual methods to backup Mozilla Thunderbird emails. And both have their set of limitations. But the most effective and quick way to backup your data is to use a professional tool and convert your Thunderbird MBOX files to formats supported by other email client applications. Some of the most widely used email client applications other than Thunderbird are MS Outlook and Windows Live Mail. Therefore, to back up your Thunderbird emails and other mailbox data, you could simply convert them to file formats supported by these email clients. In this regard, KernelApps has launched a reliable tool to convert your Thunderbird files to PST and EML file formats.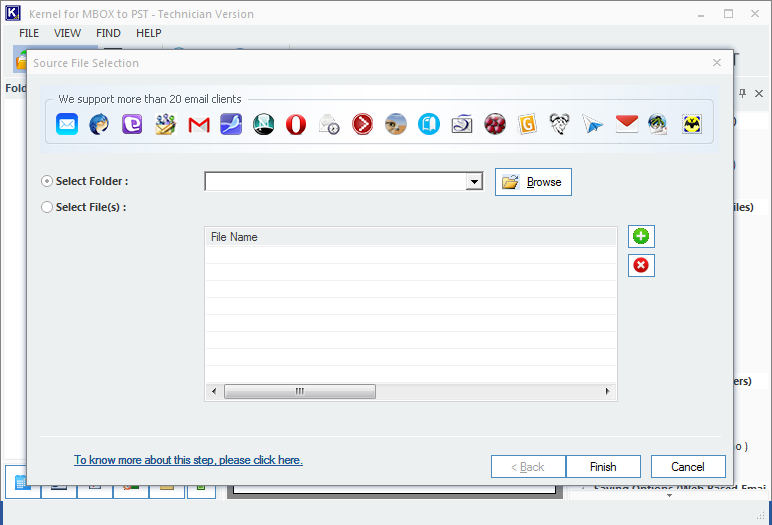 Kernel for MBOX to PST is one of the most recommended tools to convert MBOX files to PST format and includes the following features-
The tool supports the migration of multiple MBOX files at a time.
You can add MBOX files, preview the MBOX data, and save them to various formats and destinations of your choice.
The available destinations include Outlook PST, Gmail, Exchange, Office 365, etc.
It also facilitates the conversion of MBOX emails to other formats such as DBX, MSG, and EML.
Moreover, it provides migration of the first 25 items free with its trial version of the software.

Conclusion
The manual method to save Thunderbird emails has severe limitations as they can save only some limited emails and copy a single profile. The output file for a profile cannot be opened by any other application than Thunderbird and there can be some discrepancies in settings of data. So, you should use this Thunderbird Mail Backup software and change the format of the selected profile's data file. It will make data ready for new platforms and applications.
FAQs
Q- In the second method where we check the location of our profile. Will we need to move the file to another folder or copy it?
A– You should copy it and consider it as a backup file. Whenever a profile is corrupt, then you can use it to restore data.
Q- I added the add-on and saved the emails in EML format. But, why there are no attachments?
A- EML format is used to save emails only. To move attachments, you should use the professional software.