Read time 7 minutes
Summary: The Gmail app present in G Suite subscription plan can be saved in EML files using the Data Export tool and Kernel G Suite Backup software. Read the complete article and check the benefits.
Storing emails in a backup file is a crucial responsibility for individuals who frequently rely on email communication. When it comes to professional email usage, it becomes imperative to retain email messages. Google Workspace, formerly known as G Suite, is tailor-made for professionals seeking to enhance their productivity using a range of Google services.
Each day, the risk of external attacks through spyware, malware, hacking, and similar means continues to grow. These malicious actors actively seek out vulnerabilities in your account and take advantage of any weaknesses they discover. Without employing robust security measures such as a strong password and multi-factor authentication, there is a significant likelihood that your account could suffer data loss.
Even if you've employed security measures, it's still important to create a backup of your emails.
In this article, we will present various techniques for preserving the Gmail data within your G Suite account.
Use the Data Export Tool
The Data Export tool is an integral component of Google Workspace Core Services, allowing you to export emails from Gmail once they become accessible.
Sign in to your G Suite account using Super Administrator credentials and go to Admin Console.
In Tools, type Data Export and double-click to open it.
In the Data Export tool, click the Start Export button to export the data to an external file.

All essential data from core services such as Gmail, Contacts, and Docs will be exported. It's important to note that all users linked to the Super Administrator will have access to the exported data.
Limitations of Data Export Tool
The export process can only be initiated by Super Administrators whose accounts were established at least 30 days prior to the request.
A two-factor authentication activation is advisable for administrators.
The notification regarding the export process status will be exclusively sent to the administrator.
Use Kernel G Suite Backup Software
The Data Export tool will create a zipped file containing all the data but lacks filtering or mapping capabilities. To customize email saving in various formats and apply versatile filters, consider using professional software. Apart from emails, the software will backup G Suite Contacts, Calendar to Outlook PST and other file formats.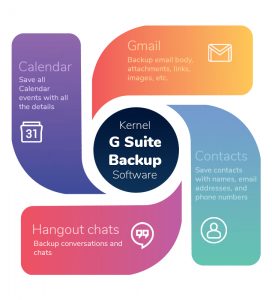 Kernel G Suite Backup software is the perfect alternative to any manual method to export the G Suite mailbox folders.
On the home screen of the software, click the Add option.

Please provide the login ID for your Google Workspace account, the Server account ID, and access to a P12 File from its designated path. Next, opt for the second choice to pick multiple user accounts. Finally, click on the button labeled Retrieve User Mailbox(es).

The software will list all the accounts for you. You can select the ones you find valuable and then click the "Add" button.

The tool will automatically choose all user accounts for backup. Next, you should select the "Set Filter and Migrate" option.

TThe filter page displays a comprehensive selection of filters available for your mailbox. Afterward, simply click on "I am OK, Start Migration."

Choose EML as the destination and click OK.

Choose the destination directory for storing the EML files, and subsequently, click on the "OK" button.

The software will store all emails in an EML file, keeping them organized for convenient identification. Click "OK" to proceed.

You now have the option to access the folder and inspect your EML files.
Benefits of G Suite Backup Tool
Backup multiple mailboxes – The software will back up all the mailboxes.
Run multiple migration instances – The user has the option to initiate a migration instance and subsequently include one or more additional instances to expedite the migration process.
Take a backup in multiple formats – You can choose from a variety of output formats, including PST, EML, MSG, HTML, MHTML, DOC, DOCX, and PDF, and then save the files in your preferred format.
Use CSV file – The CSV file enables the simultaneous addition of an unlimited number of mailboxes, thereby streamlining the process and saving valuable time.
Conclusion
Kernel G Suite Backup software is designed to facilitate data backup, minimizing the risk of data loss. Following the backup process, you can conveniently access the resulting file in the designated destination folder. It is advisable to utilize this software regularly to create backups and store data in various formats for added security.
FAQs
Q- What is the Email storage limitation for various versions of G Suite?
A. For Business Starter, the size limit is 30 GB; for Business Standard, the size limit is 2 TB; for Business Plus, the size limit is 5 TB.
Q- Can the software can backup using the aliases of Google account?
A- You can create up to 30 aliases for an email address. You can use these aliases to add the Google Workspace account to the software.
Q- Will the software save attachments of Gmail emails?
A- Yes, the software can save the attachments of Gmail.
Q- Why is EML a suitable destination option for Gmail?
A- EML stands for Electronic Mail Format. So it is created solely for email messages. Even when you backup multiple emails, each email will be saved in separate EML files.