Imagine you've created an MS PowerPoint presentation with a lot of effort, and it fails to open a few minutes before giving a presentation – it surely gives tense moments to you. There are several reasons that make a PowerPoint file corrupt. Mentioned below are some of them.
System infected with the virus
Abruptly shutdown of the system
Forceful exit of the PowerPoint application
Failure of hard disk
Software malfunction
Human errors
Methods to Repair Corrupt MS PowerPoint Files
There are two situations when a PowerPoint file gets corrupt – either you will be able to open the PPT file or not. If you're able to open a corrupt PowerPoint, then it can be repaired with manual methods. In this blog, we've mentioned both manual and professional methods to fix a corrupt PowerPoint file.
Try Moving the File to a New Location

If you're unable to open an MS PowerPoint file from a specific location, then copy the presentation to another storage media.

For example, if the PowerPoint file is stored on the hard drive, then copy it to an external drive like a USB. Now, open the file from that location, and if the PowerPoint is opening without any error, it means there is a problem with the hard drive.

Insert PPT Slides to a New Blank PPT

Try inserting the PPT slides to a new blank PPT presentation. To do this, follow the below steps:
Launch MS PowerPoint and open a new PPT.
Now from the home tab, select "New Slides," and then select "Reuse Slides" from the drop-down menu.

Browse the corrupt file that you're unable to open and click on "Insert all."
Save this presentation by pressing "Ctrl + S."
Now to apply the same theme from the corrupt PPT, select the "Design" tab and click "More" and select "Browse for themes."
Now select the corrupt PPT file and hit "Apply."
This way the corrupt PPT file can be repaired with new slides.
Use "Open and Repair" Option
One common method that you can use to repair PowerPoint file is "Open and Repair" option of Microsoft. To use open repair, follow these steps;
Launch MS PowerPoint on your system, but don't open the corrupt file.
Go to the "File" tab and click "Open."
Now, browse the location where the corrupt PPT file is stored. Click once on the file to select it (do not open the file by double-clicking).
Now from the drop-down menu select "Open and repair," and click "OK."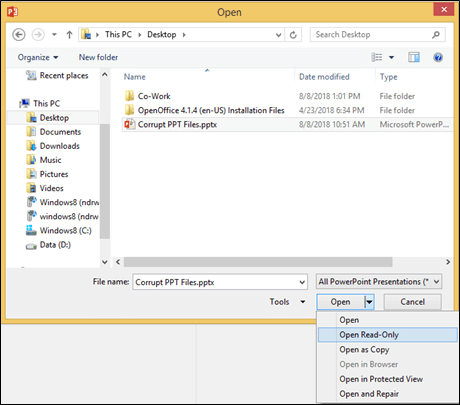 If there is only a minor corruption in the file, then this option can quickly fix the error.
Open Microsoft PowerPoint in Safe Mode
Opening MS PowerPoint in safe mode will allow you to edit and format the PPT slides as per requirements. To open MS PowerPoint in safe mode, follow these steps;
Start the Run command by pressing "Window + R" and type "powerpnt.exe /safe."

Now make the changes that you want to make in the PPT.
Restart the computer in safe mode by long pressing F8 button during restart.
Open and check your PPT file.
Opening in safe mode can fix small corruption issues in it.
Kernel for PowerPoint
If all the above methods fail in solving the PPT errors, then use Kernel for PowerPoint. It is an effective PowerPoint repair tool which is specially designed to resolve the corruption of Microsoft PowerPoint files. It is augmented with some compelling features, some of which include:

Offers quick and efficient fixing of PPT corruption
Retrieve complete data of a PPT file – text, media, animations, formatting, etc.
Preserve the integrity of the PowerPoint files
Suitable for all versions of MS PowerPoint including 2016 and 2013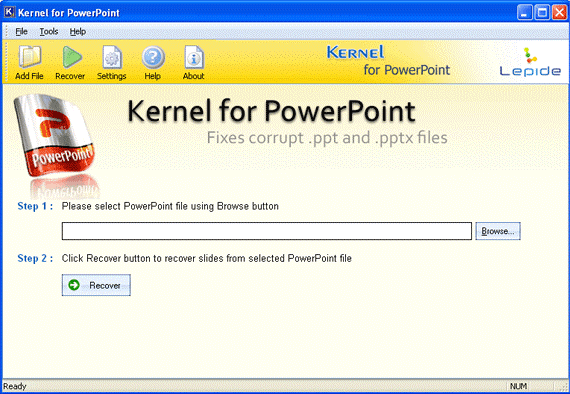 Following the above five methods, users can quickly repair and restore data from their corrupt PowerPoint files.