Read time: 4 minutes
If you ever happen to save your PowerPoint presentation over a previous PowerPoint presentation, then to recover the overwritten or previous version of your PPT presentation, you need to know some effective methods that we shall discuss in the present blog. Our blog will also help you fix other PPT related issues like repair corrupt MS PowerPoint files
If your PPT file gets overwritten, you can try a few methods hoping for the best.
Using File Versions
First, open File Explorer to find the file and then, from its Properties, reach out for its previous version as below:
In the Search box at the Start, type File Explorer and hit Enter.
Scroll for your desired .ppt file and right-click on it. Select Properties.
Select Previous Version Tab.
Select the file you wish to get the previous version of. Click Restore or Copy.
Choose a location where you wish to save your restored previous version file.
Recover from PowerPoint
Open PowerPoint.
Open File>Info.
In Manage Presentations, click on Recover Unsaved Presentations.
If the unsaved presentation exists, then it will open.
From there, you can restore unsaved presentations.
Note: Alternately, you can go to File > Open and click Recover Unsaved Presentations.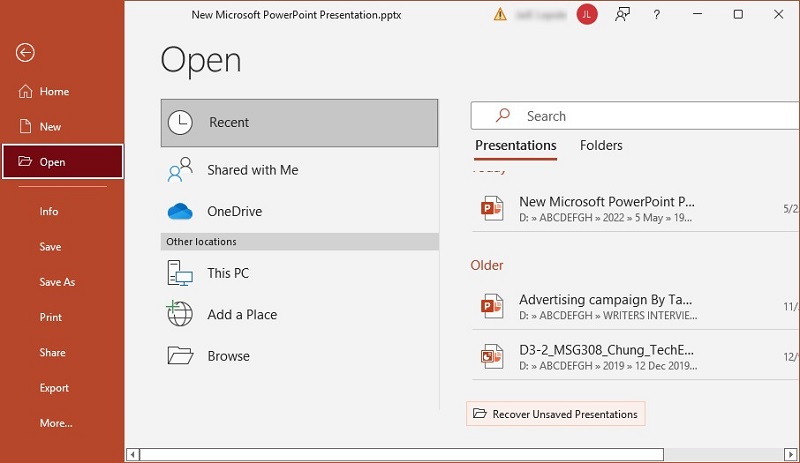 Using the Volume Shadow Copy feature
If the list of Previous Versions does not display any file, you may use the Volume Shadow Copy Feature of Microsoft available in Windows Vista/7/8/10. At regular intervals, it makes copies of your files stored on the same disc where original files exist. These are termed 'Shadow Copies' by Microsoft. If you ever delete or alter any of your existing files, then previous versions of them can be retrieved from these Shadow Copies.
Though this feature is 'ON' by default, it is available only in Ultimate, Business, and Enterprise editions of Windows only. To have access to Shadow Copies, you need to turn off UAC (User Account Control), and its view can be executed (to access and extract files) with complete admin rights only.
Note: Do note that, since original files and Shadow Copy are stored on the same disc, corruption or damage in the disk will make you lose both files, and thus, shadow copy shall not be considered equivalent to backup.
Using System Restore
To recover a file using System Restore, follow the steps given below:
Go to Start.
Open Programs>Accessories>System Tools>System Restore.
It will open in the window showing ' Restore your computer to the state it was before the selected event.'
Select the relevant event. Click Next. Click Finish.
Restart your computer. Files will be restored.
Using Third Party Tool
The above-described manual methods are not always foolproof. To fix this issue with certainty, you definitely need an efficient tool that does this in no time. For this, you can try Kernel for PowerPoint Repair tool. This is a powerful yet easy-to-use tool meant to recover and repair PPT/PPTX files in various scenarios like corruption, deletion, inaccessibility, etc., irrespective of damages or corruption. It can recover any PPT file even if it is password protected.
Conclusion
In the present blog, we have the possible manual methods to recover overwritten PowerPoint presentations. Since these methods are not going to help you in all the cases, we have also discussed our tool meant for the recovery of PPT in almost all kinds of scenarios and all possible issues arising with PPT.