Kernel Amazon WorkMail Backup & Restore
Supported Versions
Outlook PST File - 2019/2016/2013/2010/2007/2003/2002/2000/98 and 97
Windows OS – All versions (Windows 10/8.1/8/7/Vista/XP/2000/98/NT and 95 and Windows Server 2012/2008 R2/2008/2003 R2/2003)
Basic Requirements
Processor - Pentium class
RAM - 64 MB RAM (recommended 128 MB)
50 MB (for Software installation)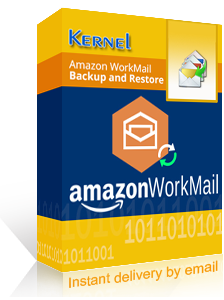 Backup & Restore single/multiple Amazon WorkMail mailboxes
Backup Amazon WorkMail mailboxes to PST without Outlook
Imports healthy PST files to Amazon WorkMail mailboxes
Backup/Restore multiple mailboxes at a time
Uses CSV file to add mailboxes & to map PST files
Backup and Restores Archive mailboxes & Public folder
Filters mailboxes content by Date range and Item type filters
Skips empty folders & Deleted folder using Folder Exclusion options
Generates Log report after Backup and Restore (in CSV format)
Free version to evaluate the software & save 10 items/per folder
Features of Kernel Amazon WorkMail Backup & Restore
Backup Complete WorkMail Mailbox
Users can backup Amazon WorkMail mailboxes to Outlook PST file using this tool. It backups emails and all other mailbox items maintaining data integrity and the folder hierarchy intact.
Backup Multiple Mailboxes
The tool backups multiple Amazon WorkMail mailboxes at a time to PST files. For this you need to have user account with permissions on all WorkMail mailboxes. And the mailboxes can be added manually or using a CSV file.
Restore PST Files to Multiple Mailboxes
Users can import healthy Outlook PST files to multiple Amazon WorkMail mailboxes using this tool. The added PST files can be mapped to the required WorkMail mailboxes.
CSV File to Automate Backup/Restore
Adding WorkMail mailboxes or PST files is essential while backing up or restoring mailboxes. The software simplifies this task with the help of a CSV file. By providing details like source, destination, etc. in a CSV file, you can automate backup/restore operations.
Archive Mailboxes & Public Folders
Apart from primary mailboxes, the software can backup public folder and Archive mailboxes. Also, the tool supports importing PST files to archive mailboxes and public folder. Users can select the required option—mailbox, archive mailbox, or public folder— after the addition of source/destination while backing up/ restoring.
Intelligent Filters for Data Selection
The tool has advanced filters like Date Range and Item Type to let users perform selective backup and import. Also, it has folder selection and exclusion (to skip empty folders or Deleted folder) options.
Log Reports After Backup & Restore
After Backup or Restore, users are provided with a summary or log report. Users can save it in CSV format too. The log report includes details like source, destination, type of folder selected, etc.
Free Backup and Restore
You can perform both Backup and Restore operations free using the Free version of the software. And you can save up to 10 items/folder for each mailbox.
Evaluate Free Trial Version
The trial version of Kernel Amazon WorkMail Backup and Restore tool backup 10 items/per folder to PST files completely FREE. Also, the trial version can import 10 items/folder from PST files to WorkMail mailboxes.
Supported Versions
Outlook PST File - 2019/2016/2013/2010/2007/2003/2002/2000/98 and 97
Windows OS Platforms - Windows 10/8.1/8/7/Vista/XP/2000/98/NT and 95 and Windows Server 2012/2008 R2/2008/2003 R2/2003
Basic Requirements
Pentium class processor
Minimum 64 MB RAM (128 MB recommended)
50 MB for Software installation
Software Features
Trial Version
Full Version
Backup Amazon WorkMail mailboxes to PST

Only 10 items/folder

Unlimited

Restores PST to WorkMail mailboxes

Only 10 items/folder

Unlimited

Exports & Imports data to Archive mailbox/Public folders

Only 10 items/folder

Unlimited

Supports multiple mailboxes for backup/restore
Maintains data integrity & security
Filters the data before Backup/Restore
24*7 Technical Support & Service at zero cost
Money-Back Guarantee Feel Free to Purchase Kernel tools! We are committed to 100% customer satisfaction and thus we provide 30 days money back guarantee. View details...
FAQs - Kernel Amazon WorkMail Backup and Restore
Do we need to install Outlook to use this software?

No. The software performs backup/restore operations without the MS Outlook application. You need PST files and Amazon WorkMail account details only.

Can I backup an archive mailbox data using this tool?

Yes. You can backup up Mailboxes, Public folder, and Archive mailboxes. You can select the required option after providing the source credentials.

There are some empty folders in my Outlook account. Will they also be there in Office 365?

If you choose to exclude the empty folders from migration. Just check the Exclude Empty folders option in Filter Selection window.