Read time 7 minutes
YouTube is a great source of entertainment and a medium for sharing the fun with people having mutual interests. Think about a situation where you have lost those important videos from YouTube. In this blog, we are going to discuss the ways using which we can recover and restore deleted YouTube files.
How to Recover and Restore Deleted YouTube Videos
As we have discussed, how important videos might be for us, and so is to recover them. Once your video is deleted, you can follow the below-mentioned methods to recover and restore them.
Recover from Backup
In the situation when you have lost a video, the very first step you should take is checking for the backup. Having a backup can save you from a real hazardous situation, as you can bring back your data from the backup. You can go to the backup section of YouTube, locate your video and restore it from there only. If you haven't started enabling backups, then start doing it now. Try this method and see if it works for you. If it doesn't, then move to the next solution.
Recover from WayBack Machine: If you cannot recover deleted videos from backup, then you can try to recover it from WayBack Machine. It is a digital archive that has web access to download all publicly accessible pages of WWW. So, there are fair chances that your video is archived there, and you can recover it from there. For this, follow the below-mentioned steps:

1- Get your video-related information like its URL, which you can get by accessing your account.

2- Now go to the archive.org and paste your URL there.

3- Searching the URL in the given box will show you the YouTube upload history, from where you can download the deleted video and restore it.
Contact the Support Team: The last try you can give to recover your deleted video is by contacting the YouTube's support team. For this, you can send an email to the support team.

1- Log into your YouTube account and go to your channel.

2- Now click on the Help option at the left bottom of the screen.

3- Next, click on the Need more help? Option.

4- Click on the arrow icon, as shown in the screenshot.

5- In the next Window, click Ask Now option.

6- In the Ask the Community section, you can write your query down and proceed with the steps as per the instructions.
Recover and Restore the Deleted Video from Your System: If the deleted file is irrecoverable by following the solutions mentioned above, then you might want to recover it from your system. In this case, we are assuming that you have lost the same file from your system too, because why would you have been trying so hard to recover it from YouTube, if not. So, to recover that file from your system, you can install Kernel for Windows Data Recovery Tool. This tool recovers almost every type of lost or permanently deleted file from your system, be it a document or a media file. You can have a fair idea of the tool with the snippet of the tool we have shared below:

1- Select Recovery Mode.

2- Select a drive.

3- Scan the disk.

4- Check the restored data in your system and provide a location and recover the lost data.

5- Wait till the recovery is complete.

This was a quick demonstration of how this tool works. Once the process is over, you can find the recovered data on your system at the location where you have saved it.
What If The Video File Gets Corrupt?
Sometimes while trying to recover lost or deleted video files, the users end up with corrupt video files. In such cases, we would recommend the user to try Kernel Video Repair Tool for the best results. This tool is the best resort to fix the corruption in a video file as it can even fix the severe type of corruption in a few easy steps. You can try the trial version of the tool, which is totally free, and have a fair idea of video repairing.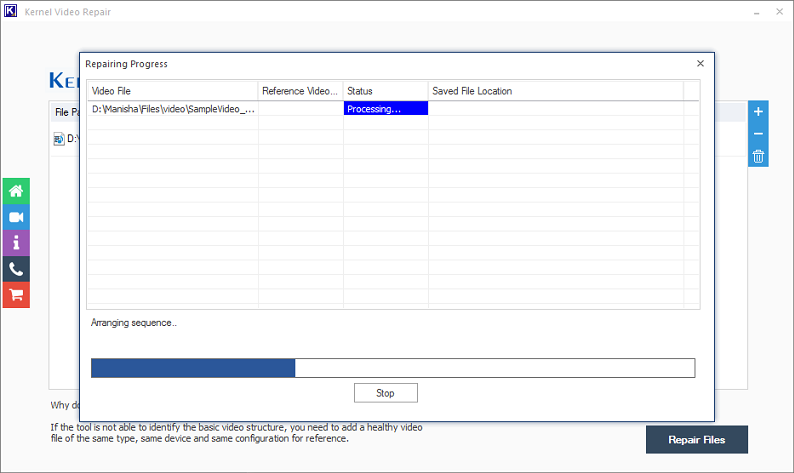 Conclusion:
In this blog, we have discussed how one can recover deleted videos from YouTube or from their system. We have discussed a couple of methods to do so, and one of those methods included is using an automated, which is Kernel for Windows Data Recovery. It is a recovery tool that can recover and restore any type of deleted or lost files from a PC or any external drive. We have also recommended a repair tool to fix corrupt or damaged video files if you get to face a corrupt video file any day.