Read time 5 minutes
Summary: Opera Mail, a standalone email client by Opera Software, offers rich-text formatting, spam filters, and contact management. Backing up Opera Mail involves copying the Mail directory path to a destination folder. For extensive data, specialized software like Kernel for MBOX to PST is recommended. Opera Mail is no longer actively developed, and transitioning to Outlook with an MBOX file converter is advisable.
Opera Mail, the email client created by Opera Software, was initially integrated into the Opera web browser. However, in 2013, with the release of Opera 15, it evolved into a standalone application. Today, you can access contemporary versions of Opera Mail on both Windows and macOS operating systems.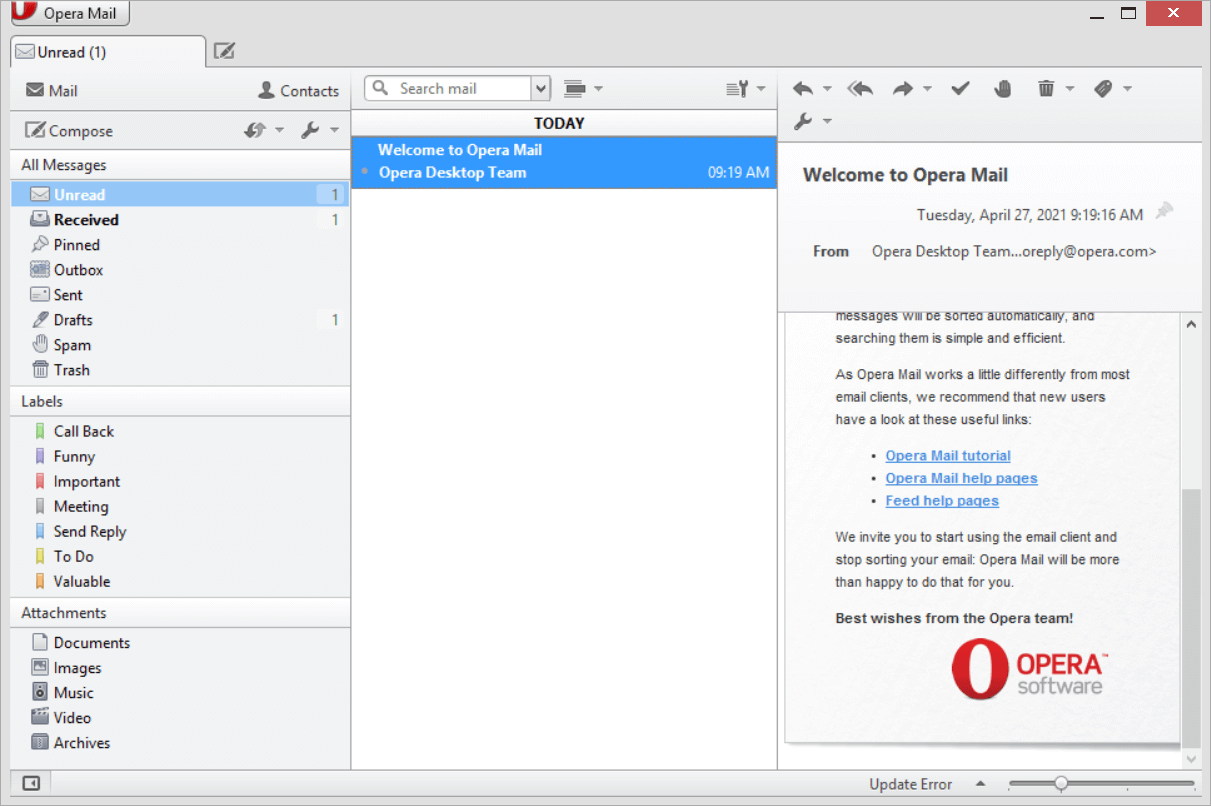 Features of Opera Mail
Opera Mail enables the use of rich-text formatting in messages.
Spell-checking is available in real-time as you compose new emails.
Both automated and manual spam filters are in place to detect phishing or potentially suspicious emails.
A contact management tool designed for handling contacts.
It presents the email in both text and HTML formats.
How Does Opera Mail Work?
Opera Mail simplifies message management by generating a unified database that efficiently organizes messages into multiple categorized views or access points. This automatic indexing of messages ensures swift and effortless access. For instance, upon receiving a .doc file via email, it promptly appears in both the Documents and Received categories.
How to Take Opera Mail Backup?
The recently launched Opera Mail application operates independently from the web browser, allowing you to securely back up your account by following these steps:
To initiate Opera Mail, commence by selecting the Opera Mail icon located in the upper-left corner of the interface. Next, navigate to the "Help" menu and select "About Opera Mail."
To access the various paths, navigate to the Paths section on the About Opera Mail information page.
Navigate to the Mail directory path, then perform a right-click and select "Copy."
Next, navigate to Windows Explorer and paste the Mail directory's path into the address bar.
Within the Opera Mail Directory, you have the option to choose the Mail folder and duplicate its contents as well.
You can now copy and paste the mail folder into any destination folder, creating a backup for your Opera Mail account data.
Manually saving Opera Mail to a different folder is a practical approach for managing a single account with smaller data volumes. However, if you're dealing with a substantial amount of data, manual saving becomes impractical. Moreover, restoring such extensive data back to your account becomes a challenging task. In such cases, opting for specialized Opera Mail backup software is the recommended solution, as it can efficiently preserve the entire mailbox content.
Professional Opera Mail Backup Software
Kernel for MBOX to PST is the converter software that supports more than 20 email clients like Opera Mail, Thunderbird, Apple Mail, Power Mail, SeaMonkey, Netscape, PocoMail, WebMail, etc. The software's conversion algorithm is both precise and secure, ensuring the seamless export of emails and other data to PST format. This process maintains the integrity of the data, preserving its original structure, folder hierarchy, and metadata without any alterations.
The software boasts the capability to concurrently convert numerous MBOX files. This versatile solution empowers users to effortlessly incorporate single or multiple MBOX files while offering the option to apply filters as needed.
A comprehensive preview feature is available, allowing users to view the content of their selected item prior to conversion. This preview ensures the accurate representation of the chosen items.
Various destination formats such as MSG, EML, RTF, PDF, TXT, HTML, MHTML, and more are available.
The software enables seamless migration of content from Opera Mail files to various platforms, including Office 365, Exchange, Domino, GroupWise, Gmail, and more.
Enhanced filtering choices that can be used to apply diverse criteria such as recipient, sender, subject, date, and attachments.
The extensive data files can be divided into more manageable segments.
Conclusion
The Opera Mail application is nearing the end of its lifecycle since Opera Software has ceased further development and security updates. It is advisable to transition from Opera to a more robust email client, such as Outlook, which can manage your IMAP accounts more effectively. You can utilize an MBOX file converter tool to transform your Opera account's data file and store it in the PST format.
Once you've successfully converted the data file, you can proceed to import the PST file into Outlook, granting you access to your account data. Feel free to explore the software further by utilizing its complimentary trial version.