Read time 5 minutes
Summary: Kernel MBOX Viewer is a free software for accessing MBOX files from various email clients, including Thunderbird and AppleMail. It handles healthy and corrupted files, offers a range of features, and works on Windows. Users can view emails in HTML format and save email lists in HTML. It's a user-friendly tool with a simple workflow.
Kernel MBOX Viewer stands as a meticulously crafted software solution, offering the convenience of accessing MBOX files on your system sans the need for email application installations. This invaluable utility is entirely free and adept at effortlessly opening MBOX files originating from a variety of email clients, including but not limited to Thunderbird, Gnu, AppleMail, Eudora, Postbox, Opera, PowerMail, and more. In accordance with a leading software sharing platform, Kernel MBOX Viewer has earned acclaim as one of the premier MBOX viewing tools available in the market. You can verify its credentials on their website: https://download.cnet.com/Kernel-MBOX-Viewer/3000-2369_4-76457818.html
Introduction to MBOX
The MBOX file format serves as a dedicated format designed for storing email messages. It finds primary utilization within email client applications such as Apple Mail, Mozilla Thunderbird, and others.
Kernel MBOX Viewer
This sophisticated utility can effortlessly access a wide range of MBOX file formats within the MBOX family, including MBOX, MBX, MBS, and more, extracting all the emails and their accompanying attachments from the selected file.
You can view both healthy and corrupted MBOX files using this tool. It can open broken and inaccessible files, eliminating the need for a separate repair tool to fix the file before previewing it.
Why Kernel MBOX Viewer?
Kernel MBOX Viewer stands as a testament to cutting-edge technology, boasting an array of distinctive features that distinguish it as the premier MBOX viewer software. What set it apart, prompting discerning Cnet users to opt for this tool above all others in the market? Let's delve into the reasons.
Launches MBOX files and showcases email messages.
There are no limitations on the MBOX file size when it comes to viewing.
Effortlessly handles both healthy and corrupted files.
Option to include numerous individual files or an entire directory.
Supports all file formats associated with the MBOX family.
Preserves data integrity while leaving the structure, hierarchy, and format untouched.
Provides compatibility with a wide range of MBOX email clients.
Offers a comprehensive preview of MBOX file content, including attachments.
Includes a feature to save the MBOX email list in HTML format.
Completely free of cost, with no charges involved.
Compatible with all email client versions and updates.
Runs seamlessly on all Windows Operating Systems.
Allows you to view emails in HTML format using any web browser.
Operates with simplicity, requiring just three steps to access contents.
Offers unlimited access to all types of MBOX files.
Enables precise item searches within selected MBOX files.
Some of the Positive Reviews Kernel MBOX Viewer has Received from Users: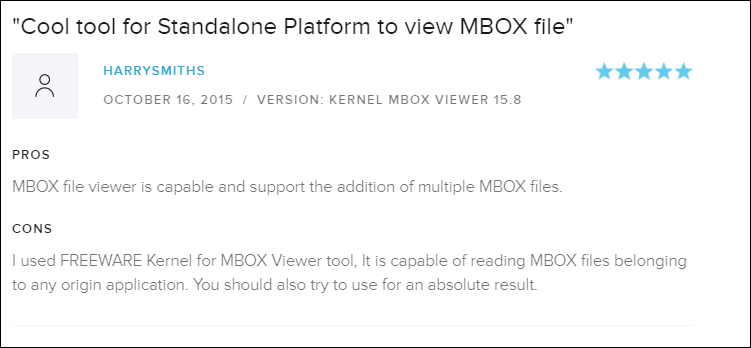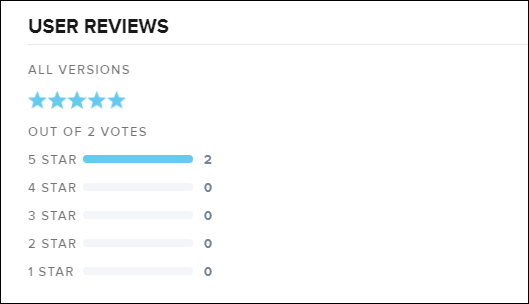 How Does It Work?
Let's explore the simplicity of using Kernel MBOX Viewer:
Choose the email client from the available options and then proceed by clicking on the "Next" button.

To include one or more files, click "Add Files," or alternatively, choose "Add Folder" to include an entire directory, and then click "Finish."

After the completion of MBOX file scanning, you will be presented with a preview of its contents. Simply click on the individual items to view their previews.

To save the email list in HTML format, simply click the 'e' icon displayed in the image, specify a file destination, and then click the OK button.

You now possess an HTML file containing comprehensive information about the MBOX emails. You can readily retrieve the list from the location where you've stored it.

Conclusion
I trust you'll discover this article to be of assistance, providing you with a seamless experience when utilizing the Kernel MBOX viewer. I've made every effort to compile and present all the necessary information to ensure a smooth process. The content herein guides you through the steps of accessing and inspecting MBOX files using Kernel MBOX Viewer. If you want to move further and save the file, then you can learn how to do it with free methods to convert MBOX to PST or you can go for a more simplified solution with Kernel for MBOX to PST, a similar tool with saving capabilities. I trust that this information has been beneficial, and I wish you an excellent experience while utilizing Kernel MBOX Viewer.
Kernel MBOX Viewer Tool Video Tutorial