Read time 5 minutes
IT administrators sometimes will have to import email files (of their employees) to the organization's email servers – Exchange Server, IBM Domino, Novell GroupWise, or Office 365. This situation usually arises when employees work from home on their own systems. It is easy to import the files of the email clients supported by the email server – e.g., importing Outlook PST files to Exchange Server. However, importing MBOX files (of email clients like Thunderbird) to Exchange Server or other email clients manually is difficult. For that, administrators will have to use professional tools.
Migration of MBOX Data to Exchange/GroupWise/IBM Domino/Office 365
Kernel for MBOX to PST, apart from converting MBOX file to PST it migrates your MBOX file to Exchange, Domino, GroupWise, or Office365. Another advantage of this tool is that it facilitates selective migration (migration of specific items) of MBOX data with the help of its email filters. It has many advanced features as well.
Migrates MBOX files of 20 major email clients (all versions) like Thunderbird
Allows migration of multiple MBOX files at a time
Displays preview of MBOX files before saving
Filters MBOX data on the basis of To, From, Subject, and Date fields
Retains the original structure & properties of the mailbox items during migration or conversion
Multiple saving options – Outlook, Email servers (Exchange/Domino/GroupWise & Office365)
File Analysis Reports – giving details of emails according to frequency, date, sender, etc.
How to Save MBOX Emails to Exchange, GroupWise, Domino, or Office 365?
It is easy to use a professional MBOX file converter tool to save MBOX data to email servers and Office 365. Before starting the migration, make sure that you have the login credentials of the email server (Exchange Server/Domino/GroupWise) or Office365.
Open the MBOX file converter tool to add MBOX files for migration, click Select File.

Click Browse and select the folder containing MBOX files. After the selection, click Finish.

Your mailbox folders will get opened in a tree-like structure on the left pane. Select the required folder on the left. Select the required MBOX item in the upper-right pane to preview its content.

Select the required folders to migrate and click the Save.

In the Select Output Type dialogue box, select the required destination.

To save MBOX emails to Exchange Server, select Microsoft Exchange Server
To import MBOX emails to Office 365, select Office 365.
To save MBOX emails to Novell GroupWise, select GroupWise.
To save MBOX emails to Domino, select IBM Domino (Lotus Domino).


Click Next to continue.

Select filter(s) dialogue box is opened. Apply filters for quick selection (an example of the Date Range filter application is shown below).

In the Login details dialogue box, provide Exchange Server login details (you have an option to save the files to a specific folder. For this, select the checkbox and provide the folder name). Click Finish.

After the completion of the saving process, the software displays a confirmation message.
Saving MBOX Data to Other Email Servers and Office 365
You can use this professional tool to save your MBOX files to Office 365, IBM Domino and GroupWise. The procedure is the same. The Login details page of Office 365 is shown as an example.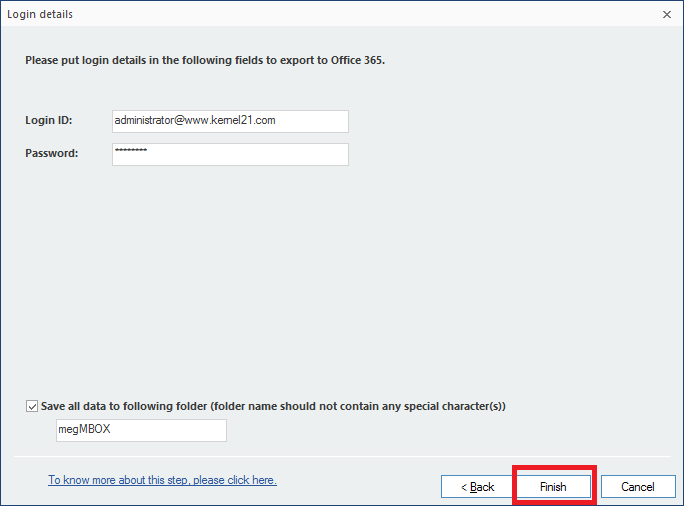 Conclusion
The above mentioned MBOX File Converter tool migrates MBOX files to popular email servers and Office 365. The tool, with its user-friendly interface, helps to migrate MBOX files to the required destination easily. Here, the need for moving MBOX emails to other destination platforms is mentioned and the professional tool is described with its prominent advantages and the working process to save MBOX emails to Exchange Server, Office 365, Domino Server, and Novell GroupWise is well-explained with software interface displays for all these destinations login details for quick addition, filter options for selective migration, preview feature for data confirmation before migration, etc.