Read time 5 minutes
Summary: Administrators often need to transfer email files to organization servers, including Exchange Server, Domino, GroupWise, or Office 365. A specialized tool like Kernel for MBOX to PST offers versatile features for efficient migration.
Administrators occasionally need to transfer email files belonging to their employees onto the organization's email servers. These servers may include Exchange Server, IBM Domino, Novell GroupWise, or Office 365. This necessity typically arises when employees operate from their home-based systems. Importing email files from clients compatible with the server, such as importing Outlook PST files into Exchange Server, is a straightforward process. However, manually importing MBOX files from email clients like Thunderbird into Exchange Server or other email platforms can be a challenging task. To address this challenge, administrators must employ specialized tools designed for this purpose.
Migration of MBOX Data to Exchange/GroupWise/IBM Domino/Office 365
The Kernel for MBOX to PST, offers versatile functionality beyond simple MBOX to PST conversion. It allows you to seamlessly migrate your MBOX files to various platforms such as Exchange, Domino, GroupWise, or Office365. One noteworthy benefit of this tool is its support for selective migration, enabling you to transfer specific items from your MBOX data using email filters. Additionally, the software boasts a wide array of advanced features to enhance your migration experience.
Migrates MBOX files from 20 leading email clients, including all versions, such as Thunderbird.
Enables the simultaneous migration of numerous MBOX files.
Preview MBOX files before saving to view their contents.
Sorts MBOX data by examining the To, From, Subject, and Date fields.
Preserves the inherent structure and characteristics of mailbox items throughout the migration or conversion process.
Multiple saving options – Email servers such as Exchange, Domino, GroupWise, and Office365 are essential components of Outlook.
File Analysis Reports – Providing specifics regarding emails based on various criteria such as frequency, date, and sender.
How to Save MBOX Emails to Exchange, GroupWise, Domino, or Office 365?
Utilizing a proficient MBOX file conversion tool simplifies the process of preserving MBOX data within email servers and Office 365. Prior to commencing the migration, ensure that you possess the necessary login credentials for either the email server (Exchange Server/Domino/GroupWise) or Office 365.
Launch the MBOX file conversion tool and select the MBOX files you wish to migrate by clicking on "Select File."

Please click on the "Browse" button and choose the folder that holds your MBOX files. Once you've made your selection, proceed by clicking the "Finish" button.

Your mailbox folders will be displayed in a tree-like structure on the left panel. Simply click on the desired folder in the left panel, and then choose the specific MBOX item in the upper-right panel to preview its contents.

Choose the necessary directories for migration and then press the Save button.

In the dialog box labeled "Select Output Type," choose the desired destination.

To transfer MBOX emails to an Exchange Server, opt for the Microsoft Exchange Server option.
To import MBOX emails to Office 365, select Office 365.
Choose GroupWise to save MBOX emails into your Novell GroupWise account.
To export MBOX emails to Domino, choose IBM Domino (formerly known as Lotus Domino).


Please proceed by clicking the "Next" button.

Open the "Select filter(s)" dialog box, and utilize filters for swift selection (an illustration of applying the Date Range filter is provided below).

In the Login Details dialog box, enter your Exchange Server login information. If you wish to save the files to a particular folder, check the designated box and specify the folder's name. Finally, click on the "Finish" button to proceed.

Once the saving process is finished, the software will present a confirmation message.
Saving MBOX Data to Other Email Servers and Office 365
Utilize this advanced utility for seamless MBOX file migration to Office 365, IBM Domino, and GroupWise. The process remains consistent across all platforms. As an illustrative example, we have provided a glimpse of the Office 365 login details page.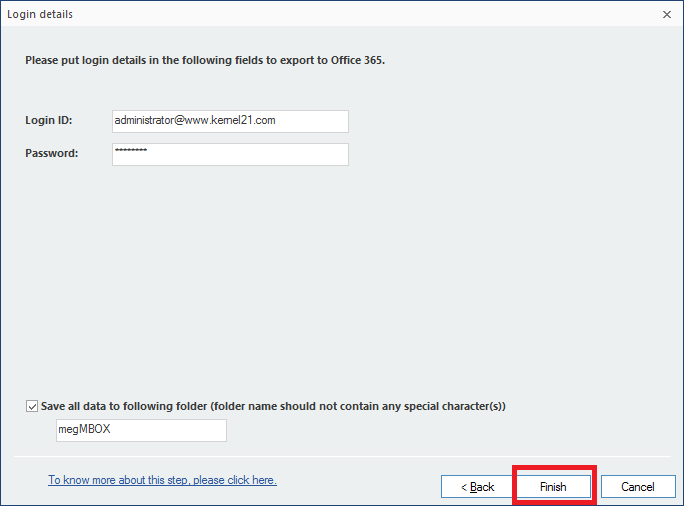 Conclusion
The MBOX File Converter tool mentioned above specializes in seamlessly transferring MBOX files to widely-used email servers and Office 365. Featuring an intuitive user interface, this tool simplifies the process of relocating MBOX files to your desired destination. This paragraph highlights the necessity of moving MBOX emails to various platforms and provides an in-depth overview of the professional tool's standout benefits. It also elucidates the step-by-step process for saving MBOX emails to Exchange Server, Office 365, Domino Server, and Novell GroupWise. Additionally, the software interface displays pertinent information such as login details for rapid setup, filter options for selective migration, and a preview feature that enables data verification before initiating the migration process.