Reasons for Moving MBOX Files to Office 365 Account

Read time 7 minutes
MBOX is a popular file format that is used in several desktop email clients like Mozilla Thunderbird, Eudora, Seamonkey, PocoMail, Apple Mail, and various others. These MBOX files are used in all important platforms, which include Windows, Mac, and UNIX. This portrays the wide range of usage of the MBOX. It has been categorized into different variants- mboxo, mboxcl, mboxcl2, etc. Each of these variants is used by different email clients over the vast assortment of MBOX files. However, the most common variant used today is the .mbox extension.
Office 365, on the other hand, is a cloud storage service that is provided by Microsoft. Office 365 provides several online applications that the user can work with, all well-featured and accessible from anywhere and anytime. Its features are inclusive of the following: Storage of emails, contacts, to-dos as well as journals. Moreover, this cloud storage service lets you keep your data secure from malware that might cause your data harm.
Moving MBOX Files to Office 365? Why?
An Outlook user would always know that he/she cannot open an MBOX file directly. Additionally, as a user, you would also know how the MBOX files face certain errors while accessing these files. Following are a few of them:
"The MBOX file does not exist, or it has been moved."
Oversized MBOX Files
Unable to Load Emails
Due to these hindrances, users tend to get confused, and therefore the necessity of converting these files to a more dependable service arise. This is the reason why we need to move or import MBOX Files to Office 365.
Having that in mind, we need to realize there are basically two methods of importing MBOX files to Office 365, namely: manual & mechanical.
Steps to Move MBOX Files to Office 365
Manual Method to Move MBOX Files to Office 365
Open the Thunderbird application, and configure your Gmail account.
Create new folder in Thunderbird where you can add the emails you wish to open in outlook

Select emails which you wish to open in your Outlook. Move them to the new folder(Note: simply drag and drop them to the new folder or use Move to.)

Now open Outlook and select the emails you wish to add to the Outlook

Now drag the file to a new folder in Outlook. This way, you can view these in the new folder.
Follow the above procedures if you want to use the manual method. However, this system might be time-consuming. Therefore, it is advisable that you use the automated method via Kernel for MBOX to Office 365.
Using Tool to Convert MBOX to Office 365
We've seen how the manual method enables us to convert MBOX files to Office 365. But it is not suitable for large-sized data with multiple mailboxes, and you just cannot drag and drop each file. This necessitates the mechanical procedures, and Kernel has provided the users with its Kernel for MBOX to Office 365.
Some reasons how Kernel for MBOX to Office 365 becomes indispensable to you as a user lies in the following facts:
The software is capable of exporting mailbox data from the MBOX/MBS/MBX files of 20 well-known email clients like Thunderbird, AppleMail, PocoMail, etc.
Further, if you're using the tool, you can move all your emails and your metadata to Office 365, maintaining absolute integrity of the same. Additionally, the software has a filtering option that segregates your items prior to migration. You can filter out the mailbox data with the following criteria: date range, from, etc.
Again, the Tool enables you to preview the entire mailbox data prior to exporting it to Office 365. It also helps you authenticate the integrity of the items that are being migrated along with the performing of selective migration.
Keeping these features in mind, we need to understand how this tool works. The following passage, therefore, explains the steps to use Kernel for MBOX to Office 365:
Step -1: Install & Run Kernel for MBOX to Office 365 software
Step – 2: On the Source file selection window, select from either one of the two: 'Select folder' or 'Select File'. Click on the Browse button.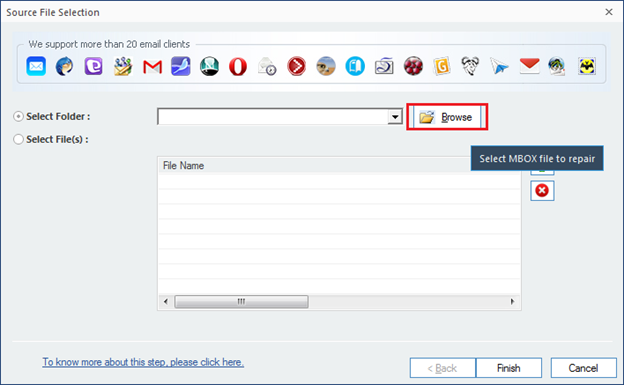 Step -3: Select MBOX folder. Click Open.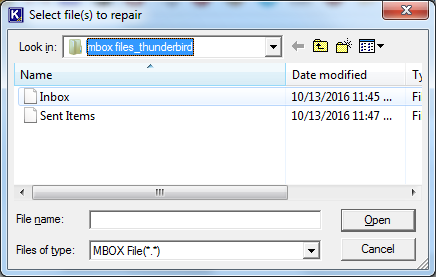 Click on Finish.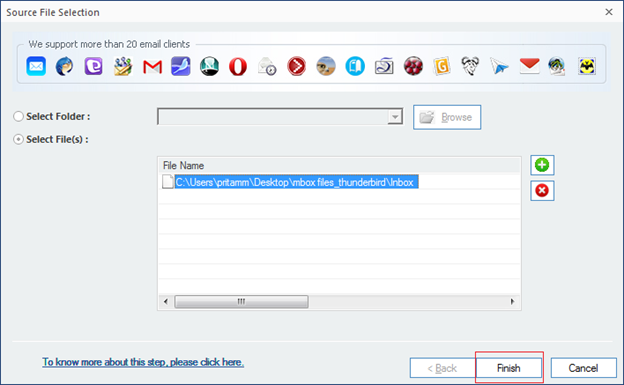 Step – 4: Select either a singular folder or multiple folders and click on Save.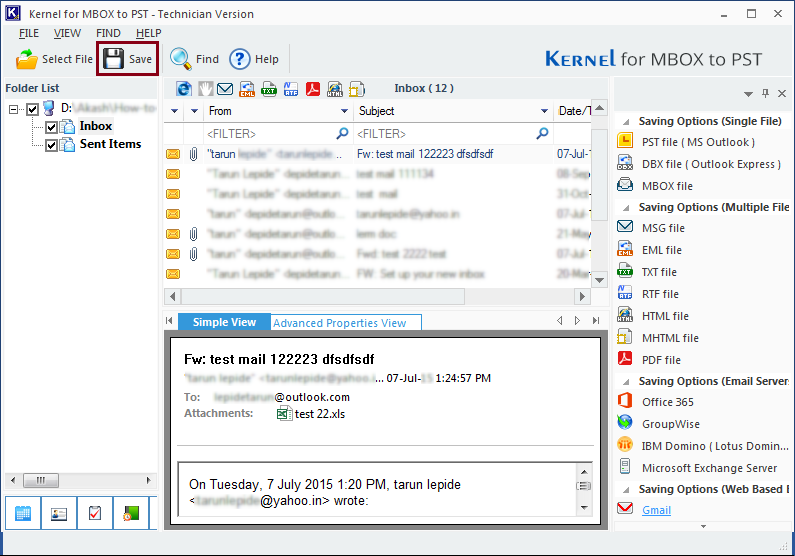 Step – 5: In the 'Select the output type to save the recovered data' window, select Office 365 option. Click on Next.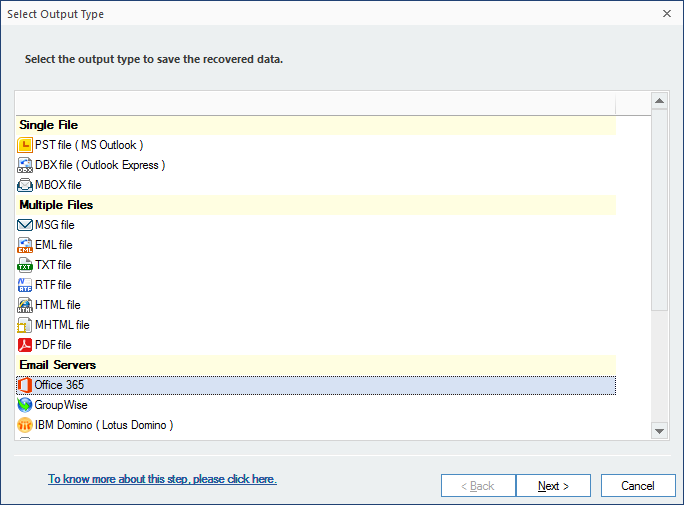 Step – 6: A new Select Filter(s) window comes up. Here, you can easily put multiple filters like Item Type, Date-range, Folder Name, Subject, To, and from etc. After applying the filters, click Next.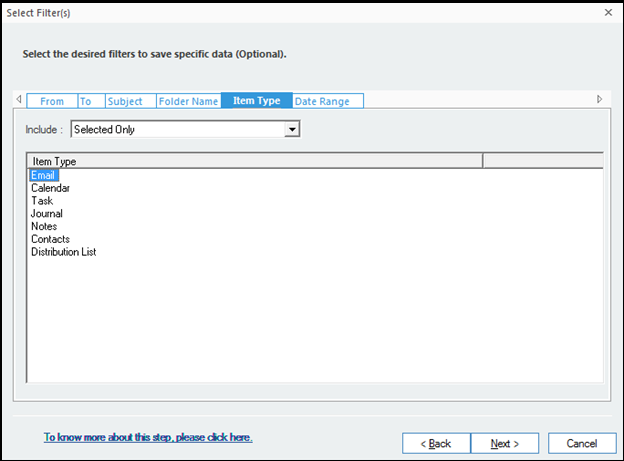 (Note: If you Select 'Selected only' from the Include drop-down, you can select from either of the options.)
Press the Shift Key and select multiple items (or a single item). Click Next.
Step – 7: Input the Office 365 credentials and click Finish.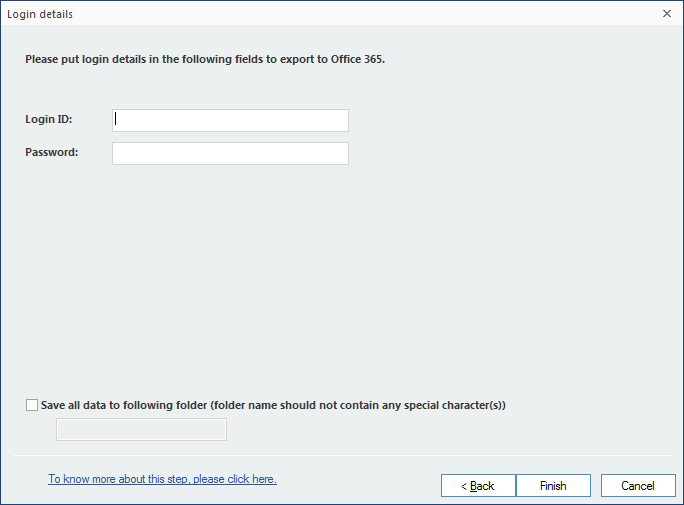 And your File is saved.
Kernel for MBOX to Office 365 Working Video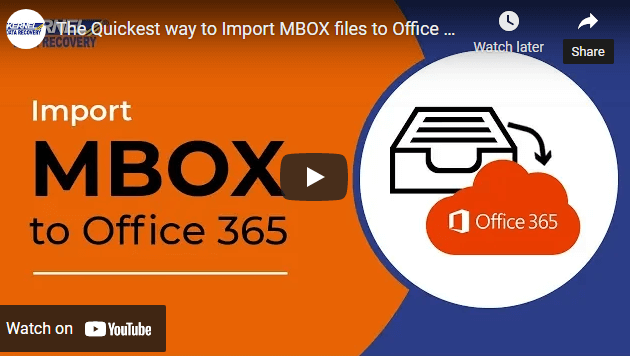 Conclusion
If you are also getting errors while using the MBOX-based email client and want to upgrade to a better platform, then your Kernel MBOX to PST Converter software. It will scan the MBOX file for possible corruption and then migrate the healthy data to Office 365. You can also choose the software to migrate MBOX emails to another email servers like Exchange, IBM Domino, Novell GroupWise, etc.