Read time 4 minutes
Summary: Office 365 provides versatile features, including multi-tenant support. Managing multiple tenants has drawbacks, but strategies like becoming a Microsoft Partner, using PowerShell, and employing tools like Kernel Office 365 Migration facilitate efficient management and data consolidation.
Since its inception, Office 365 has consistently delivered exceptional service to its users, offering a wide array of advanced features and versatile choices. One standout feature is the ability to employ multiple Office 365 tenants within an organization. This functionality proves highly effective in scenarios where the organization is segmented into distinct divisions or operates across diverse geographical locations, necessitating separate data storage solutions.
While employing multiple tenants can be advantageous in the aforementioned scenarios, managing them within an organization is by no means a straightforward endeavor. Here is a list of some drawbacks associated with multiple tenants:
Users from different Office 365 tenants cannot use a shared mailbox
A custom domain is not available for two tenants at the same time
Cannot transfer services like SharePoint Sites, Yammer, OneDrive for Business without the help of a professional tool
SharePoint Search and Team Store are available for single-tenant only
Need to switch tenants in teams to communicate with people with different tenants
Very limited experience in Office 365 Groups for multiple tenants
Cannot synchronize offline document libraries from OneDrive of multiple tenants (with the same identity)
Utilization of Office 365 services like Forms, PowerApps, PowerBI, etc. would be quite difficult
Users from other tenants cannot share a chat file, create a team, view organization chart or join public teams in teams of the other tenant
The list of disadvantages extends even further. Therefore, the management of multiple tenants necessitates highly skilled professionals.
How to Manage Multiple Office 365 Tenants in an Organization?
Let us discuss some feasible and effective strategies that an organization with multiple tenants can follow for smooth functioning.
Tips to Manage Multiple Office 365 Tenants
Become A Microsoft Partner: Being a Microsoft partner offers distinct advantages. Through the Partner feature in the App launcher of Office 365, one can seamlessly access and navigate between multiple tenants from a single interface.
Multiple Browsers for Multiple Tenants: To have multiple sessions of different tenants at the same time, using multiple browsers would be a great option.
Save Time with PowerShell: Use of PowerShell to create new Office 365 users with a pre-set CSV file saves time for multiple tenant management.
Employ Multi-Factor Authentication (MFA): Enabling Multi-Factor Authentication (MFA) is a highly effective anti-theft measure to prevent security breaches. By closely monitoring user sign-ins, transactions, and access across multiple tenants, security can be bolstered. The authentication factors encompass methods such as phone calls, biometric devices, passcodes, and more.
Manage OneDrive for Business: One can effectively manage the storage space of OneDrive for Business by employing an incremental synchronization method. This approach stores the cache on Azure Cloud instead of the local system, conserving storage space on the user's device and promoting the efficient operation of multiple tenants on the server.
Use Management Tools: Utilizing built-in management tools such as the Remote Connectivity Analyzer (for identifying connectivity and configuration issues), Exchange Server Deployment Assistant (for generating deployment queries and guidelines), IdFix (for error resolution), Azure AD Connect, Dir Sync, AAD Connect (for facilitating migration processes with comprehensive synchronization between local Active Directory and Office 365), and Exchange Admin Center migration options (including staged, IMAP, cutover, and remote migrations) is key to streamlining various aspects of Office 365 management.
Perform Consolidation: Consolidating data from multiple tenants into a single tenant can be a highly efficient approach for managing multiple tenants more effectively. To mitigate the risk of data loss associated with manual methods, it is advisable to consider a professional Office 365 migration solution. In this context, the Kernel Office 365 Migration tool stands out as a top-notch choice.
This versatile tool is designed to cater to a wide range of Office 365 migration needs, including the critical task of migrating between tenants. Its capabilities extend to bulk mailbox migration to Office 365, encompassing public folders, archive mailboxes, and groups, among others. The tool empowers users to have granular control over the content to be migrated and facilitates incremental migration. In summary, it emerges as one of the most effective solutions for Office 365 data migration.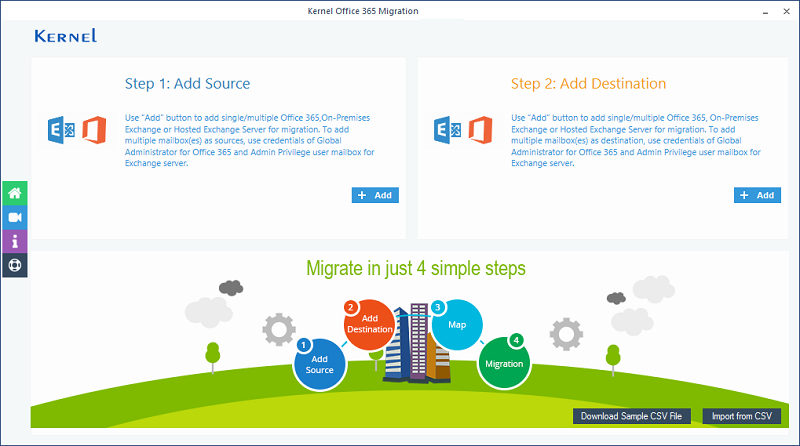 Summary
Maintaining multiple Office 365 tenants within an organization comes with its share of advantages and drawbacks. However, if the need arises to operate multiple tenants and you aim to manage them effectively, we've provided some useful tips. On the other hand, if you're contemplating the consolidation of multiple tenants, the migration of data from one Office 365 tenant to another becomes essential, and this task can be accomplished with the assistance of an Office 365 data migration tool.