Read time 4 minutes
The database you create in the MS Access application is stored in the MDB file and then, further saved at your desired location. Due to the similar nature between a MDF file and any other file format, it is also prone to corruption. The database can get disconnected from the application unexpectedly either by any binary file format error or due to a corruption flag in the MDB file. In such a scenario, whenever the user tries to open the Access file, the file does not open and shows multiple types of error messages. Some of them have been mentioned below-
"Unexpected Error 35012″.
"The Microsoft Jet database engine cannot find the input table or query 'MSysAccessObjects".
"The Microsoft Jet database engine could not find the object 'name'. Make sure the object exists and that you spell its name and path name correctly."
"The database 'name.mdb' needs to be repaired or isn't a Microsoft Access database file."
To begin with, a more practical and wiser approach to such a situation is to prevent corruption. Mentioned below are some of the useful strategies that can be used to prevent your database from being corrupted-
Split your database: : If many users operate the database, then split it into two pieces- "front-end" and "back-end." The front-end contains all the forms, queries, and reports and the back-end contains data in tables. A copy of the front-end is placed on each user's computer, and the shared folder is maintained on the network to store the back-end tables.
Always close connections: Always remember to close the Microsoft Access database connections after finishing your work. Open Access database connections always have the chance of becoming corrupt if network connections are lost.
Exit the database correctly: Make sure to close the database correctly. After completion of tasks, close the application using the Exit option of File menu or Exit option provided by the Access application.
Always use good quality hardware devices: Any slight defect in the network connections can corrupt your database. It is suggested to use good quality and branded NICs, hubs, and all other equipment used throughout your network. The plastic wafer and silicon of a non-branded product is the first step towards the corruption.
Compact and repair regularly: Performing the built-in compact and repair function regularly is suggested to prevent corruption and improve performance
Defragment the Hard disk: Defragmenting the hard disk is the most effective way if you are dealing with MDB files. Fragments are very often seen in the disks with less or zero disk space, and MDB files may get quite big. This can make the work going on work less efficient
With these simple preventive measures, you will be able to stop most of the problems before they occur. Make sure to implement the measures mentioned above and then, accordingly execute an automated backup schedule to minimize data loss.
Despite taking all possible precautions, your Access database can still get corrupt at any moment. In such a situation, you will need to go for prudent and sensible Access Database Repair software for the complete recovery of database components. In that case, it is advisable that you must use a trusted access database recovery software, just like Kernel for Access Database Repair
Kernel for Access Database Repair is designed to repair corrupt and damaged Access Database ACCDB and MDB files and recover desired data from it. It offers two scanning modes for repair and restores almost everything from database files – table structure, key internal data structures, memo data, OLE data, table relationships, original formats, and even deleted records, objects, etc. It supports all file sizes and password-protected databases for recovery. A live preview of the retrieved content is displayed for flexible recovery. The tool is available in the free version as well and supports all MS Access versions widely. The process is simple and can be used easily by any professional.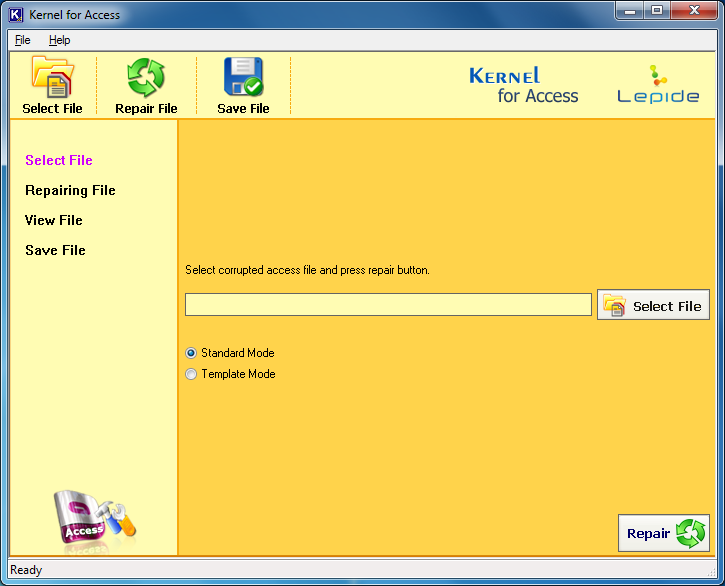 Conclusion:
With manual solutions, you can only take some precautions to prevent any Access database to corrupt. However, if it is already corrupt due to any reason, using Kernel for Access Database repair software is an effective way to recover corrupted Access Database. It is known for instantly recovering MDB and ACCBD files. You can recover even password-protected access database files without losing the integrity of the data. This software allows you to have a look at the preview of the recovered data before saving it at the desired location. The trial version allows you to experience the software and its functioning closely.