Read time 6 minutes
Whenever we discuss document or file corruption, it's sad to admit that even after all these years of continuous developments and upgrades, many software applications still lack the skills to fight with the real problems causing file corruption and damage; it keeps the consumers vulnerable and unarmed in the events of corruption.
Inside
MS Word is one amongst the most used applications, which hold content for different requirements.
The issue of file corruption is common when we consider tools like Microsoft Word. Word documents including those of Word 2016 version can become corrupt due to many issues which put both the document and the data inside at the risk of loss.
In this article, we've come up with methods on how to open corrupt word DOC and DOCX files and pro tips on how to find corrupt and damaged word documents.
Initially, users seek for manual methods to recover Word documents that don't require download and installation of another software or dedicated tool, but like it is mentioned above MS Word lack comprehensive recovery capabilities. Still, there is something you can try.
Repair Corrupt with Open and Repair feature-
The feature 'Open and Repair' which is present in MS Word firstly repairs minor issues in the file and then open it.
Below given are the steps to try to repair corrupt or damaged Word document using MS Word itself:
Open Microsoft Word 2016.
Click on Open Other Documents – at the bottom left.

Click Browse.

Inside the Open file window, select the Word file, click on the drop-down, and select Open and Repair.

Note: Microsoft Word will attempt to repair the document, wait for the process to complete.
Tips to Find Corrupt or Damaged Word Documents
As much as it important to resolve corrupt files, it is important enough to identify the corrupted document to fix it in time. Before we move ahead with our aim to help you get rid of corruption issues, let's shed some light on pro tips that can help you in identifying if a Word document is corrupt or damaged.
Investigate for Strange Behavior
When MS Word documents turn corrupt, they start projecting some strange behavior, and you can investigate regarding the same by checking for the following indicators when a document is open:
The numbering of existing pages repeats in the document.
Continuous page break in the document.
Wrong document layout and formatting.
Error message pop on-screen while processing.
The system stops responding when you open the document.
Unreadable character falls on-screen.
Word document exhibit other strange behavior unlike the normal operation.
Cross-check with Other Word Documents and Microsoft Programs
Other factors can also cause strange behavior similar as above, to get rid of these factors practice the following points:
Check if other documents are showing the same strange behavior.
It is possible that Office programs other than Microsoft Word can display the same strange behavior; so, look for the same.
In case if any of the above conditions turns true, that'll be your clue to confirm that a document is damaged, and the Word file won't open in the program that you expect.
Microsoft Word and other programs don't involve solid skills to repair or fix errors and issues, and for users there remains no other option but to use third-party Word file repair software.
Third-Party software can be termed as a dedicated and professional tool aimed to fix associated errors and problems; thus, to sort the issue of MS Word document corruption, we suggest Kernel for Word Repair.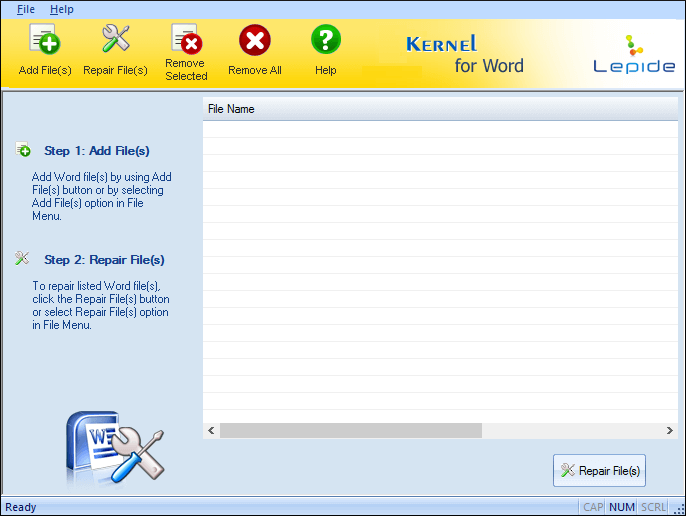 Advanced Tool to Repair Corrupt or Damaged Word DOC and DOCX Files
Below steps are given to help guide you on how to open corrupt word DOC and DOCX files with ease:
Launch Kernel for Word Repair tool.
Click on Add File(s) button to select the corrupt or damaged MS Word document. Click on Repair File(s).

Note: The tool enables you to select more than one damaged Word document.
It is necessary to close all running instances of MS Word in the background before Kernel for Word Repair starts proceeding next and click Ok.

Select a file save location and click Ok.

Wait for the repair and recovery process to complete.

Note: You can stop the progress any moment in case if something went wrong or you want to select a different Word document.
Click Ok.

Click on the hyperlink given in the window to open the file (or navigate manually); else, click Ok.

Conclusion
Just like any other file, Doc and Docx documents are also prone to many errors and corruption. However, Microsoft Office tools lack the skill to fight the issues of file corruption and damage using internal utilities, and for such cases, third-party software application Kernel for Word Repair is the optimum solution. It succeeds in all areas where the native methods fail.
Video – How to Open Corrupt Word DOC and DOCX Files?