Read time 7 minutes
Summary: Discover effective methods to resolve Access Database Error 3049. Uncover the causes behind this issue and explore reliable solutions, including manual techniques and advanced tools. Ensure your database remains accessible and error-free.
Microsoft Access is a robust data management tool capable of storing macros, tables, forms, queries, and more. It stores these items using MDB and ACCDB file extensions. However, these files are prone to corruption, often caused by common issues like power outages, abrupt MS Access termination, malware attacks, hardware failures leading to unexpected shutdowns, conflicts with other software, or data restoration from outdated backups.
Access Database Error 3049
One of the common errors faced by Access users is error code 3049, which occurs when attempting to open a database, rendering it inaccessible. Notably, this error can occur when using Access 2007 and later versions, which introduce advanced features like data macros and Access services. However, older files may not open in these versions, resulting in an error message that reads: 'Cannot Open Database. It may not be a database that your application recognizes, or the file may be corrupt'.

Possible Reasons Behind Error Code 3049
Following are some of the prominent causes behind the error code 3049:
Inconsistences due to hardware or software conflicts.
Large databases.
Accidental data deletion or improper media formatting.
Data restore from an old backup.
Inconsistencies in the Jet Database Engine (JDE).
Bandwidth limitation causing Suspect state and leading to database corruption.
Ineffective database design causing file size bloating.
Malicious attacks.
Ways to Fix Access Database Error 3049
Now, let's delve into solutions for resolving the database error 3049. For mild database corruption, consider utilizing built-in recovery options such as compacting and repairing, as well as database backups. Additionally, we've tested and identified the following reliable methods:
Method #1 Convert Access MDB files to ACCDB Format
To bridge the inconsistencies between older MDB and newer ACCDB versions, it's advisable to convert the older MDB files to ACCDB format. This process requires Access 2007 or later versions. Here are the detailed steps for performing the conversion:
Click on the File tab then select Open. Next, click on the Browse button to look for the file.

Select the MDB file that you would like to convert to ACCDB format and select Open.

Now again, go to the File tab and select Save As > Save Database As > Access Database.

If the conversion is successful, then you should see the following popup message:

Congratulations! You have successfully converted an MDB file to ACCDB format.
Method #2 Recover from Access Database Backup Copy
This method provides the most effective means of accessing your MDB files, but it's crucial to emphasize the importance of having a backup of your databases before proceeding.
Note: Follow the steps outlined below to create a backup:
Go to the File tab > click on the Save As tab > select Save Database As > Back Up Database and click Save As.

Provide the necessary information and click Save.
Method #3 Compacting & Repairing
As mentioned earlier, Access database files can significantly expand in size and may become vulnerable to corruption. This is where the Compacting and Repairing feature proves invaluable, as it effectively reduces the size of the database files.
To open the database that needs to be backed up, go to the File tab > from the Info tab select Compact and Repair.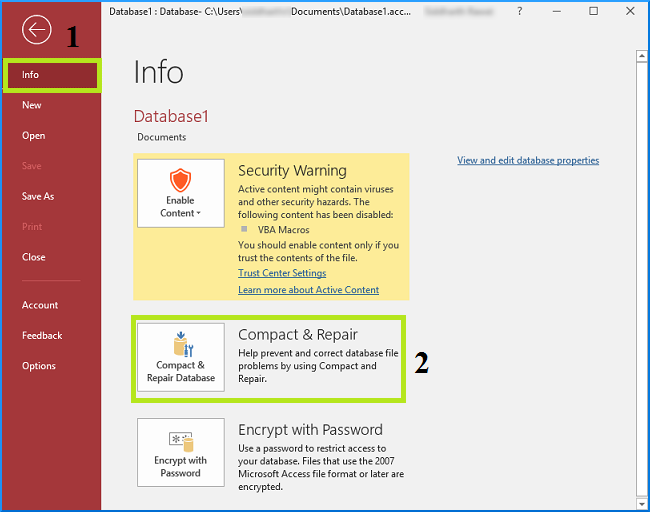 Method #4 Using Drive Inbuilt Tool
It's a common oversight that many users are unaware of Windows' built-in drive tool for repairing corrupt Access databases, and it's highly effective in addressing database errors like 3049. Below, we provide detailed steps for repairing the file:
Open the File Explorer and paste the following path in it:
C:\Windows\SysWOW64
Now scroll down and look for odbcad32.exe file and launch it.
In the User DSN tab, click on the Add button.

This will open up Create a New Data Source window. Select the Driver do Microsoft Access (*.mdb) option and hit Finish.

Click on the Repair button.

From the Repair Database window, select the drive and then the folders containing the MDB files, as shown below. Click OK.

If the repair is successful, you should see the following message.

Method #5 Kernel for Access Database Repair
If the aforementioned methods prove ineffective, as a last resort, consider reliable third-party tools like Kernel for Access Database Repair. This tool excels at addressing common Access Database errors, including error codes like 3112, 3800, 2239, 3011, 3049, and more. If you've been grappling with How to Fix Access Database Error 3151, you're in luck, as this tool efficiently resolves error code 3151 and offers several other features to ensure seamless database recovery.
Conclusion
Access databases can swiftly become inaccessible for various reasons, and with a multitude of tools available to address these issues, choosing the right solution can be a challenge. In this post, we've tackled the underlying causes of error code 3049 and provided trustworthy solutions. We recommend trying the manual methods first, as they are user-friendly and do not necessitate technical expertise.
If you're seeking a way to open MBD files for free, consider downloading the trial version of the tool, especially since MBD files may not be accessible in MS Access 2007 and later versions. However, if you find yourself with no viable options, we strongly endorse the use of Kernel for Access Database Repair tool. Equipped with advanced algorithms, it efficiently handles a wide range of database issues with ease.