Read time: 5 minutes
Summary: Keeping a backup of your Google sites is crucial to protect your data from unforeseen issues. These tried & tested methods of taking regular backups include using Google Takeout or using a third-party backup tool. Among these options, the Kernel G Suite Backup tool stands out for its reliability & simplicity. It helps you to back up all the data of your Google Sites, including site pages, attachments & other content easily.
Google Sites have proven to be a valuable tool for businesses, nonprofits & educators to create a website without any coding knowledge. The simplicity of the platform, combined with the flexibility to include content from other Google apps, saves a lot of time for busy professionals. But, with any digital content, it's crucial to have a backup plan in case of unexpected loss & damage. Unfortunately, Google Sites do not have an automatic backup feature like Google Drive & other Google apps. So, what happens if your site gets deleted?
So, we are here to take you through everything you must know about how to backup Google Sites. From understanding the available options to creating your backup, we'll provide you with all the guidance you need to safeguard your valuable Google Sites data.
4 Easy ways to backup Google sites data
With our assistance, you can easily backup your Google sites data using 3 different methods.
Google Drive
Adding Google account
Google Takeout
Google Vault
Note: The classic Sites will no longer be accessible from January 1, 2023. It is necessary to convert & publish the sites to the new Google Sites experience if you wish to continue viewing them.
1. Google Drive
Google Drive helps you easily backup your precious sites data & keep it secure. Google Drive allows you to save copies of your Google Site. You can get started with these instructions below.
Sign-in to the Google Drive account.
Find your website file in Google Drive.
Right click on your site file & tap on "Make a copy".
Create a new folder in Google Drive.
Move the copy of your site file to this newly created folder.
You have successfully backed up your Google Site using Google Drive.
2. Adding Google account
Backing up your Google Site is crucial for its safety & availability even if your primary account experiences issues. The backup of your site should be in sync with a second Google account. When you are on a collaborative project or may be working on a site that needs multiple accounts, the second Google account becomes quite useful.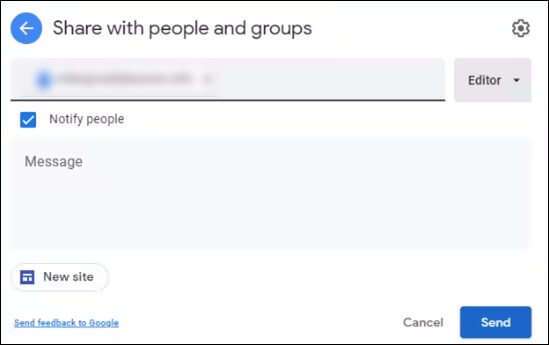 For adding a Google account to backup Google Site, access your site & tap on the 'Share with others' button. Add the secondary account as an Editor & send it. The site will be shared with the backup account & can be accessed from there.
3. Google Takeout
Google Takeout is another viable option to backup Google sites. You have to make a few necessary settings & keep a copy of your data as a backup. Here is what you must follow.
Access Google Takeout and tap on Deselect all.
Scroll down and check mark on the option Drive.
Click on the option All Drive data included and you need to select the backup folder created earlier in Google Drive (named as "everything").
Tap on Next step at the bottom of the page.
From the "Transfer to" drop-down menu, select how you wish to download & backup Google sites data. Click Create export after making all your necessary changes.
Finally, Google will let you know how long it will take for the export to be completed.
4. Google Vault
Google Vault comes as a savior for businesses who want to protect their sensitive data. If you're using Google Workspace, Vault enables you to easily backup & store data from sites, apps & communication channels. It further leverages advanced search features & audit tools to meet your compliance requirements.
The reason why Google Vault stands out lies in its security measures that prevent hostile parties from accessing & altering data.
The bottom-line
With the increasing popularity of Google Sites, it makes sense to take all the necessary measures to protect your work. Making a backup & storing your data regularly is the best way to guarantee that your specific work remains safe. We have discussed four easy ways to backup Google Sites data.
Don't forget to consider Kernel G Suite Backup, which provides automated backups with advanced features & data protection options for your Google Apps domains. With the help of these solutions, you'll have an easy way to secure your important documents no matter where you are.
FAQs
Q. Can you use Google Sites offline?
A. No. To access & work on your Google site, you must have a reliable internet connection. Currently, you can't edit your Google Sites without being connected to the internet. But you can access the site from any other device with an internet connection.
Q. What are Google Sites best for?
A. Google Sites is the perfect platform to showcase your team's projects & work. It's easy to access all your content from Google Workspace – including Drive folders, Docs & shared Calendars.